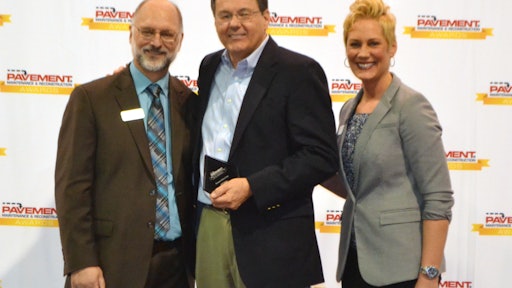 For the second year in a row Pavement Maintenance & Reconstruction inducts six new members to its Hall of Fame. Two trainers/consultants, a contractor, a manufacturer, an insurance executive and the founder of NPE and this magazine have made an impact that helped make this industry what it has become. 
Scott Cerosky, Fairmont Specialty, Crum & Forster
See Alan Curtis Industry Service Award
Brad Humphrey, Pinnacle Development Group, Granbury, TX
Brad Humphrey, president of Pinnacle Development Group, has been a fixture in the paving & pavement maintenance industry since 1988, providing not only insights on managing a contracting business but also the steps to follow to put those insights into action.
With an emphasis on leadership, coaching, job quality and other difficult-to-measure company essentials, Humphrey has lead the NPE effort to help contractors upgrade their people-related skills and management efforts. As Humphrey reminds contractors, people and the teams they comprise are the backbone of any successful operation. But those people need to be properly vetted, trained, managed, encouraged, guided and developed so they become a loyal and long-term force that enables contractors to develop their business so it reaches the heights the owner has in his or her vision.
Humphrey and then-partner Jeff Stokes produced the first National Pavement Maintenance Expo (now National Pavement Expo) educational conference in 1988 in Las Vegas. NPE 2016 represents his 29th consecutive year, during which time he has presented more than 200 sessions on roughly 100 different topics at NPE-related events. He has also contributed to the Tailgate Talk column in Pavement Maintenance & Reconstruction for more than 20 years.
In the mid-1980s Humphrey worked with Jeff Stokes at Midwest Asphalt, a full-service pavement maintenance company in Kansas City, MO. After he and Stokes attended the all-equipment early version of National Pavement Expo they felt the show was missing something: education. So the two contractors talked with founder Bob Woltering.
"What we told Bob Woltering was that he had a great little equipment show but that it was going to be hard for people to keep buying equipment if they don't know how to run their business. He thought that made sense," Humphrey says. "We told him we had a nice and successful operation in Kansas City and we knew we could help other people improve their company."
Woltering hired the two to produce the NPE's first educational program in 1988 at Bally's in Las Vegas. That was the year Humphrey and Stokes started Eagle Flight, which they soon renamed Pinnacle Performance Group. They managed the conference program for NPE until 1990 when the show and Pavement Maintenance & Reconstruction were sold to The Aberdeen Group, which soon decided to manage the conference program itself.
"Our influence on putting seminars in the show was good for the industry," Humphrey says. "There were a lot of business owners out there living and working day to day and we felt it would be better for the industry if we could help them live for the longer term."
As Pinnacle Performance Group Humphrey and Stokes consulted for a number of major companies outside the construction industry and spoke at numerous events including World of Concrete and Pool & Spa Show. They were associated with the management consulting firm Paget-Thompson and spoke through them for several years. By his count Humphrey has consulted with hundreds of companies and contractors.
In 2005 Humphrey and Stokes shuttered Pinnacle Performance Group, with Stokes opting to work in the private sector and Humphrey continuing to pursue consulting and speaking through his new Pinnacle Development Group. He consults today in Australia (where's his efforts have been promoted with billboards on buses), South America and Europe as well as the United States. He currently maintains a stable of more than 20 long-term clients throughout the world and focuses his speaking efforts on a number of conference programs, including NPE.
"People who are starting in the business today are definitely more interested in getting ideas from other contractors and from speaker than in the past," Humphrey says. "They're hungrier for ideas and they don't necessarily want to do things the way their grandfather did it – and that's a good thing."
He adds that some contractors want to "spread out" in their business to quickly, which means they are as knowledgeable, technically, as the past generation.
"They want to grow too quickly rather than become a master craftsman," Humphrey says. "But they're definitely more interested in running a business in a business-like manner. They're more focused on running a business and that's a great thing for the industry."
In addition to his continued regular contributions to Pavement magazine and a regular e-newsletter "The Contractor's Best Friend," he and son Colby two years ago started the Center for Competitive Intelligence & Development, which focuses on collecting and analyzing construction industry data. He recently introduced a new subscription-based series of videos, available through an app, called the "Two-minute Manager" that presents much of his teaching points in brief videos.
Alan Rose, Rose Paving Co., Bridgeview, IL
Founder of Rose Paving Co., a 200-person paving and pavement maintenance contractor serving the commercial/industrial market, Alan Rose enjoys a reputation as an early proponent of the benefits of a uniform brand.
As a result, Rose Paving was the first contractor to develop national recognition, which was accomplished by the extensive marketing required to support a brand both locally and nationally. Rose embraced traditional marketing methods from the simple – Rose Paving employees are evident at each National Pavement Expo (NPE) in their red shirts – to planned and well-funded advertising campaigns that included extensive direct-mail efforts, telemarketing, print ads, billboards, educational conferences and open houses. (And Rose himself has been a regular speaker at NPE on a broad variety of marketing-related topics.)

The development of the Rose Paving brand lead to Rose's recognition that it would be possible for one contractor to serve regional and national accounts and resulted in the formation of the Rose Paving Alliance Network, a structured group of vetted contractors throughout the country and the industry's first organized effort to sell and service national accounts.
Alan Rose started in the industry in 1969 as an employee of his older brother, who had pavement marking business. In 1974 he became a minority owner in the business, ran a crew and handled the office, and in 1977 they changed the company name to Rose Sealcoating and bought their first sealcoating equipment from Wikel Mfg. After graduating college in 1980 Rose returned and the company added paving and became Rose Paving & Sealcoating, eventually shortening the name to Rose Paving. In 1990 the company was housed in a converted ranch house in South Holland, IL before building and moving to their current corporate headquarters in Bridgeview, IL in 2001.

"I always enjoyed an excellent reputation in sales and marketing," Rose says. "I believe in sales and marketing and we relied on our efforts in those areas to help us grow. Back in the day, before social media, we did extensive mass mailings and phone solicitation and we tested out a wide variety marketing techniques. It all worked very well for us in the 1980s."

Rose also established a referral program for clients, providing free "freshening" of parking lot striping and free pothole repair for clients who referred other customers.

"We were an early proponent of branding, there's no question about that," Rose says. "We recognized early on that it was good to have uniformity in our vehicles and our uniforms and basics like that in addition to our marketing efforts." All company vehicles for sales and operations personnel, for example, were painted red with green lettering and shadowing.
The Rose Paving Alliance Network
The Rose Paving Alliance Network was the result of Rose Paving brainstorming initiated by a request from WalMart in the mid-1990s.

"Back then if a company wanted 100 locations taken care of by one source they would have had a pretty difficult time," Rose says. "Now with a little bit of research it's probably easier but that wasn't the case years ago."
Those "years ago" WalMart asked Rose Paving to handle all WalMart properties throughout Illinois. Rose wanted to do the work but the contractor wasn't traveling statewide at that point so ended up subcontracting some of the work.

"While we were working through the process of hiring subcontractors in Southern and Central Illinois a lightbulb went off," Rose says. "We thought, 'We can do this for national accounts throughout the country'."
It took a few years to plan and organize the Alliance, but in 2000 Rose Paving started its National Alliance Program with several national accounts and about two dozen contractors. Rose says there are currently more than 200 member contractors in the Rose Alliance Network, each of which is vetted through a qualification process before being offered a contract. Under the Alliance, member contractors operate independently but are provided jobs from national or regional accounts obtained by Rose Paving's sales efforts. Contracts with Alliance members are up for renewal annually, Rose says.

"I don't know of any paving contractor doing that 15 years ago on a national level," Rose says. "There might have been some general maintenance companies doing it but no paving or pavement maintenance companies."
Rose Paving's national efforts have lead the contractor to establish regional locations in suburban Chicago, Atlanta, Denver, Los Angeles, and Tampa. In addition to consulting with Pavement Maintenance & Reconstruction as an Advisory Board member since 1997, Rose also is a regular presenter at National Pavement Expo, particularly in the areas of sales and marketing. In October 2015 he sold his majority shares in Rose Paving.
Jeff Stokes, Next Level Contractor System, DeSoto, KS
President of Next Level Contractor System, Jeff Stokes has been a supporter of contractor education in the paving and pavement maintenance industry since 1988 when he and then-partner Brad Humphrey developed the first educational program for National Pavement Maintenance Expo.
Since then Stokes has brought his operational and management insights to contractors via National Pavement Expo and Pavement Maintenance & Reconstruction and to manufacturers and contractors in other industries as well. Other than a brief hiatus when he put his insights to work for Arbor Masters Tree & Landscaping in the private market and served eight years as an executive pastor, Stokes has been a consultant and NPE fixture focusing on the "nuts and bolts" of running a contracting business.
"I've always tried to help contractors determine the necessary systems and processes to help them succeed, whether its human resources and employee management, customer services, attracting and retaining people or operations," Stokes says. "Whether you're a 'mom and pop' operation or a larger business it's important to put systems in place so you can work 'on' the business and not 'in' the business and that's where I can help.
"It's also important for contractors to recognize and carve out a niche where they can be successful, and that's been a goal of mine as well," Stokes says. "The tendency is for everyone to try to be everything and that's not necessary. But you do need to identify what you want and where you can be successful in your market."
Stokes says he grew up watching his father, a real estate entrepreneur; handle the challenges of running a small business. He faced his own small business challenges starting in the early 1980s when he purchased Midwest Asphalt, a full-service pavement maintenance company in Kansas City. His company employed more than a dozen employees so Stokes knows intimately the day-to-day issues contractors face both on the job and in the office. Running that company not only helped him test and learn various operations and management practices, but he learned them from a pavement maintenance standpoint – which makes his insights and examples often directly related to the pavement maintenance industry.
After attending an early National Pavement Maintenance Expo, Stokes and Brad Humphrey approached Bob Woltering, owner of NPME, suggesting they handle the educational aspect of the event. Woltering agreed and Stokes and Humphrey formed Eagle Flight, a training and consulting firm, to provide and manage the speakers.
"We told Bob we thought he had a nice event with equipment but that people could always go see equipment locally," Stokes says. "We suggested that to attract people to a national event he needed to provide something they couldn't get at home, and that to keep people more than one day he needed more than equipment. An educational conference was just the ticket and that's certainly worked out well over the years.
"At that time, we're taking 1988, pavement maintenance was still in its infancy. It was a fairly new industry and there weren't a lot of people out there who had a lot of experience in it," Stokes says. "People were clamoring for 'best practices' and we helped fill that niche."
Eagle Flight eventually became Pinnacle Performance Group (PPG), and Stokes and Humphrey broadened their consulting efforts outside the pavement maintenance industry. "Especially in the 1990s a lot of U.S. manufacturers were looking to be more competitive with overseas manufacturers and we were able to help them change from a more traditional management mindset to a quality-focused, team mindset," Stokes says.
Stokes sold Midwest Asphalt in 1992 and became with Humphrey a full-time trainer and consultant for 17 years. In addition to general contractors and pavement maintenance contractors, Stokes clients included Ford, Chrysler, Honda and Con-Agra foods. He has been a featured speaker at World of Concrete, the Pool & Spa Show and has consulted for dozens of contractors looking to fine tune their operational and employee management practices.
Stokes wanted to "get off the road" and slow down so in 2005, Stokes and Humphrey dissolved PPG. He returned to training and consulting after several years, forming Next Level Contractor System to provide training and consulting on topics ranging from job costing and pricing to crew efficiency, sales, office organization and employee motivation and management. He has presented more than 150 sessions at NPE-related events, helping contractors learn "Best Management Practices" and helping contractors implement them.
"Do people want to be technicians or do they want to be business owners?" Stokes says. "If they want to be business owners they need to put in place structures that can enable them to make that transition."
Wes Van Velsor, Ray-Tech Infrared Corp.
Sometimes recognition comes not from what you create but what you are able to do with what has already been created. That's the case for Wes Van Velsor, president of Ray-Tech Infrared Corp., a manufacturer since 1989 of infrared pavement repair equipment and asphalt reclaimers.
Van Velsor was not only a pioneer in educating the market about infrared pavement repair, he was the first infrared exhibitor at National Pavement Expo. His efforts have not only added a new technology to the contractor fleet but have enabled contractors to extend their season, generate more revenue and create aesthetically pleasing and permanent repairs for image-conscious property owners and managers throughout the country.
Van Velsor will be the first to admit he didn't invent infrared equipment. He says that nod goes to Tony Heller, who developed hot boxes in the 1960s and the first infrared repair unit in the early 1970s. Van Velsor, however, was the first manufacturer/contractor to recognize the potential of infrared units to the contractor market, and he took on that challenge.
Buying (with two others) the Poweray Infrared Corp. company from Heller in 1985, Van Velsor eventually split with the partners and started Ray-Tech Infrared Corp. in 1989. The two others ended Poweray and left the industry shortly afterwards, leaving Ray-Tech the sole successor of Tony Heller's original company and unique equipment line.
Van Velsor says his sole focus was to create a niche for the equipment among contractors. "Infrared has made people think more in terms of a better-quality patch," he says. "Some people were just throwing asphalt in a hole and riding over it with their truck for a patch, and of course that never lasted. When people do the infrared repair right you can end up with a patch that's in better condition than any other part of your parking lot.
"With infrared you end up not only with a patch that lasts but it's a patch that doesn't look like a patch because there is no visible joint and people really like that. It allows customers who are concerned with aesthetics to get a repair made that blends in with their pavement."
As important, Van Velsor says, is that infrared made it possible for contractors to earn money throughout the winter. By using Ray-Tech's asphalt reclaimers, contractors can reclaim asphalt in temperatures well below zero in conjunction with their high temperature infrared heaters.
"It extended contractors' season by allowing them to work in winter months," he says. "It made their season year round. Now contractors can stockpile asphalt in chunks that fit in a reclaimer and they can go out and repair potholes all winter. And in the spring, before the asphalt plants are up and running, they can get a lot of work because pavement starts breaking up and property managers want it taken care of right away."
Starting as a Sealcoater
Van Velsor started in the pavement maintenance industry in 1972 as a contractor, running Environmental Enterprises in New Hampshire. Environmental Enterprises offered sealcoating to commercial properties – uncommon at the time – using a Gilsonite material. "People didn't do sealcoating on a commercial level back then, so we were introducing them to that."
He was a sealcoating contractor until 1984 when he bought his first Poweray infrared unit and an RC8000 reclaimer "because you need both to do infrared properly." A year or so later he bought into Poweray and in 1989 was out and starting Ray-Tech.
As part owner of Poweray, Van Velsor had ownership rights to all Poweray patents. Ray-Tech began building Tech 48's and RC8000 reclaimers to sell to contractors. Municipalities had little interest in pavement heaters at the time, but liked (and still like) the reclaimers.
He still operated as a contractor and used the infrared process wherever it made sense. "We did good work but then we had to because we would sell from it," he says. "We used the jobs we did with infrared as examples of how beneficial it could be and how easy it is to do, and we showed them off to anyone who would pay attention."
Van Velsor says that the going early on was so tough partly because there was virtually no other competition so he was doing the groundbreaking education that any new technology needs before it becomes accepted.
"Making people aware of it was the hurdle," he says. "It was really just a matter of opening the door for contractors because anyone in maintenance can easily see how an infrared unit can benefit pavement maintenance."
Van Velsor hit the road offering infrared demonstrations where he could, and once he had several orders under his belt he'd head back to New Hampshire and build the units. He says that for some reason the first units sold extremely well in Wisconsin and in Denver, CO, and those two markets kept him afloat.
"I still think back on how difficult it was to sell that equipment to contractors," he says. "I showed them how it worked and people were always pretty impressed. Then they'd ask 'How many do you have out there working in the field?' and for a long time my answer was 'Not enough.' It was a tough job."
Introduced Infrared at NPE
In 1991 Ray-Tech was the first infrared exhibitor at National Pavement Expo (then called National Pavement Maintenance Expo).
"The reaction from people at the show was similar to what I'd encountered in the field. There was a lot of doubt," he says. "When we brought a unit the next year people were really impressed but they still doubted it would really work. So that's when I started going city to city doing demonstrations."
In 1992 Ray-Tech introduced its Mini-Combo, a 2-ton box with a 6-ft. x 8-ft. chamber, and it wasn't long before they brought the truck-mounted Total Maintenance Vehicle (TMV) to the market in four size options, each with a 6-ft. x 8-ft. heat chamber. The company also added models as big as the 10-ton dumping RC20000 reclaimer and has developed new equipment such as its patented Joint Heater for highway paving and the AGG/RAP heater that mounts on a conveyor system and is used for drying and heating materials.
[photo caption]
"I just fell in love with the equipment and I still enjoy working with it," says Wes Van Velsor, Ray-Tech Infrared Corp. "The infrared process just sells itself if people can see it at work."
Bob Woltering, (1927-2001) Clairmont Corporation, Nashville, TN
More than 30 years ago, Bob Woltering, owner of Clairmont Corp. and with some relationships in the parking lot sweeping business, attended an equipment show run by the late Harold Neal, Neal Mfg. That got him thinking. From that event Woltering, who died in 2001, created a broader industry event that has undergone several ownership and name changes and is today National Pavement Expo, the paving and pavement maintenance industry's only focused annual event.
But before that Woltering, an entrepreneur if there ever was one, had ventured into the publishing industry with International Sweeper/Parking Area Maintenance. Printed on newsprint, that sweeper-focused publication came out every other month and it wasn't long before Woltering filled up those "off" months with Pavement Maintenance and Management, what he termed "The International Journal of the Asphalt Aftermarket." Time has shown he sure was on to something.
Those publications co-existed until 1990 when they were bought by The Aberdeen Group, which folded them together to create what is today Pavement Maintenance & Reconstruction, the industry's foremost trade publication and the official publication of National Pavement Expo.