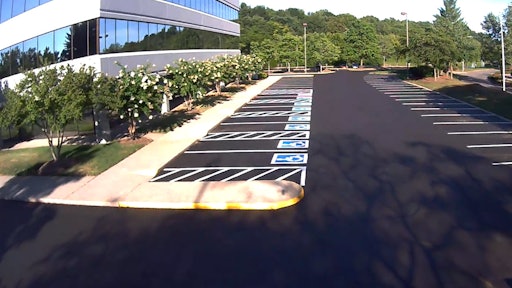 When Exterior Maintenance Service was asked to bid a sealcoating & striping job at The Gideon's International Headquarters in Nashville, TN, the contractor knew the schedule would be tight. All work needed to be done in seven days when 80% of employees were at a convention.
What the equipment heavy and productivity-focused contractor didn't know was that Mother Nature was going to put its crews to the test by raining the entire week prior to starting -- and the first few days on the job as well.
Specializing in asphalt maintenance -- sealcoating, striping, maintenance and pavement repair – Exterior Maintenance Service (EMS) is 11 years old and with only five employees has become one of the largest users of SealMaster material in middle Tennessee, according to Kemith Nichols, vice president and owner.
Nichols says that 99% of the company's work is for commercial and industrial properties, with 40% of their work being industrial, 40% business parks and the remainder commercial properties and churches. So the 100,000-sq.-yd. job at The Gideon's International Headquarters was right in their sweet spot.
"We were called by them to give a bid and we got the job even though we weren't the cheapest," Nichols says, adding that all the restrictions made the work more difficult. "It had to be done in a certain week when more than 80% of the people were gone from the building, but we had to still work around the people who were still there," he says. Plus there is a public park adjacent to the Gideon's property and the public often uses Gideon's parking lot to park for park access.
Best-laid Plans Thwarted
But EMS had a plan, which was a good one until thwarted by Mother Nature. Nichols says EMS planned to prepare the pavement – pressure washing sidewalks and curbs and repairing cracks -- the week prior to the scheduled job, but it rained every day including the first Saturday and Sunday of the job schedule.
They were behind before they started, but they adapted: they pressure washed more than 11,000 sq. ft. of sidewalks and 4,600 liner feet of curbing in the rain.
"We stood out there more than two days in the rain but we had no choice because we had a short window of time to get it all done," he says. "We couldn't afford to wait too long so we just went out and did it."
He says that once the rain had passed and the pressure washing was done they still had to wait for the cracks to dry, so it wasn't until Tuesday, six days before they had to be off the finished job, that they started to clean and seal 5,000 linear feet of cracks. Work on cracks extended into Wednesday, which was also the day they started sealcoating.
EMS sealcoated Wednesday, Thursday and Friday, spraying two coats of refined tar sealer using a SealMaster SV575 dual applicator buggy. Nurse tanks at the site kept the buggy filled throughout all three days.
"But two coats of sealer on 100,000 sq. ft. of pavement is nothing for us," Nichols says. "We can do as much as 300,000 sq. ft. in a day with no obstructions or islands so sealcoating what amounted to 33,000 sq. ft. a day is not much for us."
He says the volume of production even in the shortened time frame was not a concern because of the EMS equipment fleet and because of their approach to the business.
"I came from a different industry where I learned that success is all about utilization and efficiency," Nichols says. "So all the equipment we've got is the biggest and fastest. It enables us to run hard."
EMS finished up doing 6,000 linear feet of striping on the weekend and had the property opened Monday morning on schedule.
Reputation Drives Success
"Success is about reputation. We have a very good reputation around town of being the best," Nichols says. "I'm very particular what projects we bid on but I'm even more particular about the job we do."
Nichols credits crew productivity and the company's emphasis on job quality as major factors in its reputation and success. He says, for example, EMS offers a three-year warranty on all work where competitors only offer two years.
"We can do that because we make the effort to put down the correct amount of material. Anyone can do this but not everyone does," he says. "Many contractor just choose to not mix the sealer properly and they decide they're not going to put down the proper amount of material so of course they can't warranty it for three years."
"A lot of success in this business is a result of your reputation and about how well you sell the job," Nichols says. "When you present the whole thing in a package and the customer can look at your quality, equipment and references all at one time that's a big help.
"We did a good job selling our work to The Gideons and promised them the best job they could get -- and we delivered," Nichols says. "That's what our reputation is about and that's why I can charge a little more because that's what people expect when they hire us."
END
[possible captions]
Exterior Maintenance Service relies on a drone to document its jobs. "I take pictures with it and send them to property managers, often with a video of the property," Nichols says. "They really like it."
Kemith Nichols says Exterior Maintenance Services does a project cost analysis on every job. "We want to make sure people get exactly what they pay for," Nichols says.
EMS crews pressure washed all sidewalks and curbs in the rain over two days. After Mother Nature dried the 100,000-sq.-ft. pavement, crews worked two days sealing 5,000 linear feet of cracks, three days spray applying two coats of refined coal tar sealer, then striped the lot over the final two weekend days, opening the property on schedule Monday morning.