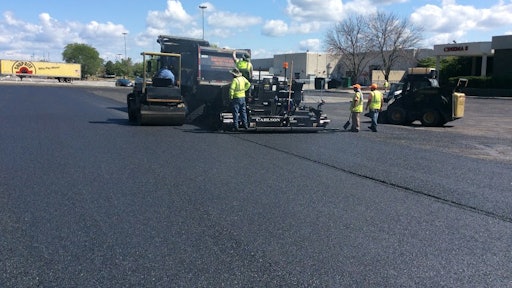 The primary goal of Paving Associates award-winning job was to make safety alterations in an area of the South Hills Mall in Poughkeepsie, NJ, reducing an existing 22% fall to an Americans with Disabilities Act-compliant 5% fall with a 2% cross-slope – all without adjusting any curbs, light poles or any other structures.
Headquartered in Staten Island, NY, the 12-year-old company (formerly Paving Arts) is co-owned by Mike Piazza, chief executive officer, and Timothy Lubniewski, chief operating officer. Its 25 employees handle "strictly parking lots" throughout the New York City metro area, its five boroughs and New Jersey.
"Our main business – 75% of our work -- is paving, and the biggest part of that are jobs that require two or three inches of milling and repaving," Piazza says. The remaining work is a mix of storm drain restoration, concrete pavement repair and construction and light pole installation.
The award-winning project was a job at South Hills Mall, Poughkeepsie, NY, and it specifically involved an area in front of two retail establishments. Paving Associates bid the job through engineering firm Kimley Horn and they'd done some work for the South Hills Mall property manager as well.
And this job was tough. The existing slope was 22% and that had to be reduced to 5% or less. And that had to be done without adjusting any curbs, light poles or any other structures with existing elevations. And while Paving Associates had specifications to follow and meet, it had no design to follow.
"So all the work was done in the field as we were working on the job," Piazza says. "We were adjusting as we went."
And to further complicate matters the grade on half the lot was fine, so Paving Associates had to restrict corrections to the other half of the pavement; and they could only work Monday through Friday with the lot opened back up for the weekend.
Piazza says that initially Paving Associates recommended pulverization to the property manager, but that approach was rejected. So they opted to mill in place re-compact the milled asphalt prior to placing new stone, which was done to save the client money on exporting material and importing fill.
Paving Associates milled in place and compacted 40,000 sq. ft. asphalt 6 in. deep, then installed 1,500 tons of stone on half the lot to raise some areas as much as 3 ft. in as many as three stone lifts to 12 in. Each aggregate lift was compacted and Paving Associates graded the aggregate to existing pavement more than 200 feet away to create the 5% slope.
"This parking lot actually got raised as much as 3 feet in some areas so we could taper it down," Piazza says. "To get to the 2% cross slope with the 5% fall we had to come back 250 feet from the main roadway and milled down to the stone."
Paving Associates then placed 2 in. of binder over the reconstructed half of the lot, milled 2 in. of pavement on the other half of the lot, then placed an overlay over 75,000 sq. ft. to marry the two halves together. After meeting all specification requirements striping was completed and the parking lot was opened on schedule.
"Paving Associates is very heavily involved in the new ADA specifications," Piazza says. "We're very good at adjusting commercial and industrial centers to proper elevation and bringing properties into compliance with ADA."
He says this type of job, and this job in particular, was tedious and "very mathematical" so many contractors shy away from it. But Paving Associates views jobs like this as a challenge.
In fact, he estimates that more than 30% of 2015 sales were the result of bringing commercial and industrial parking lots into compliance with ADA guidelines. We expect to 2016 to be just as busy with ADA compliance projects. We continue to train our team on the newest guidelines and best practices to successfully complete these detailed projects in a timely manner and with the least bit of disturbance to the clients. We welcome these challenges and are ready to work with navigating their way through these new guidelines.
[possible captions]
The recompacted milling passed compaction tests and then stone was brought in where needed to raise the pavement.
Paving Associates shot the elevation with a laser, marked out the handicapped area and access walk, then ran a stringline. "Once the stone is correct and we checked it with a laser we knew it would work," Piazza says.