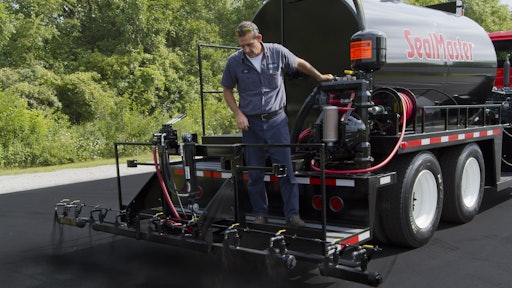 Sealcoating may not be rocket science, but if you're not equipped properly the business launch will likely have a rough start. The basics one can get from observing other sealcoat professionals in action, and even YouTube has some very informative videos. Yet the best information comes from industry experts, those who've either been running a sealcoating business for years or equipping customers to do the same.
Be Hands-on
"I highly recommend a personal visit to an equipment dealer before making any buying decision to outfit a sealcoating truck and crew," says Mike Tarvin, SealMaster sales manager, serving Eastern PA, NJ, and Southeastern NY. "This is beneficial for many reasons. The dealer will help clarify exactly what type of equipment would suit your needs and there is no substitute for seeing a machine in person."
The visit will also help newcomers evaluate a dealer's capability to provide service after the sale, he added. "Do they offer hands-on training? "Do they have the mechanical capability to do warranty work? Do they stock parts? Can they help troubleshoot field problems?
"We will typically recommend that new operators start with a trailer-style machine rather than a skid unit that would have to be mounted on a truck. Most new sealcoating contractors don't sealcoat every day, and the trailer can be unhitched to allow the truck to be used for other jobs. A truck-mounted unit is more of a commitment. It is something I would normally recommend to people who know they can keep it working long enough to justify the additional expenses of a truck mount, both initial and ongoing."
Truck 'n' Trailer
Steve Young, Pavement Advisory Board member and owner of Young Sealcoating in Lynchburg, VA , called the decision to purchase a skid-mount or trailer sealcoating machine a "give and take" choice. Agreeing with Tarvin, he noted the biggest reason for a trailer is freeing up the truck for other jobs, but there could be other ones, too. "A trailer unit, opposed to something that sits in your truck bed, frees up a lot of truck bed space," he emphasized. "If you purchase a trailer unit that has deck, there's even more storage space for wheel and hand-held blowers, along with other tools."
Young, who presented "Becoming a Sealcoating Pro: Professional Sealcoating from A to Z" at the January National Pavement Expo in Charlotte, NC, attaches a bracket on his trailer unit to hold a walk-behind crack repair machine. It easily straps down, he noted, and since the machine is only 18 inches off the ground, it's readily accessed, which reduces the chance of injury.
"If you're just starting out in the business, you will likely tow the trailer with a pickup. But as business develops, replacing the pickup with a flatbed truck may be ideal. One with a 10- or 12-ft. bed has plenty of space and removable sides make for easy access. The combination trailer and flatbed has helped me keep everything in place and become a more efficient operator," said Young. "Look for a truck with a short turning radius, something that is very useful when towing a trailer."
For pickups, Jeff Luzar, division manager for California-based Guardtop, indicated that a full-size model like a Ford F-150 could easily handle a small tow-behind trailer unit with a 250-gallon or 300-gallon tank. "Tank sizes go up from there, along with the price. Expect to pay anything from a couple of thousand dollars for a trailer unit to upwards of nearly $20,000. It just depends on how big the tank is and how many options you want," said Luzar.
"When it comes to the truck itself, it's important to size the vehicle to the tank weight when fully loaded," added Tarvin. "It is also critical that the trailer and truck both be equipped with electric braking capabilities. Sealer is heavier than most beginners realize, and the weight and 'slosh' of a full tank can be dangerous.
"I frequently say, 'it's not just about the towing, it's also about the stopping'. Make sure you are familiar with the vehicle GVW and towing capacities, along with your state and local DOT regulations. The regulations vary greatly from state-to-state. Keep in mind that it will not always be you, the owner, driving the vehicle, which makes safety and compliance even more important."
The Staples
"Equipment needs to cover the two primary facets of sealcoating," related Tony Heffernan, regional sales manager for Neyra Industries. There's equipment to clean the surface, e.g., broom and blowers, and equipment to apply the sealer, e.g., a spray wand or squeegee. "If you have that covered, you're good to go.
"In reality the cost to get into the business is not that high," says Heffernan, who with Neyra's Jeff Cayton presented NPE's "Basic Sealcoating Principles" seminar. "A beginner can start with a 300-gallon tank and a hand-crank agitator, and then add a hydraulic motor to turn the agitator."
These are the bare minimums for getting into the business, a truck and trailer, broom and blowers, and a squeegee. But as the above industry veterans pointed out, a list of equipment and tool staples grows as companies begin growing their operation.  
"Use blowers appropriate for the job," noted Heffernan. "On large jobs, bigger is better. Keep in mind that crews should wear hearing and eye protection; blowers can throw debris such as large stones into windows, vehicle, and people."
Young equips his crews with two blowers, an 8-hp wheel blower and a hand-held blower. The wheel blower has plenty of power for the open areas and the hand-held unit easily cleans difficult-to-reach areas. He also includes a string-line trimmer to help tidy up areas prior to applying the sealer.
His list of staples also includes a water tank to clean off equipment. "A 20- or 30-gallon tank will suffice," Young added. "I like an air-diaphragm pump for spraying water more than an electric one because it's more durable."
He also prefers an air-operated sealcoating pump over a hydraulic one, as it is easier to maintain and has been more cost effective than previous hydraulic units he has owned. "The one drawback," he emphasized, "is power. Hydraulic pumps operate at higher pressures, and they may become a necessity if you plan on using sand loads of 4 to 5 lbs per gallon of concentrate sealer.
"A sealcoating unit with full-sweep agitation, with paddles that touch the edge of the tank, make for a more thorough cleaning, too."
More Staples
Luzar rounds out the staples' list. "Startup crews will need delineators and cones as well as tape to keep away vehicle and foot traffic for at least 24 hours. Plywood or cardboard works well for keeping sealer away from curbs and turf areas, and a tool kit comprised of wrenches, screwdrivers, hammers and so forth will come in handy to handle minor field repairs like a blown hydraulic hose.
"Your crew will also want a five-gallon can to fuel gas-powered equipment and possibly a five-gallon propane tank to accommodate crack-sealing equipment comprised of a melter, torch, squeegee, and a wire broom for cleaning cracks. Beginners may want to start out with cold versus hot pour to eliminate the cost of a melter."
Other miscellaneous items include five-gallon pails for applicators and cleanup, an assortment of rags, and if you're using a wand, make sure to have extra tips, he advised. "Don't forget the proper clothing, added Young. "Consider wearing long pants that have a protective coating. Blue or black pants work best because they hide stains. Allow them to dry instead of washing them to prevent sealer bleeding into the interior; otherwise the sealer can absorb into your skin when perspiring. Lycra long sleeve shirts allow sweat to evaporate."
Options
"Several equipment options are available," noted Tarvin. "Some can be thought of as near necessities while others are luxuries. In my experience, the one option that every sealing machine should have is a brush water box. The box allows for storage of trim brushes and prevents them from drying out."
Young agreed. "A 36-inch metal box can be bolted to the fender of the trailer. Fill it just above the brushes, no more than an inch. This keeps the water from splashing out. If it does, the fender location will keep the water away from equipment. Include a filter or screen in the bottom of the tank to separate the dirt."
Growing a business and taking on different jobs can quickly turn a previous luxury into a necessity. Heffernan explained: "Use rental equipment for things you don't need every day, e.g. a mechanical brooms and sweepers for cleaning large or excessively dirty areas or a ride-on applicator for sealing long stretches without having to skirt many obstacles."
"Spray bars help make quick work of larger jobs," too, added Young.
Tips and More
Having a material storage tank implies having adequate water supply. "If you don't have a 2-inch water line, buy a sufficient sized plastic water tank (500 to 2,000 gallons) and install a toilet bowl float type shutoff valve in the supply line. In several hours, you will have the water you need," advised Heffernan. "By securing the water tank higher than your mixing tank, you can gravity feed up to 400 gallons per minute through a 2-inch line.
"For barricades, use those that can be left on a job, e.g., plastic tape, string, wood stakes, signs, and so forth. Place the tape/string barricades low to prevent neck or face injury when people walk or run into them."
Neyra's regional sales manager, who spent more than two decades as a sealcoating contractor, offers three additional tips for startup companies:
Use proper monitoring equipment (meters, measuring sticks, tank charts, etc.) to document the amount of material being applied.
Mini-bulk systems (totes) for primers and additives will minimize the disposal of drums and pails.
Include in your spare parts list hoses, clamps, and diaphragms in case of break downs.
Young leveraged his 25 years in the business for two additional tips: "Consider replacing the soft pink hoses that come with a sealcoating unit with shiney, red rubber hoses. They last twice as long and are not as heavy or as bulky. If you use a spray wand, replace the ¾-inch ball valve with a 1-inch ball valve to ensure full flow through the wand."
With this final tip from SealMaster's Tarvin, "If you are just starting out on your own, don't think just about the machine that works for you now. Consider where your business might possibly be within a few short years.
"I have found that most first-time buyers plan on doing residential work to get started. It's less intimidating than a commercial job. The reality is, however, that most new contractors start landing small commercial jobs within a few months. Hence, it is important to have a machine (and other equipment) that allows beginning contractors to scale up or down based upon the job at hand."
photo caption:
Steve Young demonstrates efficient use of space with this line drawing.
Optimax Little Wonder Blower http://base.forconstructionpros.com/10079430
Bily Goat Force Wheeled Blower
http://base.forconstructionpros.com/10086213
Shindaiwa backpack blower
http://base.forconstructionpros.com/10087165
Billy Goat Grazor
http://base.forconstructionpros.com/10086609
Seal-Rite 850-gal. sealcoat trailer
http://base.forconstructionpros.com/10853227
Seal-Rite 300-gal skid-mount unit
http://base.forconstructionpros.com/10084776
Neal ESSP 1500 skid-mounted
http://base.forconstructionpros.com/12026426
Neal 550 trailer-mount
http://base.forconstructionpros.com/10087611
Nealco Bulk Storage tanks
http://base.forconstructionpros.com/12013057
Nealco 300-gal skid steer
http://base.forconstructionpros.com/10092567
Sealcoating Truck w tank
http://base.forconstructionpros.com/10088643