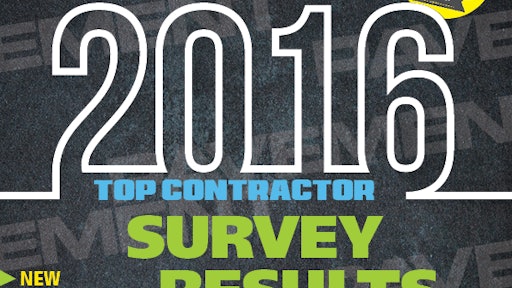 Now in its fourth year, Pavement Maintenance & Reconstruction's Top Contractor Survey has taken one expected turn and one unexpected turn. On the "expected" side, the Paving, Sealcoating, Striping and Pavement Repair lists each number 75 companies – a level of consistency we knew we'd reach, though we think lists of 100 companies each is certainly in the future.
On the "unexpected" side, however, we have dropped our Sweeping list due simply to lack of interest among the sweeping community. Fewer than a handful of true sweeping companies – those that generate 50% or more of sales from sweeping services – elected to participate in the survey, and while never this weak the response has been similar each year. So rather that attempt to reflect the sweeping segment with very little information we elected to drop it.
There are some surprising results in this year's list, which will become obvious in the introductions to each section. (And we'll provide additional detail to survey participants in the white paper analysis we send out each August.)
In the meanwhile, Pavement continues to generate industry benchmark information and to develop verifiable lists of the top-selling contractors in each of four industry segments: Paving, Sealcoating, Striping, and Pavement Repair. This year we also added a Top 10 list of contractors providing surface treatments (because we were asked by contractors and because surface treatments are becoming an increasingly used maintenance and preservation option).
Here's how our lists come to be. We first ask contractors to provide:
• Gross Sales Volume for a company's fiscal year 2015 (regardless of the date that fiscal year ended)
• A breakdown by percentage of the type of work that generated those 2015 sales
• Third-party verification of that sales total
To determine whether a contractor qualified for one (or more) of our lists, we multiplied the total 2015 sales dollars by the percentage of work done in each industry segment. For example, if Contractor XYZ reported $1 million in 2015 sales and generated 50% of those sales from sealcoating, 40% from paving and 10% from striping, we would use those numbers as follows to determine which (if any) list Contractor XYZ qualifies for:
• Multiply $1 million x 50% = $500,000 sealcoating-only sales
• Multiply $1 million x 40% = $400,000 paving-only sales
• Multiply $1 million x 10% = $100,000 striping-only sales
Companies were then ranked largest segment-only sales to smallest segment-only sales and a line was drawn beneath company #75. In the Sealcoating 75, for example, we would use the $500,000 number for Contractor XYZ and if that number was in the top 75 companies of sealcoating-only sales, then Contractor XYZ would qualify for the Sealcoating 75; if the $500,000 sealcoating-only sales placed them outside the top 75 companies, then Contractor XYZ would not qualify for the Sealcoating 75 list. The same approach was followed for all industry segments.
Click here to view the 2016 Pavement Top Contractor landing page. 
Once each list was determined, dollar volumes were removed and each list was reorganized in alphabetical order. (Note: These lists are not a ranking of contractors.) Participation in this survey is voluntary; next year's survey will be open for participation online and through Pavement Maintenance & Reconstruction beginning January 1, 2017.