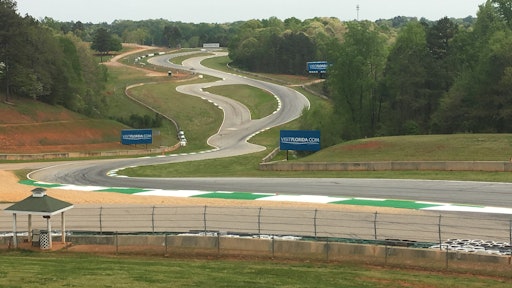 In 2015 Advanced Pavement Marking, West Olive, MI, was approached by Kelly-Creswell to test a new high-friction paint designed for use on racetracks. Not only was APM interested in doing the testing, but the market dovetailed nicely with the interests of co-owners Don Sokolow and Jeff Swendrowski, who at one time traveled the country racing boats in the American Power Boat Association tunnel hull series as "Team Perfect 10 Racing."
APM, which had transformed from a parking lot striping contractor to striping almost exclusively for municipalities and airports, relies almost entirely on Kelly-Creswell conventional air striping equipment – integral to the story. So when Kelly-Creswell called, APM decided to tackle the testing.
The result has opened a new business niche – racetrack striping – for APM, and likely a new market in the U.S. for the friction paint many racetracks require. After testing out the paint, APM painted two tracks in 2016, and heading into the 2017 season the contractor has four racetracks jobs on the books, one velodrome job, and at press time another few bids waiting acceptance.
A Unique Paint
Sokolow says the paint, produced by Drew Paints Inc., Portland, OR, is a water-based formula infused with a high-friction grit that provides increased traction and safety for motorcycle and auto racing participants. Drew Paints is the only U.S.-based company producing a paint approved by both Federation Internationale de le'Automobile (FIA) and Federation Internationale de Motocyclisme (FIM) racing bodies. Also, MotoAmerica, the motorcycle racing body, recommends all tracks in its series be painted with "circuit paint".
Until development of this new material, any time a friction paint was used on a U.S. racetrack it had to be sourced from Europe and even crews with specialized equipment had to be brought from Europe to apply it.
Sokolow says Drew Paints contacted Kelly-Creswell because the high-friction material can't be sprayed through airless equipment. He says that due to the traction additive, airless machines will self-destruct from the abrasives and that airless tips will instantly clog. He says that conventional air machines must be modified to spray the paint but the equipment will withstand the process. So once APM agreed to test the paint, the first step was to modify their air-powered striping equipment to handle the material.
Modifying the Equipment
Sokolow says APM uses palletized machines mounted in pickup truck beds. The palletized units include a material tank and air compressor, both of which need to be modified by APM to handle the paint. Sokolow says they not only doubled CFM of the compressor but they installed auxiliary air holding tanks to assure an uninterrupted flow of air to the material tank and gun. The compressor pushes air into the auxiliary tank and the air is drawn from the auxiliary tank, thereby eliminating any gaps or reduction in air pressure.
"It's crucial to have a high amount of pressure in the paint tank, at the gun and also to operate the in-tank agitator to keep the material mixed," Sokolow says.
Other modifications include:
Changed the material tank size

 

Added specially designed Kelly-Creswell tank caps that feature a four-paddle agitator, which keeps the grit in the material in suspension. The tank paddles also can reach the tank bottom, preventing the material from collecting there

All lines were replaced to double the line diameter

Line length was kept to a maximum of 25 ft. to help maintain air pressure

Air volume line was increased to 5/16 in. diameter all the way to the head

All strainers were removed

Larger tips and needles were used to accommodate the material
Sokolow says the nature of the paint and the use of conventional style equipment means the striping process requires constant monitoring. He says the palletized stripers were converted to hold up to 20 gallons at a time, any larger would mean even more modification and agitation needs.  Friction paint is packaged in 4-gal. buckets due to its weight and material settlement.  Because of the friction-enhancing grit the paint requires constant mixing; it's mixed before it is poured into the tank and agitated throughout the job. 
"You can't just stripe and go," he says. "There's constant attention to mixing and tuning up the pressures. We are always adjusting the pump pressure as temperature and humidity changes and to make sure we get the fan spray right."
He says, for example, that 40 psi might be enough to push the material out of the tank but they might need to increase it to 100 psi to get the paint fan they need.
"The biggest challenge is the actual production window and the available cure time because it takes an hour for the paint to fully cure," he says. "Plus we have to account for changing conditions from the day to the night and changing dew points which affect the material.
"We'll start out with temperatures close to 80°F during the day and it can get to the low-40s at night with dew points close to the 80s, just shy of working in wet weather," he says. "As the conditions change the material gets thicker, which requires attention and adjustment throughout the job."
He says some racetracks and other contractors have applied this paint with brushes and rollers, which led to inconsistent thicknesses, uncontrollable grouping of traction additive and dead spots.
"We refined our equipment and application techniques in order to uniformly apply material in a way that ensures the paint-friction additive was constantly mixed and applied edge to edge, start to finish, with little to no dead spots. Keeping the friction additive in suspension and eliminating dead spots is crucial for product success."
Racetrack Striping
Sokolow says that depending on the format of the races, most tracks are restriped at least twice a year – and some three or four times a year.
He says APM started working on the 2 ½-mile Road Atlanta track, Braselton, GA, April 11 and had to be finished and the track ready for racing April 15. But when they got on site to go to work they were in for a surprise.
"Race tracks are known for their weekend events, what typically is not known is how active these tracks are during the week days, hosting racing schools, testing, and private track rentals," Sokolow says. "This shuts down the track to contractors Monday through Friday from 8:00 a.m. until 8:00 p.m., making our service window limited and into nighttime hours.
"That was a big shocker to us. We were ready to go but had to wait for the track to be empty. Once we realized that, we got everything ready to go and once the track got cold we were on it."
The Atlanta project consisted of painting all starting grids, aprons, various edges and the checkered finish line, and a large runout area used in case a driver overshoots the turn in so they can recover themselves.
He says that because of the schedule much of the work was done at night, which is not unusual for APM crews. "That's not unusual for us, we do a lot of night work," he says. "We didn't expect it at first but we adjusted and now we know."
From Atlanta APM went to its second race track job, New Jersey Motorsports Park, Millville, NJ. Here, too, APM worked night and day over four days doing both new layout and restriping.
The entire track including chicanes (aggressive turns) were to be painted on the 2 ½-mile course, so APM striped the chicanes, pit boxes, pit lanes, starting boxes, divider islands and all edge line markings, 80% of which had been worn away. APM also created a 10 ft. x 44 ft. custom in-house built logo with the track's font and colors for the track's start/finish line. 
"Working within the available time frames we were able to complete the equivalent of 200,000 ft. of 4-in.-wide lines," Sokolow says.