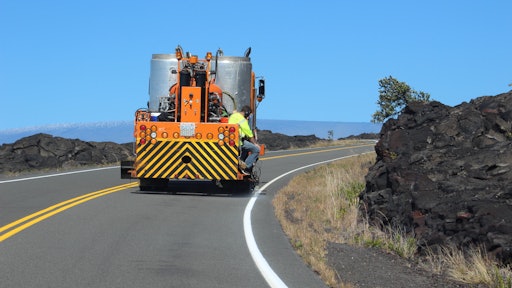 All photos courtesy NPS Photo/Sami Steinkamp
Almost 1.9 million people visited Hawai'i Volcanoes National Park in 2016, so when the park's pavement needed to be restriped this year the challenge for the striping contractor was getting the work done with the least disruption to park visitors.
So when general contractor S.T. Rhoades Construction, Redding, CA, sought a pavement marking subcontractor, the directives were clear: Get in, get done, get out – and stay out of the way of the visitors.
"The park needed this work done right away and we could make that happen for them," says Steve Rhoades, CEO/owner of S.T. Rhoades Construction, Redding, CA. S.T. Rhoades Construction works throughout the western United States and the islands of Hawaii and Maui. The contractor employs 80 people and specializes in roads and highways, with half their work being paving. Steve Rhoades says virtually all the general contractor's striping work is subcontracted to Apply-A-Line, and that was the case on this job as well.
Headquartered in Pacific, WA, Apply-A-Line is a family-owned business providing pavement marking services throughout the western United States since 1985 and Hawaii since 1993.
Planning for Visitors
Located on the southeast corner of the island of Hawaii, Hawai'i Volcanoes National Park encompasses 333,086 acres, including 66 miles of paved roads and 20 parking lots.
Jessica Ferracane, public affairs specialist, says the park worked well in advance to alert visitors, tour operators and park employees to the striping project. She says a news release was distributed to all local media, our tour operators, park partners and the visitors' bureau.
"In addition, we get the word out via social media," Ferracane says. "We also let all employees know by informing them at the monthly All Park meetings, and ensure our frontlines interpretive rangers, the ones who deal directly with park visitors each day, are informed regularly with updates on the project." 
"The biggest challenge at Hawai'i Volcanoes National Park is the visitors," says Trent Caban, project manager and estimator on the Volcano job. "It's a tourist park and park officials don't want to interrupt, so we were doing the work with as little disruption as possible."
Both S.T. Rhoades and Apply-A-Line were involved in handling traffic control during the job, "which you can imagine can be difficult in an especially busy national park," Rhoades says.
Caban says the long-line striping on Chain of Craters Road, was the easiest with 500,000 ft. of centerlines and fog lines (what some term edge lines) completed in a week. Centerlines included solid pass/no pass lines, solid lines with skips, and skip lines in yellow; fog lines were in white. Crews also applied glass beads at a rate of 7 lbs./gal.
"The long-line work went pretty smoothly," Caban says. "We used two flaggers in front and behind the paint truck and were able to keep delays to less than 15 minutes."
Striping Parking Lots
Caban says the park didn't allow them to shut down any of the 20 parking lots to restripe them, so they became the slowest part of the job. He says they kept an eye out and if a lot wasn't busy they coned off 20 stalls at a time, restriped the area, then moved the cones to another part of the lot only when the first section was dry and could be used.
"We just kept moving around in each parking lot until the lot was done," Caban says.
Or until the parking lot got too busy.
"Most of the work was done before 10:00 in the morning because that's when they started to get busy," Caban says. "Then we went to work on some places that were more out of the way."
On some days they just shut down their work because the park had so many visitors.
"That definitely affected our production, but you go into the job knowing that so we just try to figure that all out when we're bidding," Caban says. "Obviously that hinders your work and productivity but if you know before you bid you just have to figure it out and put it into the bid."