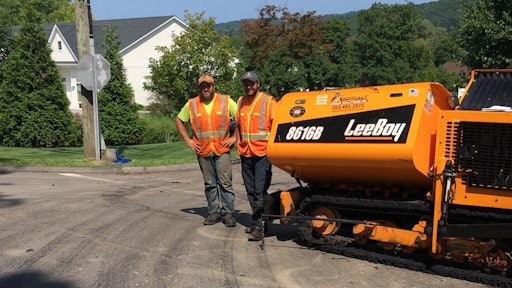 Most startup contractors don't see their revenue double and profits increase for four consecutive years, but that's exactly what happened when Dale Hardisty and Rob Bedard joined forces in 2013 to form Asphalt Repair Solutions, Newtown, CT.
Both Hardisty and Bedard, co-owners, had previously worked for a paving company and each had worked independently doing pavement maintenance jobs on the side. As their independent work increased they began to rely on each other for help and often shared equipment.
"As I got more and more work I realized I couldn't do it all myself," Hardisty says. "When I got a patching job I couldn't do it on the weekend because the plants weren't open so I'd ask Rob to do it for me."
So the two decided to pool their resources and start Asphalt Repair Solutions. "Helping each other out worked really well so we just decided to combine forces and give it a shot. See how it goes," Bedard says.
It's going pretty well.
They started the company with two crack filling units, two sealcoating machines, two pickup trucks, a one-ton Mason dump truck and an old mini-excavator. Bedard had done cracksealing for some towns so they continued that and were able to add small sealcoating jobs such as sealcoating the library parking lot.
Today Asphalt Repair Solutions employs 20 people peak season doing milling, paving, sealcoating and cracksealing work. Commercial work generates 70% of sales with the remaining work split evenly between municipal and residential customers.
"Like any new business it was slow in the beginning, but every year it gets better and better," Hardisty says. "Revenue has doubled each year in business – from 2013 to 2014, from 2014 to 2015, and from 2015 to 2016 and 2016 to 2017. And profits have increased each year as well."
Hardisty says that for the first few years they've been helped by two "really good" customers – one contractor and one end-user – who have provided a steady flow of work.
He says that about half their work is as a subcontractor, which was important for their early success and growth. "Working as a subcontractor helped because we didn't have to sell the work and we didn't have to carry the insurance or bonding for some of the jobs," he says.
Plus, working as a subcontractor they knew they'd get paid in a reasonable amount of time, which was important for a startup business. "In some cases they even paid for the materials so we didn't have those bills coming in," Hardisty says.
Getting Money to Grow
Like many startups, Asphalt Repair Solutions had trouble getting loans from banks. So Hardisty and Bedard decided to put themselves on a salary with no draw and then put the money back into the company.
"We got frustrated when they wouldn't lend us money so we just decided to save up and buy what we need ourselves," Hardisty says.
Their first cash equipment purchase was a tri-axle truck. "That felt pretty good," Hardisty says.
"Once we started buying equipment outright the banks saw we had some assets, so they started to loan us some money," Hardisty says. "Once you have a few loans under your belt it's pretty easy."
In 2016 they bought a LeeBoy 8816 paver and a used 4-ft. mill. The mill, Bedard says, they bought in Italy. "We found it on the Internet and flew over to inspect the mill," he says. "It was such a good deal that it was less expensive to buy it and ship it across the ocean than it was to buy a used mill in the U.S."
Hardisty runs the mill and Bedard runs the paving crew.
"We have a good reputation, we're both good at what we do, and we're both pretty hands on," Bedard says. "We're not driving around in an air conditioned truck. We're out there in the field."
Hardisty says one reason for their success is the core crew they've hired, which he says is a direct result of the company's approach to employees. "We're trying to make it a good place to work; trying to attract the best people," Hardisty says. To that end the contractor offers full health insurance, a 401(k) plan with employer match, paid holidays and vacation time for the office staff.
"We do attract a lot of people so we have to weed them out, but we have gotten some good people out of it," he says. "Anybody decent is not going to work for you if they don't get compensated or don't have benefits."
Broadening Customer Base
Bedard says that while the first few years have been great, they're cautious not to grow too fast.
"Now we're working trying to spread it out, trying to get work from a lot of different people," Bedard says. "We don't want to have just that one big account where we have all our eggs in one basket and then if something happens and we lose that account we're in trouble."
To help broaden their customer list, Hardisty and Bedard hired their first salesperson this year. "It's nice working for other contractors but it's important to have your own customers too," Bedard says.
"Our goal is to do the job the right way and to make sure the customer is happy," Hardisty says. "We do quality work and when we're done we have no hesitation telling everyone we've done that job."