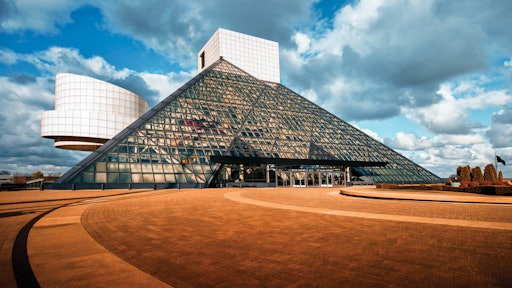 Each year roughly half of all National Pavement Expo conference sessions focus on technical topics and the 2018 NPE, Feb. 7-10 at the Huntington Convention Center of Cleveland, will be no exception. Of the 54 sessions 25 will feature technical training issues – and 11 of those technical sessions will be new.
Here's a sampling of NPE 2018's technical sessions, broken down by type of work.
Sealcoating
Girish Dubey, president of STAR Inc., will tell contractors how to Take Your Sealcoating to the Next Level, which will go "beyond the basics" in this new session and cover sealer composition, "best practice" methods of application (for one, two or multiple coats of sealer), and drying and cure to achieve optimum performance. Dubey will also explain how (and why) to alter mix designs to suit pavement and climatic conditions, and the importance of applying the right amount of sealer through determination of wet and dry film thickness. Attention will be paid to the various additives.
In another new session, Nick Howell, owner of T & N Asphalt Services, will present Succeeding in Commercial Sealcoating to help contractors step up to tackle large commercial sealcoating jobs and to show "that moving up to larger work isn't as difficult – or as expensive – as you might think." Howell, a Pavement Advisory Board member, will discuss marketing to property managers' larger centers, estimating larger jobs, negotiating with your suppliers for better pricing, insurance requirements, essential equipment, benefits of partnering and subcontracting with other contractors, scheduling to please the owner, "as well as some other 'been there' tricks."
Bill Maclean, The Brewer Company, will be the 2018 presenter of NPE's annual Basic Sealcoating Principles session. He'll provide detailed information about the sealcoating process, including sealcoating materials, mix design, equipment and how to use it, application techniques, Dos and Don'ts of the business, as well as on-the-job troubleshooting tips. .
And Janice Potter, Hardplay Holdings LLC, will discuss How to Execute Parking Lot Sealcoating & Paving Jobs Profitably, a new session for NPE 2018. Potter, who presented several sessions at NPE, will divide the session in half, providing "best practice" insights into executing both sealcoating and paving. She'll provide "how to" details on early-stage planning, how the client (and tenants) are involved in the process, time-saving jobsite organization tips and a high-production approach to executing each type of work.
Pavement Repair & Maintenance
In Basic Pavement Defects: Causes, Solutions – and How Set Your Price! Pavement Advisory Board member Nick Howell, T & N Asphalt Services, connects the dots among the pavement defect, its cause, the "best practices" repair solution – and how to set your price. Defects covered will be alligator (fatigue) cracking, "normal" cracking, potholes, surface oxidation and raveling. For each defect Howell will work through a job-costing example to uncover all the cost elements to include before adding in your profit and determining your price.
Improving Your Infrared Pavement Repair Operation will be presented by Tom Eosso, Eosso Brothers Paving, a Pavement Advisory Board member who has become the go-to infrared contractor at NPE's conference. He'll cover the basics of the infrared process and how to perform the work (including a step-by-step explanation of a basic infrared repair). Relying on photos and on-the-job video, Eosso will "work through" examples of the variety of jobs and repairs and highlight specific infrared field techniques.
Still another Pavement Advisory Board member, Todd Bruening, Parking Lot Maintenance LLC, will present another new session, Parking Lot Cracksealing: How You Can Improve Your Operation. Bruening will work through the cracksealing operation his crews go through from pulling up on the site to finishing the job. He'll cover the technical side of how cracks area prepared and sealed -- including "best practices" and tools and equipment that can make your field work more efficient and effective. He'll also cover operational aspects the guarantee quality work in a profitable manner.
Asphalt Paving
Applying "Best Practices" to Your Paving Operation, presented by paving jobsite specialist John Ball, Top Quality Paving, is an annual 3-hour "how to" program that takes contractors step-by-step through the paving operation. Ball relies on videos he's taken on consulting jobs throughout the year to demonstrate various paver operations, proper and improper techniques, paving "best practices," and problems and their solutions.
Ball will make his presence known throughout the NPE conference (he presents four sessions) including Solving the Paving Puzzle: Video Solutions Show How a Job Fits Together and Diagram It! How to Pave a Parking Lot & a Cul-de-Sac from Start to Finish, which will use step-by-step diagrams (and some video) to teach how to determine the amount of mix for each type of job, how to determine haul truck size and delivery schedule, how to "line-out" the start of the work and plan the paving, and how to achieve the required slope and density. He'll also present "best practices" to guarantee quality and efficiency.
An annual NPE paving expert, Jim Scherocman, P.E., Consulting Engineer will present Identifying, Preventing and Solving Mat Problems, which will cover how to differentiate among four primary problem areas: the properties of the mix itself, site-related conditions, equipment-related problems, and long-term durability issues. Then he'll discuss how to prevent specific problems in each area from happening and how to fix them if they do occur.
Scherocman follows that session with Effective Compaction of Hot Mix Asphalt, in which he will outline the basic elements of compaction and the use of various types of rollers, including static steel wheel, pneumatic tire and vibratory steel wheel rollers. He'll cover compaction of both stiff and tender hot mix asphalt mixtures and will emphasize the use of different rollers and rolling patterns for different paving situations.
Nigel McKay, Weiler, will present a new session, Fundamentals of Asphalt Pavers and Asphalt Paving – an introductory class that covers paving equipment basics. He'll discuss each component of the paver – augers, screws, conveyors and screeds – including what each component does, how each works, how the components work together, and how operators can adjust components to get the desired end result of a high-quality mat. He also will provide a checklist of tips to help operators make sure the paving machine is operating at peak performance.
How to Run the "Perfect Paving Project" is a new paving session from Pavement Advisory Board member Connie Lorenz, Asphalt Restoration Services, who says that while "there's no such thing as a 'Perfect Paving Project' – commercial customers still expect it." So Lorenz has developed a "pursuit of perfection" session that will cover what to include in the essential pre-con meeting, tips on communicating with clients (and a unique suggestion to help them better grasp what's going to be happening on their property), how to plan for and handle the "unexpected issues," and how a "team walk-through" leads to a successful end-of-project client meeting.
Pavement Marking
In addition to its annual Parking Lot Layout & Striping Basics, session, presented by Robert Liles, Robert Liles Parking Lot Service; How to Stripe the Tough Jobs, by Pat Mendick, Miktom Inc.; and an updated seminar Improve Striping Productivity Using Today's Technology, by Chad Jung and Scott Langton, Superior Striping, NPE 2018 will offer two new pavement marking sessions.
Kurt Gruenberg, RAE Products, will help contractors sort out the differences and different uses among marking materials in Thermoplastic Pavement Markings & Durable Liquid Paint Alternatives. The session will focus on extruded and preformed hot-applied thermoplastic marking materials, as well as durable liquid marking paints. In addition to learning basics such as equipment, installation, longevity and pricing, Gruenberg will provide an overview of other marking materials — Chlorinated Rubber, 'Liquid Thermoplastic' (Hi-Build type III), and Acetone Acrylic – including advantages, disadvantages, recommended uses, and application tips. 
Don Sokolow, Advanced Pavement Marking, will help contractors broaden their business in his new session, How to Expand Your Striping to 3 New Markets, specifically municipal, airport, and racetrack striping. Sokolow will detail what you need to know as you consider expanding into these new markets, including bond and insurance requirements, equipment needs, safety requirements, production rates required, inspection insights, and material requirements.
For details including the full four-day schedule and complete session descriptions visit www.nationalpavementexpo.com.