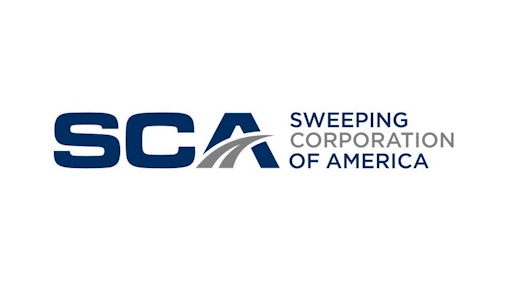 About a year ago Soundcore Capital Partners purchased Nashville, TN-based Sweeping Corporation of America (SCA) as the platform on which to build a national sweeping company. Following the purchase of its first privately held company, the new company began operating under the SCA umbrella headquartered in Cleveland, OH.
Since then SCA has acquired four additional sweeping companies in the eastern United States: Sani-Tech, Nashville, TN; Sky Sweeping, Louisville, OH; Reilly Sweeping, Fairless Hills, PA; and Clean Image, Circleville, OH.
According to Christopher Valerian, president and CEO of SCA, the acquired companies currently have a sales mix of 75% broom sweeping (streets, highways, construction) and 25% air (parking lots). The company now employs roughly 600 people and operates 500 sweeping trucks in 21 locations. Valerian says SCA expects to double the number of trucks it has in the field by the end of 2018 – partly through acquisition and partly through organic growth.
"We plan on continuing to grow at about that same clip," Valerian says. "We're going where we see opportunity and right now we see most of that in the eastern half of the United States. But if we see something in California or any other place we'll pursue that as well."
Valerian, who has experience directing a private equity-backed roll-up in the solid waste management industry, says that the sweeping industry is ripe for the approach SCA is taking.
"The challenges in the sweeping industry are very similar to the challenges we faced in the solid waste management industry. I have seen that the things we did successfully creating efficiencies in the solid waste management industry can work equally well in the sweeping industry," he says. "An opportunity exists with scale to service the customer better, whether on the parking lot side or the power sweeping side. There's a big opportunity to provide a better service and more consistent service across a broader geographic market."

Valerian says his approach to business is focused around creating a field-driven company that provides a consistently high level of service to its customers. "Our acquisitions include some of the oldest, most-respected companies engaged in power sweeping. For the most part the owners of these companies are shareholders in the larger SCA, which creates a very talented management team running the business day-to-day. My job is really just to continue their tradition of excellence and provide resources for the combined entity."
Why the Sweeping Industry?
Valerian says the $6 billion sweeping industry is ripe for consolidation because it is highly fragmented and capital intensive. He says this market condition is very similar to what he experienced in the solid waste industry. But there are also other important reasons – some of which mirror the solid waste industry:

Both industries rely on purchasing and maintaining a fleet of trucks to provide the service

Both industries face safety concerns with drivers and increased insurance premiums

Both industries serve similar customer mix with commercial and municipal

Both industries require pricing discipline to ensure proper returns for invested capital expenditures

Both industries are dealing with the national driver shortage and are dealing with upward pressure on labor wages
He says because sweeping companies are regional or even local by nature, they can't take advantage of economies of scale that a larger operation can offer. That's why SCA's acquisitions are in the same region: proximity helps SCA take advantage of economies of scale that entrepreneurial companies or even larger sweeping companies just don't have.
"Scale helps with efficiency and utilization" he says. "Back-office operations are typically where you can see near-term efficiency gains in a business consolidation. However, we are experiencing positive margin expansion through increased asset utilization. We see this particularly in our parking lot business where we have been able to increase our route density."
He says another reason Soundcore is pursuing the sweeping industry is that their research determined that customers are often disappointed in the services they're currently getting – and could be willing to pay for better service.
"Parking lot sweeping, especially in retail locations, is very visible to the customer. Many of the customers and potential customers I have met with have expressed a desire for a more consistent, higher level of service." Valerian says.
"Over the last several years, the price people are paying for sweeping is going down while labor and equipment costs are going up, so margins have been pressured," he says. "That creates market challenges for an entrepreneurial business. And that's especially true on the parking lot side where it's a very price-sensitive business. Some people will always want to take the lowest price and we won't always be a fit for them."
He says some of the pricing he's seen of sweeping services doesn't enable small- to mid-size companies to replace equipment, so they are working with out-of-date sweepers that they're struggling to keep working and that probably aren't working to their peak efficiency. "In any given market the cost of a truck, labor, fuel and maintenance are relatively equal, yet the unit pricing varies by 200%. The lower end of that spectrum makes for challenging market conditions" Valerian says.
But he says Soundcore and SCA are working to change that.
"The simple theory is that we believe there is a place in the market for good service using good equipment provided by quality, long-term employees," he says. "We're focused on finding customers that will pay a little bit more for the value of a high-quality service that's consistent over a long-period of time."
SCA Adds Resources to its Acquisitions
Valerian says SCA has purchased a platform that includes some the oldest regional companies in the marketplace. With the collaboration of the management teams, they have consolidated some back-office operations, installed process-driven systems, and put in efficiencies to improve profitability. They also have access to additional resources through SCA to be able to buy new equipment where needed.
"We have undertaken a fleet strategy to proactively replace our older units with newer trucks on a predetermined schedule," he says. "We develop our strategy in conjunction with our field organization in order to make sure we address the local market needs. We know that things aren't done the same in Memphis as they are in Philly, so it's important we listen to our field leadership who know and understand that local market."
Valerian says that whether acquiring additional companies or expanding organically, SCA will be able to provide the best of both worlds – local operations and corporate operations – to sweeping clients.
"In any sort of consolidation there are going to be process changes," Valerian says. "It's organizing resources and installing systems that enable you to derive process-driven efficiencies. We are adding efficiency and investing in our employees to provide our customers a great service at competitive pricing."
Some of what Valerian says SCA can bring to their sweeping business includes:
Newer fleets

Higher-compensated, quality, career-driven drivers

Improved safety records

Responsiveness

Consistent service
"If someone doesn't place value on those things then they likely won't be a customer of ours," Valerian says.
In addition, Valerian says SCA brings fine-tuning to some processes – such as defining how much time operators spend on pre-trip inspections – and is installing technology to make sure operators are running their routes efficiently.
SCA has also added a Human Resources department, something most sweeping companies don't have, to standardize hiring, handle insurance and employee benefits and other labor-related activities. Valerian says bringing an HR department to the companies it has acquired reduces turnover, which will reduce overtime – which increases profits to the bottom line.
In addition, SCA integrates its own sales approach into the acquired companies. "When I look at the sweeping business, I've yet to find a company that has a sales force that's out there," he says. "Usually it's the owner that's engaged in sales. SCA will invest in a dedicated sales force to help fuel organic growth."
SCA Seeing Results
Valerian says from the initial acquisition a year ago most of SCA's growth has resulted from increased sales within the markets they bought into – working to densify routes, for example. "We initiate our sales and marketing efforts into areas where we have capacity," he says.
"In all locations we're already managing a fleet of trucks. If we're running 10 broom trucks we can add 10 air trucks to that – or vice versa. The infrastructure is already there. We might have to add an additional maintenance person to service the additional trucks but that's it. And that's how we've achieved most of our growth," Valerian says.
"Our growth and opportunity is the result of providing greater economies of scale, instituting some systems, and having financial resources we can call on when we need them. It's only been about a year, but so far we are seeing the results we expected."