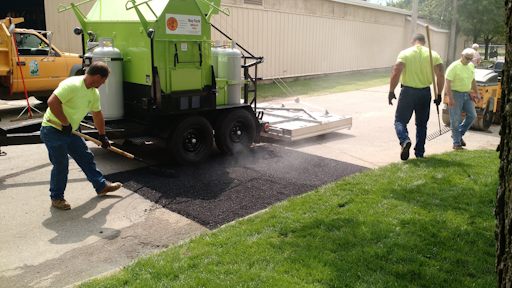 Infrared pavement repair – a process that was often oversold, too-often performed improperly, and whose resulting reputation took a hit setting the process back more than a few years – is steadily becoming an essential service among contractors' pavement maintenance options.
"It's very much an essential tool in a lot of markets," says Wesley Van Velsor, vice president of Ray-Tech Infrared. "People tried it and walked away from it but that's because people were overselling it. They built up expectations that were way too high."
But people are coming back.
"There's been a consistent effort to promote the process and more and more people are taking the process seriously and wanting to make it part of their pavement maintenance program," says Matt Kieswetter, co-owner of Heat Design Equipment. "Everyone now knows the whole process works."
"It's grown into being an essential part of the pavement maintenance fleet, but there's still a ton of room for infrared to grow," says Tom Allen, general manager at Kasi Infrared.
The Infrared Market in 2017
Cliff Cameron, director of sales at KM International, says KM sold a broad variety of equipment in 2017. "We saw a lot of companies investing in equipment, a lot of government spending, and that's a good outlook overall for the asphalt industry as a whole," he says.
Cameron says KM's typical pavement maintenance contractor bought the self-trailering 4-40 model, which heats patches up to 5 ft. x 8 ft. He says paving contractors are buying the 2-18X which heats up to 3 ½ ft. x 6 ½ ft. for cold joints, seams and small defects. "As recently as five years ago those paving contractors were using torches for those kinds of repairs and now they're using infrared," Cameron says.
Van Velsor says Ray-Tech also saw demand for a broad range of its models.
"Whether the demand is growing from their customers, or contractors have just been watching the process and finally decide to get involved I can't say. But we're seeing sales increase across the board in all our lines. People have realized that if they go out and practice it for a while and put some dedication into it and learn the raking and luting effectively they can make a killing on it. It's that good a process," Van Velsor says.
"Seven years ago we sold mostly trailer-mounted units, but we seem to have come full circle and are now selling more truck-mounted equipment," Van Velsor says. Ray-Tech's truck-mounted TMV line features four units, each outfitted with a 2-, 3-, 4-, or 6-ton reclaimer and a 6-ft. x 8-ft. heating chamber. "Part of that might be the uptick in interest in reclaimers, which we mount right on the truck with the infrared heater, but that truck market is really booming."
Allen says 2017 was a good sales year for Kasi, with more municipalities buying infrared units. "The increase in sales year to year is incremental but the trend is up and the mix of customers is changing," Allen says.
He says that in 2017 Kasi saw a shift to its Patriot truck-mounted models from its trailer-mounted Minuteman line. The Patriot is available with 2-, 3-, 4-, 5- or 6-ton capacity reclaimers and an 8 ft. x 6 ft. heating unit.
"We used to sell more trailer-mounted units because municipalities had plenty of trucks to haul them around. But you do have to dedicate a truck to the trailer unit," Allen says. He says the Minuteman units are 21 ft. long so they're more difficult to maneuver "if you're not used to hauling and maneuvering a trailer or if you have to position it in a tight space."
Kieswetter says that because HDE manufacturers a wide variety of equipment they can sell a good mix of product to both contractors and municipalities. "And we saw steady growth in both markets in 2017," he says.
He says that in 2017 HDE sold larger models than in the past – and sold them to contractors doing parking lot work – particularly its P1600 trailer-mounted unit which can heat an area 16 ft., 6 in. x 6 ft., 6 in. "We sold a whole different mix of equipment than we had in the past. It seems to go in cycles."
Dave Strassman, president of Asphalt Reheat Systems, says sales for ARS went well in 2017 and he expects them to get even better. "We're finding that once contractors see all that heated repair can do they don't want to be without it," he says.
Strassman (who prefers the term "heated repair" to infrared because infrared is only one of several ways to generate the heat) says that in 2017 ARS's best seller was its portable units, the largest of which has a 4 ft. x 6 ft. heating unit and can be lifted into a pickup by two people (weighs less than 160 lbs.).
"Some of those trucks or trailers are difficult to fit into some tight locations to make a repair. The smaller you are the more portable you are and that seems to be what people look for," Strassman says.
"When we first started our trailer units were our biggest seller, but contractors used those more for stamped asphalt and people seem to have moved away from that," he says. "We continue to sell our truck-mounted units but the portable units seem to take care of most of what the customers do."
Greg Larsen, president and owner of Thermotrack, says their infrared unit is used primarily for stamped asphalt, a market which slowed in 2017. "The industry economically has taken a downturn this past year and many states and municipalities are experiencing financial issues and budget restraints," Larsen says.
Thermotrack makes two models, each of which folds for easy transport and which can heat an area 6 ft. x 9 ft. Larsen says Thermotrack is different from all other infrared heating equipment in that it relies on a patented "heat motion" system in which the heating element moves back and forth across the pavement. The heating element can also move up and down, "a first in the industry." He says this movement safeguards against overheating the surface and damaging the binding properties of asphalt, which is especially critical in stamped asphalt.
"After infrared is used to heat the pavement and stamping is complete, a two-part epoxy coating or thermoplastic is applied and will only adhere to a well-preserved, undamaged asphalt surface," Larsen says. "Because the heating element in the Thermotrack unit moves, we eliminate much of the potential for human error, making operator reliance less of an issue." He adds that more and more stamped asphalt projects specify that a "heat motion" (also termed "reciprocating heat") system be used in the stamping process.
"Stamped asphalt still make sense and is a good value-added business when using infrared," he says. "Stamped signage is also very popular for many business and is on the increase." Thermotrack heaters were designed primarily for decorative stamping and thermoplastic application, but Larsen says "heat motion" also works well for patching and repairs.
Reclaimers Boost Infrared Sales
A number of the manufacturers have credited an increased interest in asphalt reclaimers for the steady growth of sales of infrared equipment.
"People are now looking for ways to reuse old asphalt, so combining infrared with a reclaimer is a great way to do that," Kieswetter says. "Everyone wants to be able to reuse that old mix, they just wanted a better and easier way to reuse it."
He says up until 2017 HDE's best-selling reclaimers had a 2-3 ton per hour capacity, but in 2017 the demand shifted to reclaimers with 5-12 tph capacity – and he says both contractors and municipalities are buying the larger units.
"The smaller reclaimers weren't a great help to larger paving contractors but with the larger recyclers they can travel a great distance from the plant and make the repairs they need to be more cost effective. That was difficult for the big pavers when they could only haul 2-3 tons of mix," Kieswetter says.
Cameron takes the value of reclaimers even a step further, noting that the increased cost of hot mix asphalt (from $45 a ton to the area of $70 a ton in the last 10 years) means it's more costly to waste material you buy.
"One of the best investments you can make even if you don't buy an infrared machine is a hot box reclaimer because it enables you to have mix available when plants are closed so you can generate revenue all winter long repairing trip hazards and other defects in parking lots," he says.
"If I'm talking to a customer over the phone and he's new to the industry and has a limited budget, I'd recommend to get a hot box over infrared because he can buy the amount of mix he needs to use and use what he buys and maximize his profitability," Cameron says. "A hot box is an instant revenue generator so buy that first and then buy the infrared unit."
Van Velsor says that reclaimer sales is the fastest-growing segment of Ray-Tech's business. "We've always offered storage boxes and reclaimers but today we're primarily selling reclaimers because they can really help a contractor extend the season," he says.
He says the most-popular units are infrared machines with 8- or 10-ton reclaimers attached. "Eight-ton used to be the most popular but people just want bigger and bigger. We're now offering reclaimers that can reclaim and store up to 15 tons."
Van Velsor says a new buyer of the reclaimers and infrared units is hot mix asphalt producers and bigger pavers. "They want the big truck models because they can haul more mix farther so they can be more productive. "
KASI also makes reclaimers but Allen says they are sold primarily with their infrared units. "Our reclaimers are a lot different than the other guys out there. There's a lot more to them so they're more expensive," Allen says. "There's a huge market out there for 2- and 4-ton trailer-mounted hot boxes but the way we build ours we don't compete in that market because of cost."
Falcon Asphalt Repair Equipment, which manufactures hot boxes and recyclers that are capable of reclaiming anywhere from 1- to 8-tons of material, says their company is experiencing a trend too. "The number of customers that are considering and actually recycling asphalt has grown significantly in the past few years and we expect the trend to continue," says Ric Simon, executive vice president, sales and marketing.
Manufacturers Changed Contractor Perceptions
Manufacturers have been working for years, educating contractors, public agencies and end-user customers of the value of infrared – and that effort to revive the industry appears to be working.
Cameron says that much of the increased interest, use and sales of infrared equipment is the result of a concerted educational effort on the part of the industry.
"Over the past decade we as an industry, the infrared manufacturers, have worked harder and harder to educate people on the infrared process," he says. "Once people see infrared they become instant believers in the process. The industry has created a need for infrared and contractors recognized the need and have utilized their resource to meet that need.  Everything worked together.
"Our customers in the industry are savvier and more business-oriented and more interested in buying something that's going to save them money," Cameron says. "We've seen a lot more sophistication in the customer base and a lot more larger units going out to new businesses."
Kieswetter sees the same trends at HDE.
"We're starting to see guys who are taking it more seriously – not just guys who buy it so it can be part of what they offer but who are taking the next step to actively market it to their clients," Kieswetter says. "People are starting to realize that with some marketing and some dedication there's good money to be made on the infrared side. They're realizing that people are still looking for cost-effective ways to repair their asphalt and infrared can help set them apart for those customers."
Kieswetter says HDE is seeing growth more in the municipal sector and as older staff retire they expect to see even more. "The older guys are not as willing to try new things but the people coming in are younger and are more willing to look at new ways to fix the asphalt," he says. "It's a greener process, too, which appeals to the younger people more than the older. That's something many older municipal workers aren't interested in."
Van Velsor says Ray-Tech is selling equipment to contractors outside the pavement repair group that generally buys infrared. He says sweepers, sealcoaters and even striping contractors are "testing" the process by investing in a lower-cost, walk-behind unit. "Then we've seen a number of those customers going to a trailer-mounted unit," he says. 
Van Velsor adds that utility companies who handle their own repairs are also buying the larger units, and Kasi's Allen says that even for contractors, closing utility cuts is a growth market. He says that a number of counties throughout the country have followed the lead of New Jersey, which requires that utility cuts are closed up with infrared. "It's in the contract and that's expanding slowly," Allen says.
Allen says KASI has also seen expansion in infrared units sold for repairing parking lots. "That makes sense in that the property manager always have tight budgets but they also have liability issues," Allen says. "So they're using infrared to keep the parking lot not only looking good but safe and they can do that without making a major investment."
Infrared's Future
"Our industry is less than 50 years old so we're just now coming into the second generation of owners. The dynamics of the industry are changing as it's maturing," Cameron says. "We're seeing an overall sophistication where the industry now recognizes the value of quality equipment that not only produces a quality job and profitable job but also extends the season beyond when the plants close. That's why it's a great time to be in the hot box reclaimer and infrared industry today."
He says another reason he expects infrared to grow is that it's a relatively "green" process. "The carbon footprint is 50% less than the traditional remove-and-replace method and the process conserves material. A 40-sq.-ft. patch needs 2 tons of asphalt, and rather than buy 2 tons of mix and haul the old stuff to a landfill you can heat what's there and put in a few shovels full of asphalt. It's green, it's more cost-effective than the traditional method and it has greater profitability," Cameron says.
Larsen says that infrared's ability to safely heat existing pavement to create seamless or thermally bonded joints or other repairs represents not only a savings for the customer when compared to cold patching and remove-and-replace repairs but also a better quality and better-looking patch.
Strassman says infrared should become an even more important piece of equipment for contractors because the process gives the contractor control over the heat of the mix "anytime, anywhere."
"Even when you do traditional patching it's nice to have a hot day so you can take your time and work the patch like you want to," he says. "When you control the heat like you do with infrared you control the whole temperature of the job and the quality of the repair. If you're working a job and it starts to cool off or doesn't look right, just put the unit back over the job and heat it and in a couple of minutes you can rework it."
He says infrared's ability to fix minor paving blemishes without damaging a new mat enables contractors to get paid more quickly.
"It's usually the finish that property owners are most concerned about. Say you have a tight drainage area that's created a bird bath. With infrared it's so simple just to warm it up and add a little material and compact it down – then you've finished the job and you can invoice the customer so that payment for a $10,000 job doesn't get held up because of a birdbath. And you don't have to cut a patch in the pavement to call attention to the repair," Strassman says.
"A reputable contactor wants to put his name on his work and infrared makes it easier to do that."