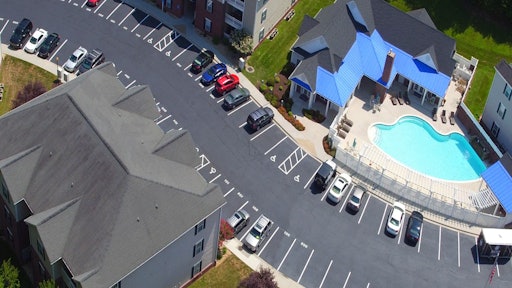 U.S. Asphalt Maintenance, the winner of the 2018 Pavement Award for "Best Marketing Video," is not a company that spends a lot of time or money on marketing its services.
In fact, Earnie Beckner, owner and president, says the 33-year-old company doesn't do much advertising or marketing at all, so the video was an unusual effort for them.
"We've built up quite the client list over the years so we haven't had to do much marketing," Beckner says. "Word of mouth is the best advertising and as long as we keep our customers happy they'll speak well about us to other property managers and owners."
The Richmond, VA-based company actually started in Daytona Beach, FL, in 1984 as a small family-owned operation, moving to Virginia in 1992 when competition among Florida sealcoaters drove the price to unsustainable levels.
"We couldn't compete at that price so we moved north to the Richmond area," Beckner says.

U.S. Asphalt Maintenance today does sealcoating, crackfilling and striping on large commercial properties, Beckner's wife, Christine, is the office manager, and the company runs two four-person crews covering Florida north to Virginia and west to cover the whole Southeast. In 2017 the company opened a Jacksonville, FL, location where Jessica Smith handles sales and marketing. He says they opened that location to help facilitate and insure a quick response to requests for their service throughout the region. This year U.S. Asphalt Maintenance will open a residential division in Richmond, run by Beckner's son, Brandon.
Beckner hadn't planned to be in the sealcoating business – in fact he went to school to study graphic arts and advertising – but he realized that though he had an interest in that field it wasn't the career for him.
"I liked being outside more than I liked being inside. It was as simple as that," he says. "Once I realized that, I started considering a new endeavor that would allow me to work outside, so I started investigating what I could possibly do that would be a career that was lucrative and satisfying. The next thing I knew I'd bought a bucket of sealer from the local hardware store and started knocking on doors."
His first job was a 40 ft. x 10 ft., driveway that he sealcoated in about 30 minutes and netted $30 – much more than he was making per hour at his day job. "I thought, this could work!"
He eventually started buying sealer in 55-gal. drums to sealcoat larger and larger properties until he could afford his first sealcoating machine in 1985. When he bought that he also bought crackfilling equipment and a striping machine, so he could offer complete parking lot maintenance. And that's where he's stayed ever since, concentrating, marketing and performing his sealcoat service to commercial properties up and down the Southeast (though he did try paving but stepped away from that in 2008 when the recession hit).
Beckner says that while the company doesn't have a strong marketing effort, they have been using social media -- Facebook, LinkedIn and the company website -- to reach out to current clients as well as prospects. When he learned that Pavement Maintenance & Reconstruction was offering an award to the Best Marketing Video they decided they had the basics to put one together.
"The last two years we've been using a drone service to video our properties and the work," he says. "I like looking at my work before and after and the customers really like to see how much better their property looks when we're done."
He says he sends copies to every client, which generates additional work for the company. "You know, everyone wants their lots looking great, so it's a great tool to show our amazing work," he says.
So he hired Bon Air Drone, Lynchburg, VA, a team of licensed FAA pilots "that have all the necessary skill and are privy to all the local, state and federal regulations concerning drones. "They came out in teams of two along with Walk Davis Hall, a highly skilled drone pilot, for about six weeks at different time intervals and different locations to document and showcase the sealcoat process from conception to completion," he says.
Bon Air Drone also came out to take some ground-level video which they incorporated into to 90-second marketing video. "They walked right beside us and got real close, especially with the kettle filling the cracks," Beckner says.
Beckner had another company animate their logo, then the logo and all the footage was sent to Chau Nguyen, Nxt Projext, in Texas, who put it all together including having Beckner download a voice app to record his comments to be used during the video.
He says the cost wasn't prohibitive because the drone company wanted the experience of putting a video like this together so Bon Air's owner, Kyle Falwell, waived some of their fees.
"He also wanted to help me win!" Beckner says.
"Basically we wanted to showcase that we are a "national sealcoating contractor" and the video shows the type of work we do and the type of work we're interested in doing on a national scale, before and after," he says.
He says they posted the video to their website (www.usasphaltmaintenance.com) and Facebook (https://www.facebook.com/USASPHALTMAINTENANCE/videos/1810244798994750/) and sent it out to prospects starting in October. "We've had a very positive response to it," he says, adding that as of mid-December they were awarded at least one mall job they can tie directly to the video.
"The video is generating quite the buzz among fellow sealcoaters and prospects alike. We think it will be a game changer in this technological era of acquiring new work and to help our company grow even more," he says. "It's a welcome mat to our company like a parking lot is a welcome mat to a property's customers."