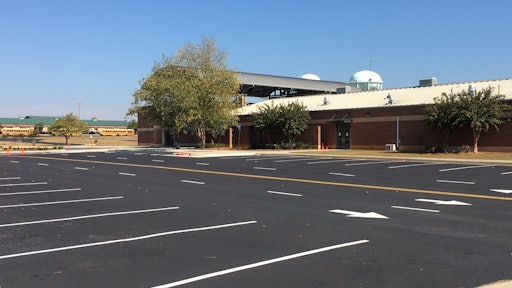 There was a time when schools used the summers to repair their grounds, do appropriate renovations, and, in general, spruce up for the new school year. But that's changed.  In addition to summer school, there's a host of other programs and activities today that make school parking lots a beehive of activity. At least that's what Garrett Paving found out last summer when it won the bid to sealcoat the parking lot at Malcom Bridge school in Oconee County.
And it's their successful efforts on that job that garnered the Athens, GA-based contractor the 2018 Pavement Seal & Stripe: Small Job Award.

"One day, our sealcoating crew got there at 6:30 in the morning and the sprinklers were running. Tough to sealcoat wet asphalt," recalls Sam Garrett, company project estimator. "Another time, our crew's efforts conflicted with a band practice. Crew members attempted to sealcoat a small 20' x 20' area in front of the door where the band entered and exited the school. As small as the job was, it had to be done in sections."
There were other challenges, too, that made job, completed in the summer of 2016, more than a little daunting. The school is large and featured 10 to 12 parking lots to support the gym, football stadium, main and back entrance, teacher parking, student parking, and so forth, explains Garrett, not to forget the same number of roads connecting them.
"Our crew had to interact with parents who came to pickup or drop off students, explaining to them they couldn't use a particular road, but instead had to drive all the way around the school and use that entrance.  Georgia in the middle of summer gets hot, compounded by the fact it was all parking lot and no shade.
"The bright side? Heat, along with additives, allowed the sealcoating to dry within 45minutes to one and a half hours. Four entrances to the school helped us out, as well, giving parents and teaching alternative routes to their destinations."
Scope
The project entailed sealcoating and striping 176,545 sq. ft. of asphalt. It was started in June and completed well before the new school year began. An average of six Garrett Paving employees arrived on site at 6:30 a.m. and had blowers going by 7:00. Two 700-gal. trailers and a 1,000-gal. tanker with mixed product accompanied them to the job.
"Sealcoat was applied using a wand on the smaller lots and our trucks with spray bars were employed in the larger areas," says Garrett, who started working for the family-owned company in the field in 2013 and only recently moved to the office. "I've been in this position for a year, but I can still identify with crews and the challenges they had to overcome. It wasn't just the shuffling around scheduled activities like band camp that created obstacles, but unscheduled activities also added to the complexity of the job."
Fortunately, the company, originally founded in 1957, has several years of experience working all types of job, including jobs like this one where it seemed every time its crew attempted to sealcoat the school, something or someone was in the way.