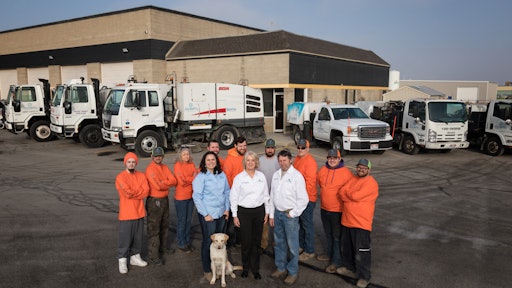 50 years in business in 2018, Jacketta Sweeping Service, West Valley City, UT, is a family-owned company that over the years has demonstrated the management initiative to "change its stripes" when the market calls for a change, pursues improvement from a variety of outside sources, and is pro-active in supporting and developing the sweeping industry.
Attributes that make Jacketta Sweeping Service Pavement's Sweeper of the Year for 2018.
"I don't think we do anything differently from any other successful sweeping business," says Debbie Jacketta. "My parents used the tagline 'Honest, Dependable Service.' We don't use that tagline anymore but that is how we run the business.
"We run a solid operation where the phone is answered by a live person, our trucks are always clean and washed, our drivers are trained, we run regular safety meetings... it's kind of everything together that we do that enables us to be successful."
Jacketta Sweeping Service was started in 1968 by Neil and Bonnie Jacketta when Neil bought a small ride-on sweeper and ran a part-time business out of the home. "I remember we always had sweepers parked in our driveway and operators would come to the house each night to pick up their routes," Jacketta says. "I grew up around the business but I never thought I would end up in it."
In 1999 Neil died unexpectedly and Bonnie wasn't interested in the company. So in 2002 Jacketta bought the business from her mother and became president. The company doesn't work with a credit line – a philosophical decision they made largely because of the difficulty of working with banks – so a long-time focus on street and construction sweeping (as much as 70% seven years ago) gave way to pursuit of parking lot sweeping to provide a better balance and improve cash flow.
"We couldn't wait 60-90 days for payment from asphalt or general contractors so we moved more toward a steady, stable income on the parking lot sweeping side," she says. "We wanted a better balance, we wanted to improve our cash flow, and property managers pay steadily and we wanted more of that. It's worked well."
And now that the company has a better grip on the parking lot sweeping side of the market, Jacketta Sweeping is making a concerted effort to add more construction sweeping to their workload.
Reputation, Longevity Drive Growth
"I've made a point of growing my business by not stealing other people's customers," Jacketta says. "Our name is out there and people know we're here, and if they're going to look for another sweeping contractor we'll be happy to give them a bid. But we're not going to go into a customer who is a customer of my competition and tell him we should have the jobs because we're going to be cheaper."
But that doesn't mean other contractors don't try that with Jacketta Sweeping's customers.
"When you're at the top those things happen and I take that as a kind of compliment," she says. "It's also a wakeup call that we have to get sharper. I like competition because I think it makes us all better, but I do think some ways to compete are better than others."
Jacketta says the company doesn't do much marketing, relying instead on its longevity and name recognition. "We've been around the longest in our market and have very strong name recognition, especially in construction work," she says.
Jacketta says the company does have a Facebook page and while she doesn't think it helps generate much business she says it does help with hiring. "Facebook for us is about bringing us employees not bringing us customers. When we run an ad for a sweeper operator we've seen more activity on our Facebook page so people go to our Facebook page to check us out," she says. "So we're making more of an effort on Facebook to let people know who we are and what we do and what kind of company we are. That seems to be a first point of contact."
Jacketta Sweeping hires a company to update its Facebook page with comments and articles of interest to the sweeping community, such as environmental topics.
"I don't think people go to websites anymore when they're checking out a company.. They're on their phones and they go to Facebook instead," she says. "So we realized that's where we need to make sure we put our best foot forward to sure people see us as a good place to work."
Jacketta says that it's not uncommon for her company to be the highest bid on projects or parking lots. She's the highest bid because that's the price the sweeping should command. She says the company's reputation, expertise and reliability carry a lot of weight with contractors who need sweeping on their jobsite.
She says Jacketta Sweeping recently announced a price increase for its parking lot sweeping and got very little kickback from customers.
"Why? Because we hire people who know what they're doing, our operators do a great job and we pay them well. We offer them benefits such as paid holidays, vacation, medical and dental insurance, we keep our trucks in good shape so we can always do the job
"If we're hiring people and paying them a living wage then they can go out and spend some money which benefits all the tenants of a property," she says. "But that means we have to charge a little more for the service and our customers understand that."
She says Jacketta Sweeping Service has a good core of employees on both the parking lot and street side of the business. "They're people we can count on. We're just looking to fill in around them with more good people," she says.
Finding the Right Employee
And filling in around them means tackling head-on the hiring and retention issues virtually all contractors today face.
"We're a 24-hour-a-day, 7-day-a-week company and we make that clear when we hire," Jacketta says. "The night hours are pretty consistent but the day hours change."
Jacketta Sweeping Service employs 15 people which is about two people short of where she'd like it to be. "On the parking lot routes in the middle of the summer I could use 25 people," she says. "It's just hard to find good people."
Jacketta's parking sweeper operators work four nights a week with three days off and most drivers don't want OT. "Parking lot work isn't hard, but you are by yourself and you are getting in and out of your truck all night long with a blower so you've got to be able and willing to do that," she says. "Parking lot sweeper operators are a different breed, many of whom seem to just want to work to get by. They do a good job but they don't seem to want more."
She says day sweeping, which requires a CDL, involves street sweeping but also construction site sweeping, which must be done on an as-needed and when-needed basis, so those operators need to be flexible. "They come in and work and then sometime between 4:00 p.m. and 5:00 p.m. we text them the start time for the next day. They have to be flexible.
"The CDL guys know when we hire them that they're working six days a week and 10-12 hours a day and they do a great job for us. But we still end up turning work down because we don't have enough operators. Our competitors are pretty much in the same boat."
Moving Toward "Picky" Hiring
Jacketta says that like many mid-size contractors, Jacketta Sweeping Service faces poaching from larger companies that can often offer more benefits. But she says the company is always working to bring people in and get them engaged so that they not only get hired but want to stay and grow with the company. To that end Jacketta Sweeping Services pays 20% over market wages and provides raises more quickly after the operator has demonstrated proficiency on the job.
"So far I don't know that our approach has helped keep people longer but we have been more successful getting people in the door," she says. "We're always working on our culture and on what benefits we need to provide to attract and keep employees."
She says that in an effort to hire workers who are a better fit with the company, Jacketta Sweeping Services is "getting pickier" when interviewing prospects. In addition to basics such as a good driving record, requirements to be considered for a parking lot sweeping position include:
●       Having worked the graveyard shift before
●        Enjoying working alone and doesn't mind being by themselves
●        Willingness to take initiative and work on their own
Requirements for street and construction sweeping positions are a little different.
"We're always looking for people with a CDL but we don't want over-the-road drivers," she says. "Driving over the road is completely different from running a street sweeper or working on a construction site.
"We're looking for an equipment operator not a truck driver," she says. "This equipment is expensive and it's complex. There are two engines and brooms and cameras and you're often working among people and the public and often in traffic. You have to be aware of a lot – it's not an easy job and not everyone can do it.
"So we're looking for people who are responsible and who pay attention to traffic, to the people in the construction site, and to all the other activities going on around them on the job."
Jacketta Sweeping uses Indeed.com and a local website but no longer uses Craigslist. The company also uses a 1-800-Sweeper partner ApplicantPro.
"We've also just started a program in which we've printed cards for the drivers to hand out on their nightly routes. They're out there in the middle of the night and they run into people when they're stopping for coffee and we figure if those people are already out there in the middle of the night they might be the right kind of person to operate a truck for us. It's something new we're going to try."
She says the cards have Jacketta Sweeping's operator's name on them and if a person an operator gives a card to get hired the operator gets a bonus.
"We don't know if it's going to work but it's another idea," she says.
Networking for Success
Jacketta is a firm believer in networking and in seeking outside support to help improve Jacketta Sweeping Service. She served as president of Contract Sweepers Institute, a precursor to the North American Power Sweeping Association (NAPSA), in 1998-1999; Jacketta Sweeping Service is a NAPSA Inaugural Member; and Jacketta has served several terms on NAPSA's Board of Directors. Under her management the company also has become involved in a variety of organizations – Institute of Real Estate Management, Building Owners & Managers Association, Entrepreneurs Organization – and she has worked with a business coach since 2009.  
"The main thing that's helped us grow all through the years is our involvement with NAPSA," she says. "I'm a strong believer in trade associations and we couldn't be where we are without them."
She says that in addition to the association benefits, meeting and getting to know other contractors and learning about their companies has been an immense help. "Getting involved in NAPSA made it easier for me to call people up out of the blue when I had a question or a problem. And the great thing about knowing people in an association is that if they can't help you there's a good chance they know someone who can."
A founding member of 1-800-Sweeper, Jacketta was skeptical about joining. "It didn't seem like a deal but I also didn't want to miss out in case it worked so I figured I'd give it a try for a year and see what happens," she says.
She says that while that membership hasn't brought in the work she had hoped (though it has for other members), the organization's buying group has resulted in significant cost savings.
"It's a smaller group than NAPSA and it gives me a larger circle of business owners I can call for advice," she says. "It's similar to NAPSA but people work in different niches so they can offer different ways to do something.
"All these groups help hold me accountable and that's valuable."