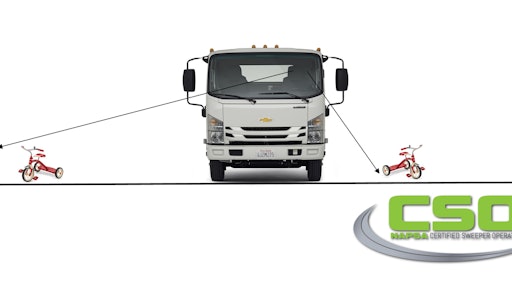 In mid-August, Sylvia Richards, vice-president and co-owner of Asphalt Enterprises, had just hired a new operator who was entering the training phase for parking lot sweeping. The new hire had never driven a sweeper and hadn't worked a third shift before.
"Pretty much everything is going to be new for him," Richards says.
For years the Raleigh, NC, company had relied on its internal mentoring and training program to teach new hires and indoctrinate them into the ways of the company. But Asphalt Enterprises was taking advantage of a new training effort developed by the North American Power Sweeping Association (NAPSA) and rolled out at the 2018 National Pavement Expo in Cleveland.
The program, Certified Sweeper Operator – Parking Lot (CSO), follows on the heels of NAPSA's successful Certified Sweeping Company program and is part of NAPSA's ongoing effort to improve operator training. Plans are to eventually develop operator certification for construction sweeping and municipal sweeping as well. The CSO-Parking Lot program has been in development more than five years and 37 NAPSA members were involved. It also received support from Crum & Forster, 1-800-Sweeper, Elgin, Johnston North America, Nitehawk Sweepers, Schwarze Industries, Tymco and United Rotary Brush Corp.
Cost of the certification is $90 per person; $45 for NAPSA members. NAPSA reports that as of August 54 people have completed the online course with 49 of those having been certified as CSOs. Another 103 people are working their way towards completion of the program.
3 Parts to Certification
The certification program contains three elements – an online training course, an oral exam, and 1,000 hours of accident- and injury-free sweeper operation -- each of which must be completed before certification is granted. Operators must complete the online course before the oral quiz, but they can be operating a sweeper while they are becoming certified.
Mark Carter, CSO project coordinator and president of Peloton Sweeping Service, Orange, CA, says the crux of the program is the online course which operators must pass getting 100% right before moving to the oral exam.
"If you ever get involved in litigation you're going to like that your operator had to pass the course at 100%," Carter says. "You don't want to say you've got a certified operator who only had to get 80% right to become certified."
The CSO-Parking Lot online course contains 53 lessons divided into 21 modules. Depending on the topic the modules contain text, diagrams, charts, drawings and videos. Operators study a section then take a brief test that focuses only on that section. If they get all answers correct they move on to another section. If they miss any questions they can go back to find the correct answer and retake the quiz.
Carter says owners and industry veterans are completing the online course in about eight hours, but most people take 12 hours to finish.
"We don't encourage them to do it fast; that's not the point. We want them to learn what's in it and when necessary to talk with their company about what they're learning. So we'd rather they take their time completing the training," Carter says.
"It's not something you can sit down and digest in one day. Probably the best way is to do it an hour at a time over a number of weeks because that's where the engagement comes in and we think that's where the real learning and internalization comes in. We don't really want them to blast through it."
Carter says the program is ideal for new hires because it introduces them not only to the on-the-job aspects of the industry but also the personal and safety issues they need to be aware of.
"We're trying to prepare a new employee for the job -- to understand it and to be safe. This CSO program does all that," Richards says. "Most of the people we're hiring aren't familiar with working the third shift so the emphasis of the training on making them aware of why third shift is different and what they can do to make it easier on them is important. It makes it real."
"It's really excellent at covering all the things that are important to parking lot and third-shift sweeping. This is the combination of many years of industry experience that no one person has so it's really comprehensive. No one by themselves could have put this together."
Carter says that in addition to sweeper operators, owners and upper managers should become certified too.
"We encourage owners to certify themselves as operators, too, because that way they know what's in the program," Carter says. "It also provides a good basis for a conversation with the employee because they know what's in it. They can also tell the employee 'hey, look, I did it!"
Richards says, in addition to her certification that she completed last winter, one additional employee had completed all parts of the program and is only lacking the 1,000 hours behind the wheel. Five more are in the process, including a supervisor and a manager. "Some employees have achieved the driving hours but they haven't completed the training online. Trying to fit it into their work schedule takes diligence especially when they are already spending time on the job."
Richards gives her new hires 90 days to complete the online portion of the training – and she jump-starts their efforts by providing them the first four hours on the day they come into complete all their orientation and paperwork. "The rest of the time they must budget on their own during the first 90 days of employment," she says, adding that getting current employees to take the training has been the biggest hurdle.
"It has been a challenge to carve out the time needed to complete this training, but it is worth it for both the employees as well as the company. As an organization we are dedicated to making this happen. The CSO's specialized professional training opportunity is beneficial to both the employee, for their continuing education, as well as the company for our great safety."
NAPSA

Identifies a Need

Carter says the CSO program was developed in part to address the "pain point" of the industry.

"The pain point in the sweeping industry is finding, hiring and training operators. And we wouldn't have to hire as many people if we could keep the ones we have longer, and training is part of that," Carter says. "If we can train them we can make the job a little more enjoyable. We give them something else to think about when they're out there on their routes because they're part of a profession. We give them more things to focus on to protect themselves and protect the equipment. If we can train them then turnover goes down and the pain point goes away."

And there are direct economic advantages to certification as well.

"If an operator tears the head off a truck that's $3,000-$4,000 worth of damage," Carter says. "If the operator has a better understanding of the equipment and learns how to better operate it, we might be able to avoid that expense."

He says having a national level of certification also can help in litigation.

"Accidents are going to happen. As much as we work to avoid them, they're part of this business. But when you do have an accident one of the things you're going to get asked in a deposition is how do you train your operators?

"Now, in addition to the in-house training program that's specific to each company, companies can point to these training modules developed by the national industry association. It helps check that box and that can be a real protection in those cases."

Carter says the online training required to become CSO certified helps everyone in the industry. "If a sweeping company across town has fewer accidents that helps me. If every sweeping company reduces its accidents by 10% that helps all of us," he says.

"The industry knows there is a need for this," Carter says. "You hear it talking to just about every owner. And insurance companies are really behind it."

In fact he knows of one company that as a result of their accident rates was not insurable. "They were told by their insurance provider that unless they change their culture and add this certification to their training efforts, the company couldn't insure them," he says.

"This really helps the companies because it provides a level of constant training that the industry, through the national association, has determined is important for every operator. Plus it helps reduce accidents and helps keep a downward pressure on insurance costs."
Creating Opportunities for Engagement
Carter says that in addition to providing a standardized, industry-wide basic level of training, the CSO online program increases employee engagement and communication.
"This training allows a basis for conversation with the operator and on a topic other than the operator getting the work done," Carter says. "If the operator has a question or comment about a module they just completed that's a huge opportunity to have a conversation with them -- especially during the oral exam. The engagement we're seeing is 10 times what it was before."
He says this is particularly true because the online program teaches a standard level but each company has its own way of doing things. He says people taking the tests will eventually realize that something in the online training differs from what their company wants them to do.
"Equipment is different, there are regional differences, and owners have different expectations and even different philosophies. So while the CSO training provides a good basis, we make it clear in our disclaimer that operators need to follow their company policies over what's taught in the online training," Carter says.
The CSO program makes that clear in the disclaimer at the beginning:
"It is quite possible your company owner will inform you one of the concepts or procedures are done differently at your company. He or she signs your paycheck and has the ultimate responsibility."
And the course further emphasizes this in its first suggested question for the oral exam:
"What did you learn in the training program that we do differently here?"
"Not every company does things the same way and this course accounts for that," Carter says. "This is an augmentation to your training. It's not meant to replace the training program in any company. It fills in some blanks to give owners one more tool in the tool box to create an opportunity for conversation and to increase engagement."
Which is exactly how Asphalt Enterprises uses it, incorporating the CSO program into their own training efforts, using it to enhance and reinforce the program they already had in place.
"The CSO online training covers the all the basics of safety, safe driving, operating a sweeper, sweeping properly and efficiently, sleep, diet as well as how to handle yourself on a job and in case of an incident," Richards says. "I think it includes everything you want someone to know to do the job efficiently. A lot of it we cover in the hands-on training and mentoring that we already do, but completing this online training takes out the human factor - that 'oh, I forgot to mention that,'."
"When people do a walk-around of a truck or during the oral exam is a structured opportunity to have a conversation with one of your employees," Carter says. "How often do we have that conversation about their job, their future, and their concerns? So the CSO course tees-up that opportunity to have that conversation."
Certification's Value to Operators
"Sweeping is a craft, it's a profession and if you can get drivers to think about it that way they get a sense of ownership. They start realizing it's a career, not just something to do for a while," Carter says.
"We really stress that it's about getting home safely and getting the truck back safely because your family is depending on that. We want them to understand that working as a parking lot sweeper requires attention on their part – no only to the job and the equipment and the driving but to their sleep and health. We want them to understand that how they approach this is real."
As the introduction to the online course explains,
"Getting 'Certified' is a sign you take your profession seriously. It shows your boss you mean business and understand knowledgeable, productive and safe operators are key to continued and full employment. You will notice the theme throughout is to get you home safe after each shift. Doing this [course] goes a long way to bringing the vehicle home safe and doing a quality job. You and your family are relying on all three."
The introduction also emphasizes,
"Certification also provides a sense of pride. People outside our industry would be shocked to learn about all the details our profession entails."
"Some of these operators haven't had any kind of pat on the back since elementary school or Little League and they now get a certificate. It's a little bit of recognition that goes a long way," Carter says. "They can share it with their co-workers and talk about it, puff their chest up a little if they want. They can show it to their family, put it on the refrigerator. Then when they complete the entire certification process they get a nice certificate suitable for framing, a pin for the uniform and a patch they can sew on if they want. They're safer on the job, they feel good about themselves, and as a business owner I get a safer, more engaged operator. What's not to like about this?
"It's a program that really fulfills a need for the industry but also provides operators with a level of professionalism that other industries have," he says. "It's good for them period because it helps them in their job and points to a career. I see a day when an applicant takes the initiative to finish the online course before applying for a sweeping job. Tell me that guy doesn't get hired in a heartbeat!"