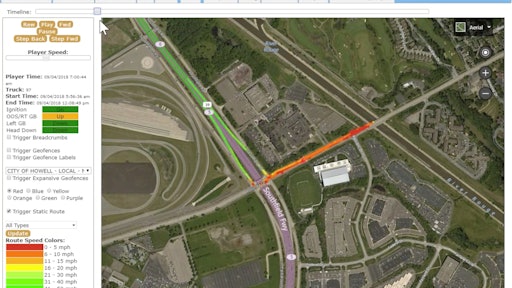 In our daily lives, most of us have used GPS to navigate our way to and from a destination.  Also, most companies with vehicles are now using GPS tracking to help manage and improve the operation of their fleets. With any wheel based workforce that operates exclusively off premise and remotely in the field, GPS tracking data can enhance fleet efficiency and increase overall productivity and profits.
However, if you are using your GPS service strictly as a vehicle tracking device or system for reviewing or reacting to issues, you are missing out on crucial data that can become the catalyst and driving force for proactively managing all aspects of your business operations. Accessing analysis of real-time GPS data can help you to plan realistically, route efficiently, manage effectively and invoice accurately while expanding your wheel based service operations confidently and successfully with greater profit margins.  
Advanced Software Systems:
There are numerous companies providing GPS tracking services and the features included with the service vary amongst each provider.   Some offer a complete web based system with all the components included and some offer the different components separately.
Before investing in a GPS tracking service, consider a system that integrates job and route scheduling, customizable forms capable of electronic signature, billing, and numerous business reporting processes into a single operating platform that is crucial for simplifying the user experience, eliminating human errors and scaling growth of any wheel based service company including commercial sweeping contractors. No matter the size of your fleet or number of your employees, it is paramount to select an intuitive management system that you will not outgrow, for your business. A business enterprise system that integrates with GPS will allow you to build and manage routes, track equipment, monitor employee time, coordinate customers, schedule jobs and generate accurate and timely invoicing and billing. An integrated platform system can generate easily accessible intuitive reports that automatically and seamlessly provide operational reports by route, job, vehicle, or driver.
Customer Relations Management (CRM) Features:
Customer relations are simplified and improved with a GPS empowered management system that allows companies to use the GPS data to populate transparent job specific service verification reports accessible through a customer portal app.  Plus, creating a customer database with the ability to add notes, job details including location information with audible navigation and service instructions including importing files such as contracts, purchase orders, or pictures specific to each customer eliminates the chance for lost information. Entering Customer & Job information one time in one place saves time, reduces human error and keeps the information you need for your business at your fingertips from anywhere in the world!
Route Building & Job Scheduling:
Creating and maintaining job schedules is a challenging task for any wheel based service company and, if repeatedly done manually, can take hours. Look for an operating platform that integrates GPS with a centralized job center feature so you can manage all job-related actions quickly. and establish geo-fenced boundaries  with job specific service instructions, that can be dispatched to the driver's iPhone or tablet, for each job site service location. Being able to conveniently dispatch route modifications to an employee in the field, on their smart device improves efficiency, communication, and ultimately improves customer satisfaction. From scheduling jobs to analyzing job performance, eliminating communication misunderstandings or lost instructions assures performance efficiency and service consistency.  
Route Record Reporting:
GPS data integration can improve efficiency and eliminate human errors in your customer billing process. GPS generated and posted job times can automatically and seamlessly create an editable report that generates service fees for each job based on a preassigned flat rate or hourly rate. Operations personnel can easily access the report for review and, if needed, make edits to the billing rate, service description, and unit of measure prior to approval for initiating and generating a customer's invoice. Simply ensuring that every job is billed is a huge advantage provided by GPS integrated software. Removing the reliance on a paper trail for service verification and billing reduces the chance of human error and having services performed go unbilled. Operations review and approval is the backbone of a business enterprise analytics platform that drives billing, payroll and all performance reporting and analytics in one place.  
Billing Export to QuickBooks:
The information collected from your GPS integrated management system can generate invoices for services performed and ensure your financial data matches your operational data. Having constant, real-time monitoring reduces errors and makes it easier to spot issues before they become costly. Know the total revenue your business has generated at any time through any day of the month, during the month, rather than 15 days or more after the month ends.
Vehicle & Driver Performance Reports:
The ability to track your assets, both equipment and human resources, provides opportunities to identify where your business operations can become more efficient. Knowing vehicles locations and the past history of their path is only the tip of the iceberg of what is possible. A GPS system integrated with a business management platform allows you to not only stay current with vehicle locations, vehicle speed and when jobs are completed but runs deeper to provide proactive and customizable reports regarding driver behaviors, chassis performance alerts, how much time is dedicated to in-vehicle activities versus out-of-vehicle activities, excessive off job stops and on job stops and even forward and rear facing dash cams.  GPS intelligence allows you to monitor and manage job performance efficiently and accurately by exception, providing you an instantaneously clear vision of how best to manage your drivers, vehicle fleet and customers providing you with the critical information and confidence to grow and expand your business.
Overall Business Performance:
A GPS integrated enterprise management system can provide operations managers with exception reporting and vital GPS data analysis to adjust and maximize overall operational performance and specific service delivery efficiencies. It affords management personnel a method of establishing an electronic paperless pathway to access unbiased and transparent operational reports via the vehicle onboard mobile data collector. This information helps identify poor driver habits and operational inefficiencies that, when corrected, can reduce costs in labor, fuel, and excessive wear on the equipment. Tracking your business with GPS data can seamlessly generate performance reports by driver, job, route and customer at the touch of a button. This platform will help you organize and simplify the information flow needed to run your wheel based service business more efficiently and successfully than you could ever imagine possible. A single operating platform stores all your data in one location, quickly gathers analytical information, and then populates desirable reports to coordinate all your business operations and improve efficiency, allowing you to focus on building and expanding your business with confidence while improving profit margins.   
GPS data can drive your business with reports, operational analysis and standardized processes, or simply track your vehicles. What's GPS doing for your business? 

Michael R. Lucht, president of Eagle Eye Software Inc., formed Eagle Eye Tracking (www.eagleeyetracking.com) software to support management's complex need of the sweeping business. This web-based business enterprise software solutions empowered by GPS supports his own sweeping business, Progressive Sweeping, Toledo, OH.