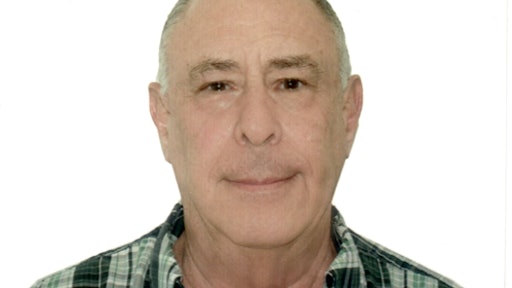 Mounque "Monk" Barazone, Geotextile Apparatus Co.
The Pavement Hall of Fame welcomes Mounque "Monk" Barazone, president and owner of Geotextile Apparatus Co. (GAC), because of his career-long work improving the use, unloading and installation of geosynthetics including paving fabrics, grids, mats, and stabilization fabrics in the paving industry.
Barazone developed a tool for unloading trucks and containers, the patent-pending GAC Roll Puller, and multi-patented installation machines, the Grizzly 600T and Grizzly Cub 300T , that have revolutionized the safe, efficient and proper use of paving fabrics -- the end result of that being a greater and more effective use of fabrics and longer-lasting asphalt pavements. In addition, Barazone consults on fabric installation worldwide, in 29 countries at last count. A contributor to Pavement Maintenance & Reconstruction, Asphalt Contractor, and Geotextile Fabrics Report, he is also author of The Definitive Guide to Paving Synthetics and Installation and was instrumental in developing numerous fabric specifications with CalTrans – many of which have been adopted throughout the country. He is a regular presenter at National Pavement Expo as well as other conferences throughout the world.
"I try to absorb everything I can from everybody and from every situation and apply it to whatever I'm doing," Barazone says. "A lot of my success was trial and error, which is why the machine is undergoing constant improvements. I take what I know about geosynthetics and how they react and what I've learned about installation and problems I've faced or helped solve in the field and I apply that to the machine and try to make it perform better. This machine has been built jobsite by jobsite by jobsite."
That at least partially explains the six patents on nine features (with other patent-pendings).
Barazone got involved in paving fabric as almost a sideline of a corrugated steel sales job he had in 1980, which led to formation of a fabric sales and distribution company – backed by $1500 on his MasterCard and working out of his kitchen -- for pulp and paper producer Crown Zellerbach, which was making a foray into the fabric market. Because his rented warehouse accepted deliveries of fabric he needed to unload them, hence his first invention.
The Roll Puller
Long, heavy, bulky rolls of fabric must be pulled from the delivery truck. Barazone unloaded trucks using a forklift he eventually modified with three poles to move six rolls at a time from the back of the truck, but it was not able to go into the truck for the roll tiers further back, a slow, dangerous and tedious process, unloading by hand was needed, the Roll Puller solved that problem an added safety factor for the laborers.
So in 1980 he invented the GAC Roll Pullers. Originally 12 inches long, the current pullers measure 16 inches, enabling them to grab deeper into the cardboard core to help prevent cores from tearing from higher weight when rolls are banded together.
A rope, strap, cable or chain is attached to one end of the roll puller and the other end is inserted into the cardboard core of the roll. By pulling the ring on the back end of the roll puller, notched teeth inside the core bite into the cardboard, gripping it. Multiple roll pullers can be used simultaneously, enabling a forklift, end loader or pickup truck to unload rolls.
"The roll pullers not only improved the speed of unloading but made it much safer and reduced the number of laborers needed," Barazone says.
Fabric Installation Machine
At about the same time he developed the roll puller, Barazone realized there was a need for fabric installers. "Everyone was afraid of the material," he says today. So his wife started a fabric installation business and Barazone designed and built a machine that would make fabric installation easier and more foolproof. That was the Model 750, a heavy-duty mechanical or hydraulic folding and telescoping unit designed for mobility. It was the market's first patented machine to aid fabric installation.
After six years of seeing the machine in use, Barazone realized it didn't have to fold. "It all could be done with telescoping parts and that opened a lot of doors that enabled it to do a much better job," he says. "It went from kind of a clunky Cadillac to a sleek Corvette."
So in 1986 he introduced the Grizzly 600T, which eventually acquired the following patents:
· A heavy-duty, double-bar mainframe with dual Telescoping arms on bearings to make mechanical or hydraulic telescoping fast and easy and install rolls from 6 feet to 20 feet. At 6 feet wide when non-telescoped, it was easy to transport.
· Four different mounting systems. 1. Universal tractor mounts for end loaders removing the bucket, 2. clamp on tractor bucket mounts, 3. Tractor mounts with additional pin in clamp on bucket mounts, 4. An oil truck mounting system that eliminates the tractor
· "Crab-claw" swing arms which enable the machine to place geosynthetics with the roll and brush ends lining up on the fabric edges and place near or against objects such as curbs and guard rails and within 6 inches of walls and not hit signs and poles. Two swing arms permit loading rolls from either side without repositioning the tractor or oil truck and short-roll off-centering with the patented middle arm.
· Grizzly Cub telescoping single-bar frame and extension sleeve for 6 feet to 15 feet, 6 inches with no bearings. It incorporated all the patents.
· Sliding or clamp on third middle arm holds 1-foot to 8-foot rolls centered or off-centered, increasing versatility.
· Multi bar telescoping PVC-tensioning system tensions fabric keeping it taught before brushing.
·
Multi bar PVC Grid Roller System
keeping it taught and not impeded before brushing.
· Telescoping chevron angled brushes that sweep fabric from the center to the outside, eliminating most wrinkles. Brushes can be straightened for installing grids. Additional plug in brush extensions for wider rolls.
· Rotating spindle-braking roll holders with special machined discs and caliper brakes that control the roll's turning speed. They can be adjusted independently, making it possible to pull fabric on curves.
In addition, Barazone has a patent-pending on 335°F degree high-melt brushes which are made of modified plastics and can be cleaned at the end of the job and will last longer, and which feature 50 percent more bristles to reduce fabric wrinkles.
And to reduce costs and speed installation, Barazone developed an oil-truck mounting system that eliminates the tractor and operator and enables the geosynthetic to be installed as the oil is sprayed down in one operation. The Grizzly attaches to a hydraulic lifting frame that raised the Grizzly up for transportation and loading rolls and lowers it for installation. The truck pulls the Grizzly, positioned behind the spray bar. Unique to the system is that the fabric is installed not immediately behind the truck but 3 to 6 feet behind it.
"It allows for a distance between the spread of oil and the installation machine so an engineer can see the oil spread and make sure there are no clogged valves, no streaks," Barazone says. "It allows the fabric to be installed in one process, so it's more efficient and saves $500-$1000 a day. It didn't take long for people to realize the installation equipment would pay for itself pretty quickly."
In certain applications where very tight curves or off ramps or when the temperature in the day is too hot and a distance in needed between the oil application and geosynthetic the Grizzly is easily removed from the oil truck system and can be mounted on a tractor in minutes.
In 1988 Barazone developed the Grizzly Cub 300T with a sleeve that allowed both telescoping arms to telescope inside each other and extends the Cub's mechanical arms to 15 feet, 6 inches with no bearings. The Cub installs material the same as the Grizzly 600T and included all the patents with fewer standard features which are options, designed as a less-costly alternative that installs fabric no wider than 15.5.
Barazone says most machines sold (65 percent) are bucket-mount units, while 25 percent are tractor-mount machines and 10% are oil-truck mounts. He says 2017 was a record year for shipping machines and 2018 was on pace to exceed it, but the CARR Fire wildfire the end of last July in California destroyed GAC's 39-year-old manufacturing facility. So GAC is in the midst of rebuilding its machine manufacturing operation with assistance of FEMA and the SBA, though roll pullers were being shipped within a month of the fire.
Barazone says this spring both the Cub 300T and the Grizzly 600T will be retired and replaced by the newly designed Grizzly 900T which combines the best features from both machines and installs smaller rolls from 5 feet for the new introduced grids to 18 feet for the widest of geosynthetic rolls.
"The machine has been a constant work in progress for 40 years," Barazone says. "There's no reason that should change now."
 Girish Dubey, STAR Inc.
Girish Dubey has been a strong proponent of the sealcoating industry since he assumed the presidency of STAR Inc. in 1988. A regular speaker on some of the more complex aspects of sealcoating at National Pavement Expo and National Pavement Expo West, he is a contributor to Pavement Maintenance & Reconstruction, a founding member of the research-oriented Pavement Coatings Technology Center, an advocate for refined coal tar sealer, and an encouraging voice on the technical and sometimes difficult aspects of pavement sealer.
But perhaps most important has been his drive toward openness in the industry, toward sharing information among manufacturers and among contractors – all with an eye toward raising the performance of pavement sealer and along with it the professionalism of the industry. Dubey's efforts stem directly from his background – he has a Masters in Polymer Chemistry from Wright State University – and his belief that industries advance by sharing research from all sources – even private companies.
A Career in Pursuit of R & D
In 1976 following research positions at PAP and Tremco, Dubey joined Maintenance Inc., a division of Premier Industries, where he worked in research and plant operations. In 1979 he joined Cambridge Coatings, a paint company, working with paint chemistry and formulations of coatings – and most importantly he got involved in the Federation of Societies for Coatings Technology, which fed his desire for research and sharing of information.
"I was very active (FSCT chair in 1983) and learned a lot about paints and coatings, and I enjoyed it," he says. "The beautiful part of that is that all the information including technical knowledge is freely shared. It was very different from sealcoating, which was a guarded technology."
From 1983-1987 Dubey was technical manager and general manager of Hempel Marine Coatings in Saudi Arabia, and in 1987 the STAR Group (formerly Cosmicoat franchises) approached Dubey to take on the responsibility for quality control and quality assurance for their sealer. In 1988 Dubey became president and stepped right into the lab to help streamline sealer formulations. Today he still spends almost half his time in the STAR lab, hands-on in research and development with other STAR chemists, and under his guidance STAR now produces a comprehensive range of pavement maintenance products including various types of sealcoatings, performance- boosting additives, concrete coatings, primers, color coatings, and several crack fillers.
A Shift to Licensing
A major change Dubey brought to STAR was the shift from franchise operations to technology licensing. STAR provides its licensees with a complete set of formulations for sealcoat manufacturing, then provides support through testing and marketing. The company will also provide building plans, guidance on equipment selection and set-up and will even construct the plant for the licensee.
STAR develops the sealer formulations, researches and tests the materials to be used in sealer manufacturing (such as clay, fillers, refined tar, asphalt, specialty binders and chemicals, etc.) then approve several suppliers for each raw material and negotiates pricing. "In the manufacture of sealer licensees have to use the materials specified by us, but they can buy from any of the suppliers we approve. They don't have to buy through us," Dubey says.
Once a licensee begins manufacturing sealer, STAR checks samples on a regular basis: The first 10 batches of sealer are sent to the lab and then STAR also checks every 10 batches after that. "For those services we charge a royalty fee based on number of gallons produced," Dubey says. "We don't charge a flat fee on gross sales or distribution like a franchise does."
When Dubey became president, the STAR Group was comprised of 10 franchise operations. Of the 10 original member companies, seven stayed with the group and one of the three that left came back. Today STAR has 15 licensed operations throughout the U.S. as well as locations in China, India and Australia with distributors in Chile and Mexico.
Founding of PCTC
Dubey's intense involvement with the Federation of Societies for Coatings Technology helped him develop a vision of how a mature technical industry works, in a professional environment. So when an opportunity arose, Dubey enthusiastically endorsed it, becoming a founding member in 1992 of the Pavement Coatings Technology Center (PCTC), housed at the University of Nevada-Reno.
"PCTC has since become the Pavement Coatings Technology Council, essentially a public relations arm for the sealcoating industry. But when initially started it was a research organization and I thought that was a great step forward for the industry," he says.
Under the original PCTC, companies joined together to conduct basic research to show that sealcoating protects pavement and helps the pavement last longer, and to determine how often a pavement should be sealcoated and how long asphalt paving has to age before sealer can be applied.  
Dubey was enthused about the research-oriented PCTC because it was going to delve deeper into sealcoating and generate the technical research he had always been interested in and that he encountered in his early jobs. "We were going to learn how sealers work and what they do and we were going to do that without sharing the proprietary information that made each sealer different from another."
Unfortunately, Dubey says, the original PCTC abandoned its technical research in 2004 when the issue of polycyclic aromatic hydrocarbons (PAHs) became a concern. "We felt we had to shift research priorities to prove that refined coal tar was not a major source of PAHs, so PCTC shifted gears and got into defending sealcoating and debunking the bad science that was creating a problem for sealcoating and refined tar sealer in particular."
He says PCTC "has been somewhat successful" slowing bans on refined tar sealer. "The bans haven't spread like wildfire because of PCTC's efforts and our very effective rebuttals and our scientific studies," he says. "Whenever we've had the opportunity to defend refined coal tar we've been quite successful."
But in 2017 STAR pulled out of PCTC because Dubey felt the organization was more reactive than proactive, often getting called in too late to defend the RTS material or the industry. "Most of the time it was after the fact," he says. "PCTC overall has done an effective job, but much of this ban issue is political and PCTC is not a political entity and not an effective lobbying group."
Positive View Sealcoating's Future
But Dubey remains a proponent of the sealcoating industry, in fact seeing a bright future for it partly as a result of the effort to ban refined tar sealers, which he says has accelerated the development of sealer technology. 
But he expects all the current sealer materials to continue to be used. "They are products suitable for certain functions -- just like in the paint industry there is house paint, industrial paint, and marine coatings and there's room for all of them to be used.
"In our industry we fight that asphalt is better than coal tar and vice versa but there's room for each type of sealer to work. Coal tar outshines in longevity and chemical resistance; asphalt doesn't have the odor or the skin irritation issues that are commonly complained about refined tar sealers".
"Pavements are going to be maintained one way or another, though the material and technology will change and evolve to meet performance, health and safety considerations," Dubey says. "Ours is a very stable and mature industry and it will keep growing."
 John Hood, Hood Capital
"My wheelhouse is commercial class pavers, it always has been," says John Hood, owner of Hood Capital. "I've always tried to help commercial contractors pave with automation in a very precise but very simple way."
Which, in a nutshell, is why John Hood is one of the 2019 inductees into the Pavement Hall of Fame. A lifelong supporter of paving contractors, Hood has worked in the industry from crew laborer to director of North American sales for Bomag, he was instrumental in developing and marketing the cutting-edge Gilcrest ProPaver in the 1990s, he was a regular presenter at National Pavement Expo – and today he's running three businesses that provide automated support for pavers and warranty support for all equipment owners.
"I'm a driven individual," Hood says. "I'm not driven by money but I'm driven by the hunt. I'm always looking for the next deal and I love success. I love the feeling of success."
Born and raised in rural Missouri, Hood had two choices for work as a teenager: farming or paving. Lucky for the industry that he selected paving, starting as a laborer for American Asphalt in south-central Missouri.
"Little did I know that would start me on a path that would continue for the rest of my life," he says.
Following high school Hood passed on college and took a job at Gilcrest Equipment, Holden, MO, which at the time manufactured harvesting equipment. His job was to install four-wheel-drive systems for dealers and for farmers in the field. In 1985 he moved to inside sales and in 1987 he became sales manager.
Developing the ProPaver
"I took a look at the company and told the owners we really needed to diversify, that we needed to add something to the business because farming was a very narrow and seasonal niche," he says.
As it happened, another Missouri company, Stewart Equipment, was trying to design a self-propelled commercial asphalt paver to compete with Mauldin and LeeBoy. Tim Hoover, Jim Gilcrest and Hood took a look at the paver and thought it had potential, so Gilcrest acquired Stewart and began working on the paver.
"We spent the next year redesigning that paver. They had a good concept, but it really couldn't be manufactured the way it was designed so we spent a year redesigning it," Hood says.
During that year Hood visited and talked with contractors, learning what they needed in a commercial paver. "We asked them what they liked in the pavers they had, what they didn't like, what didn't work the way it should or could, and what they needed that no paver had. Then we took everything we learned and designed it into the Gilcrest ProPaver."
So what made the ProPaver different?
"We brought current technology to the field, that was the bottom line," Hood says. "It was a quick jump to state of the art and it set that paver apart."
Hood says the platform was entirely different from other pavers in the market, and because the paver was only 12 feet long, it fit easily on a truck and was easy to transport. It utilized rubber track pads, new at the time, relied on heavy electronics switching and it featured the paving industry's first load-sensing hydraulics system that shifted hydraulic power to where it was needed. "That machine wasted no hydraulic power," Hood says.
"It was faster, highly productive, sleek and compact -- something other pavers weren't," he says. "And we painted it a urethane orange and gave it a lot of flash. But most important, the damn thing worked. The operators loved them and their production was unmatched."
As was their customer service.
"We had a huge desire to succeed and that was reflected in our customer service, which no one could match. If a contractor called with a problem one of us answered the phone and if we couldn't solve the problem on the phone one of us would be on a plane."
Gilcrest introduced the ProPaver to the market and sold 12 units in 1991. In 1992 they sold 20 pavers, 40 in 1993 and in 1999 they sold 156 ProPavers. "It was a very rapid ascent," Hood says. "Tim ran the manufacturing and I handled the day-to-day operations and sales," he says. "I can't tell you how much fun that all was," he says.
Bomag Buys Gilcrest
Partly because the ProPaver was so successful, Bomag acquired it and Gilcrest in 2003. Hood left and took a job selling milling machines for Marini America, part of the Fayat Group. The Fayat Group soon bought BOMAG and Hood found himself in 2004 working for BOMAG, where though he worked in a number of positions, he was basically responsible for selling pavers and milling machines.
In 2011 Hood became involved in Bomag's acquisition of Cederapids, evaluating the product line and distribution network. He was then tapped as director of sales for North America, a position he held until 2016 when he left Bomag to start his own company.
"BOMAG was a great experience," Hood says. "I learned a lot there but it was a stretch for me to work in the corporate world. I'm more a guy who wants to do things. I like to look at situation, make a decision and go do it. If I make a mistake, I make a mistake and I'll own it and learn from it and move on from there. I was ready to work that way again."
Out on His Own
So in 2016 he formed Hood Capital, under which are three companies:
· Epic Assurance provides extended warranty protection for a broad range of equipment. His sons James and Jason work part-time for the company. "It's going well and I hope Epic continues to grow and becomes the cornerstone that can carry us into the future," Hood says.
· Multifit LLC provides paving and compaction automation for the site prep and road building industries. "I saw a need for a simple solution to a complex issue and that's what Multifit provides," Hood says. "I felt this was going to just be a little company to keep me in touch with the paving industry, but we've just expanded our facility to accommodate our growth." The company offers the Compaction Optimizer, which retrofits on any roller and provides real-time compaction information for the operator; the Mini-Line Paving Automation System, an automatic grade control system; and recently entered into an agreement with Tf Technologies out of Denmark to become the exclusive U.S distributor of Mat Manager, a yield control system that enables a paver operator to eliminate or reduce excess material usage in real time.
· Romar Manufacturing, still in the early stage, develops and markets mobile power stations for industry and for farmers and "weekend warriors."
"I never go into anything up to my ankles to test the water," Hood says. "I jump in up to my neck and that's what I've done here and I'm having a blast. Probably as much fun in my professional life as I've ever had."
While he's been the driving force for his own career – "You can't outwork me" – Hood credits the people he's worked with for much of his success.
"I've surrounded myself with just fantastic people," he says. "I've always been lucky to be surrounded by people who aren't afraid to roll up their sleeves and go to work. Any success I've enjoyed is a result of my relationships with them. I'm not done yet, still hunting every day."