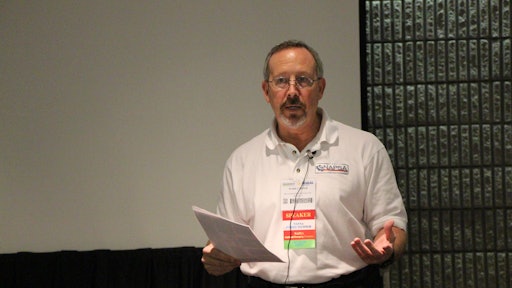 Mark Carter, Peloton Sweeping Service
Peloton Sweeping Service's Mark Carter grew up in the sweeping business, so perhaps it's no surprise that he's spent virtually his entire professional career working to improve the sweeping industry.
Largely through his extensive involvement with the North American Power Sweeping Association (NAPSA) in all its incarnations, Carter has been instrumental in improving the professionalism, image and even profitability of the sweeping industry.
Easy to see why he is Pavement's 2019 recipient of the Alan Curtis Industry Service Award.
Carter's parents bought a sweeping company when he was four years old, and he worked in it through high school and college, eventually logging more than 10,000 hours behind the wheel as an operator. He eventually ran the company and in 2015 moved on his own to start Peloton Sweeping Service in Orange, CA.
Peloton means platoon in French, and Carter selected the name after a racing term describing the main group or pack that is prominent in the Tour de France bicycle race.
"In a good platoon everyone has to work together," Carter says. "In the peloton all the parts have to work together and when they do there's 30 percent less drag on the riders. That's how I want my business to be. I want my vendors to make money and I want my customers to be profitable and I want to run a profitable business. And when we all work together it all can happen."
Carter became involved in the NAPSA for-runner National Contract Sweepers Association (NCSA) in 1980, the organization's second year. He attended NCSA's second meeting where he met Kerry Armstrong, Armstrong Sweeping Inc., Arvada, CO.
"That really set the stage for me of what running a sweeping business should be like and what it should be like leading an organization," Carter says.
He attended a couple more NCSA meetings and soon volunteered (or was volunteered, he's still not sure) to develop a presentation on accounting in the sweeping industry.
"That landed me in a meeting with a bunch of old guys in the industry," he says. "I was in my twenties and by far the youngest person in the room and after the presentation they told me they wanted me to be vice president of NCSA."
While concerned that he was too young to represent the organization, he accepted because NCSA was intent on growing its membership and in getting younger members. He served as vice president from 1985-1986 and then stepped into the presidency from 1986-1988.
Ever since, Carter has been chairman or member of numerous NAPSA committees including: Certified Sweeper Company, Certified Sweeper Operator, Power Sweeping Standard, Website, Marketing, and Education. He was a NAPSA senior advisor in 2009, a director in 2010, has been secretary since 2012, and he received NAPSA's Lifetime Achievement Award in 2017.  In fact this year he becomes the longest-tenured NAPSA Board member.
A founding board member of 1-800-SWEEPER, he served seven years on the board.  Carter also serves several times a year as an expert witness for the sweeping industry. "Not only is that interesting but what I learn in those cases I am able to bring back to both my business and to the industry," he says.
Making His First Mark
Carter says his first goal as NCSA president in 1986 was to add a winter meeting.
"At that time NCSA was tied to the American Public Works Association convention in late summer and I just thought 12 months was too long to go without a meeting," he says.
So the first mid-year meeting was held in Hawaii and 30 people showed up for four hours of sessions each day. That meeting included a visit to a local sweeping contractor, which began the annual visits NAPSA currently hosts. A second winter meeting was held in Steamboat Springs, CO, where Kerry Armstrong, NCSI's first president, hosted a lunch and a tour of his facility – another practice that continues.
Carter was involved in NCSA when it became Contract Sweepers Institute NCSI in 1995, and he was a founding member when NCSI morphed into NAPSA in 2000.
Certified Sweeper Company
Carter was instrumental in developing NAPSA's Certified Sweeper Company (CSC) designation, which was initially conceived as a way sweeping companies could get insurance discounts. Carter chaired the CSC committee, which included Debbie Jacketta, Jacketta Sweeping Service, and Gabe Vitale, C & L Services, and the three soon realized the CSC designation could represent a sweeping business that operates at a higher standard. They drafted the CSC specifications with that loftier goal in mind, NAPSA's board approved the CSC designation in 2003 and NAPSA now has 38 CSC-designated members.
A CSC-only breakfast soon followed, putting these "prequalified" businesses in a networking environment and in direct contact with NAPSA manufacturer members. The breakfast was so popular that in 2011 it became the annual CSC luncheon, held on the Friday of National Pavement Expo.
"We made sure that was an exclusive event and an exclusive group, but it was open to any sweeping company large or small who became a CSC," Carter says. "That event was designed to facilitate conversations at a very high level with the industry's manufacturer leaders. We're not talking about tires there, it's to develop the manufacturer/contractor relationship."
Carter was the chairman of the CSC committee for 10 years, until he became chairman of NAPSA's next effort, Certified Sweeper Operator – Parking Lot (CSO). He was tagged to guide development of that certification because of his background as an operator and owner and because of his success with the CSC.
Certified Sweeper Operator – Parking Lot
"The CSO certification was in the thoughts of NAPSA for a while but we really had to wait for the technology and vision to come together before we could do it," Carter says. "Either the technology didn't exist to do what we wanted to do or it didn't exist in an affordable way. So the costs had to come down and the technology had to be available and that's what happened in about 2015."
The CSO consists of three elements – an online training course, an oral exam, and 1,000 hours of accident- and injury-free sweeper operation – each of which must be completed before certification is granted.
The online course contains 53 lessons divided into 21 modules. Depending on the topic the modules contain text, diagrams, charts, drawings and videos. Operators study a section then take a brief test that focuses only on that section. If they get all answers correct they move on to another section. If they miss any questions they can go back to find the correct answer and retake the quiz.
Operators must complete the online course before the oral quiz, but they can be operating a sweeper while they are becoming certified. As of January 61 people have completed the CSO training.
Carter's son Grayson was instrumental in setting up the CSO training modules "and we leaned on him pretty hard" Carter says. He says that he has been asked why he and Grayson didn't monetize the CSO training program and sell it to NAPSA but that's not why he got involved in associations.
"For one thing it wouldn't have been as good a program because it wouldn't have had the input of the more than 20 NAPSA members who reviewed it and worked through the early versions," he says. "We were able to reach out to the board and gain their expertise and their input into it, which is what made it such a good program."
A Focus on Education
A firm believer in education, Carter has worked throughout his career to help make valuable training available to the industry.
"I'm a firm believer in R & D or 'Rip-off and Duplicate'. If someone has something that works or they've solved a problem you've got, what better way to improve your business than to use what someone has already proved works? It's really not a rip-off since the information is shared freely at events like NPE"
He says that since his first visit to NCSA back in 1980 he has yet to attend a sweeping event "and not found a nugget that paid for my trip. Sometimes I knew right away that something I learned was going to save me $2,000. Other times it took a few weeks but eventually I figured it out. I can never understand people not showing up at NPE."
A firm believer in Michael Gerber's "E-Myth" concept, Carter became a certified E-Myth coach who now speaks on the topic and accepts his own clients, guiding them to work "on" rather than "in" their business.
He has been a regular facilitator of the Sweepers "Best Practices" Roundtable workshop at NPE, and has also been an instrumental in bringing new speakers, such as Giselle Chapman, Chapman Business Solutions, to NPE for NAPSA's keynote session. He's also conducted numerous presentations for both NPE and NAPSA on topics including accounting, employee testing, hiring, CSC, marketing, safety, and technology.
"My thought has always been that if you really want to know something, agree to give a presentation on it because you'll research it and know it really well before you teach it to someone else. Then you'll own it," Carter says. "The presentations I've developed over the years have been incredibly helpful to me, too."
Carter credits the people he's met and worked with in the industry with much of his own success.  
"We have regular meetings and phone calls and I get to be on these calls with five to fifteen company presidents who are just brilliant. What I learn from them is priceless and I learn something on every call," he says. "I quickly learned that everything comes down to the people of the organization, that's where it's at," Carter says. "The people I've met and worked with over the years helped make this organization and the sweeping industry what it is today.
"I have had the privilege, and I use that word intentionally, to work shoulder to shoulder with 23 NAPSA presidents and ten executive directors," he says. "I'm a huge fan of our current director Nancy Terry.  Without her many of the recent game changing initiatives would not be possible. I've got a bond with the people in the industry and that's priceless."