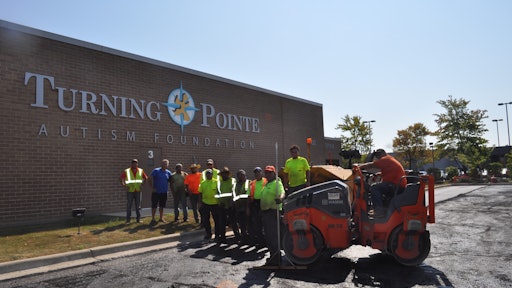 Maul Paving/Concrete/Sealcoating, Naperville, IL, has been in the asphalt maintenance industry since 1986. Over the last three decades of improving the community, the company has also gone the extra mile to lend a helping hand to neighbors.
Each year, the company devotes time, energy, and funds to charitable groups in the Naperville area. Owners Chris and Eric Maul say this is as much a part of doing business as installing a new parking lot or performing a large-scale sealcoating project.  The organizations they support all share a similar theme.  They support children and young adults with special needs.
"During peak season Maul/Paving/Concrete/Sealcoating runs at top speed and winning an award that recognizes their work is something all business owners would welcome," Chris says. "Who wouldn't? But winning an award for being charitable, which is special in so many ways, means more to us. Most everyone in our company has a family with young children and when they see children and young adults with challenging needs, it hits home."
The contractor has been involved with their community for some time and has increased support as the company grew. The focus on children's groups began at least 10 years ago when the company striped a baseball field for a Special Olympics event. Since then, Maul has helped groups including the Little Friends Center for Autism, Turning Pointe Autism Foundation, Edward Hospital Foundation, and 360 Youth Services.
"We try to be selective when identifying groups in need and always look for the right cause," Chris says. "We want to make an immediate impact if we can, and it's not just about donating funds. If we can contribute by installing a new asphalt parking lot, sealcoating an existing parking lot, or replacing a sidewalk, that's a dollar saved that can be used to help individuals within the organization."
It's About Kids
Little Friends, a Naperville-based education foundation, started a new program this year to educate parents on how to provide support for their children. "The downtown Naperville site lacked additional parking, forcing parents to find street parking," Chris says. "What the facility did have, though, was green space, which we transformed into dedicated parking for the new program attendees.  We excavated it, stoned it, installed asphalt, and striped an area that will hold up to nine cars. We also repaved their main circle drive. Last year, our concrete crew started to replace sidewalks and we hope to finish that project in the future.
"The company completed the project with help from our staff and several of our vendors," Chris says. "The end-product meant more to Little Friends than saving them money. What we're doing may not seem like a lot in the big picture, but it's more than putting in a parking lot. It's about the kids.
"Parents arrive and can pull right in before class starts, rather than looking for parking and potentially being late for the educational session. Getting there on time and being able to focus on the class instead of finding a parking space gives them a chance to make the most of their time and help improve the quality of life for their children."
Paul Price, marketing manager, has been with the contractor for six years. "I want to reiterate how important it is for Chris and Eric to help children, young adults, and the causes near and dear to them. They do it from the bottom of their heart without expecting anything in return, including acknowledgement. Chris says they are selective about who they help, but their list is long."
Turning Pointe Autism Foundation was another project where the Maul team overlaid an entire parking lot. For both groups, the company also provided financial assistance.
Ongoing Support
Little Friends Center for Autism has other properties around Naperville and the Mauls are committed to making sure they will always have good-looking parking areas, hazard-free sidewalks, and hazard-free driveways. In addition to ongoing support of Little Friends and overlaying the parking lot for The Turning Point Autism Foundation this year, their company provided financial support to 360 Youth Services. They also donate to the Edward Hospital Foundation to benefit cancer and heart research, among other causes.    
"When you look at organizations like the Little Friends Center for Autism and the challenges the children and their parents face on a daily basis, you want to do as much as you can for them," Chris says. "My brother and I started the company 35 years ago out of the back of a four-door Cutlass. We paid our way through college and now employ 60 people. In our mind, we have hit the lottery and want to give back as much as we can. If you forget where you come from, then the question becomes 'why are you in business at all?'"
Based in Madison, WI, Rod Dickens is a freelance writer specializing in the construction industry.