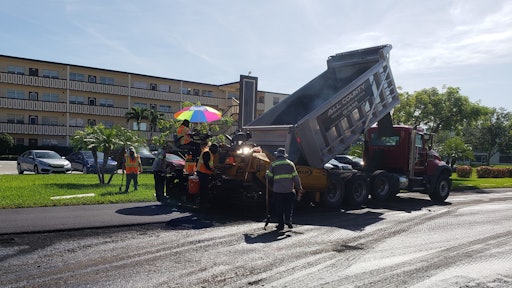 Paving and striping most any job usually requires overcoming a challenge or two. Milling, paving, and striping parking lots for a large retirement community in Southeast Florida had a few unusual ones for All County Paving headquartered in Delray Beach, FL.
And their efforts and success resulted in the 2019 Pavement Award for Paving: Parking Lot.
The challenge for company sales consultant Chris Youngberg and project manager Brad Jones was getting the job done with minimal disruption to the lives of thousands of 55-plus homeowners living in the community. Buses were coming and going every day for their transportation needs and many of the residents had limited mobility.
Completed in July, the 243,265 square-foot award-winning project at Century Village in Boca Raton kept upwards of two dozen employees busy for nearly two weeks. "We worked closely with Century Village's property manager and their consultant Connie Lorenz to get the job done without turning the resident's lives upside down," Youngberg says. "That included developing special processes and Maintenance of Traffic (MOT) to work with the buses and residents. Members of our team drove golf carts and other vehicles to transport residents, many of whom were either in wheel chairs or used canes, to buses or other areas of the community so they could get to their daily activities or doctor's appointments."
Town Hall Meeting
The job consisted of five main parking lots. It was decided to mill, pave, and stripe them in phases, with each phase taking approximately two days to complete. There was also 800 square feet of pavement repair to be done along with a half-mile roadway to pave and stripe.
"Before work started, we gave a presentation for the residents at a town hall meeting," Youngberg says. "It was well attended and allowed us to better understand some of the resident's concerns and how we could better address them. Again, getting to and from their homes and activities was the biggest issue, something we dealt with by having a couple team members on site every day helping to direct both foot and vehicle traffic.
"Our team also created a color-coded phasing map that was distributed around the community so residents knew when and where to park."
The Execution
"Throughout, two out of the five parking lots were essentially out of service for the residents," Jones says. "After crews finished paving one lot and before striping had begun, another crew started milling the next lot."
He says that at any one time, All County Paving may have had on site four trucks to haul away old asphalt, four trucks filled with hot asphalt, a Roadtec milling machine and paver, a Caterpillar steel roller and nine-wheel rubber roller, a Bobcat skid steer loader and Kubota tractor to support the milling, and a striper.
Approximately 18 crew members were directly involved, including ten on the paving crew, five on the milling crew, and four doing the striping. In addition to Youngberg and Jones there was another project manager on site, along with the property manager for Century Village and Connie Lorenz, the asphalt consultant Century Village hired to oversee the project, and those involved with MOT and trucking away the old and bringing in the new asphalt.
"We did all the asphalt repair first," Youngberg says. "Before milling, we cleaned the lot to ensure unwanted items wouldn't be mixed in with the old asphalt. The lots were milled to 1.25 inches per spec and paved with 1.5 inches of Type S 3 hot plant mix asphalt.
"In the original contract, we were also going to install speed bumps, but they were later removed from the contract because the Village was a high-call area for EMS vehicles and Palm Beach County would not approve them at the current specs."
Striping was done by contractor Line Design Solutions (LDS). For this job, LDS stenciled and painted 595 stall lines, 600 car stops, and 4,000 linear feet of straight yellow striping, in addition to painting the curbs on the roadway. They also installed reflective pavement markers on the yellow lines.
According to Youngberg and Jones, the project went relatively smoothly. Mother Nature cooperated by delivering only one small afternoon thunderstorm. The milling machine had a repair issue and was shut down for a day, but All County Paving quickly brought in another one to keep the project on schedule.
Century Village posed a few unusual challenges, but nothing out of the ordinary for a company that has been in business more than 30 years. "We provide a range of services from concrete work and installing brick pavers to performing site work," Youngberg says. "Sealcoating and pavement repairs, along with paving large-size parking lots, however, are right in our wheelhouse.
"This job was done on time and successfully due to the combined efforts of our entire team. Everyone from our ownership to pavement consultants, project coordinators, and crew contributed to the success of this job."

Based in Madison, WI, Rod Dickens is a freelance writer specializing in the construction industry.