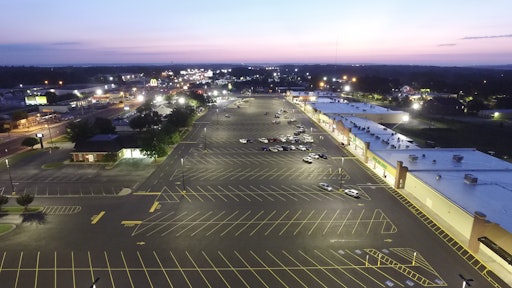 Precise Sealcoating and Line Striping in Augusta, GA, won the Seal and Stripe: Large Job Award after only a few years in business. Company owners Chris Pate and Bill Windsor were new entrepreneurs four years ago, but they certainly weren't new to the industry. Pate alone had 25 years of industry experience.
The experience paid off. They grew their small line striping company into a pavement maintenance operation that this past year applied 70,000 gallons of sealant, working primarily in the commercial market.
The winning project involved sealing the parking lot for Westtown Shopping Center, a 40-year old landmark in Augusta that consisted of 24 acres, including 25,825 square feet of mixed-use space with 26 tenants. In addition to applying 17,400 gallons of sealant, their four-person crew saw cut, tacked, and paved four asphalt patches; cleaned and filled cracks to the tune of 3,500 pounds of crack fill; and used 225 gallons of paint to stripe the lot and paint all curbs, light poles, and bollards.
The job was completed in 10 working days, all the while with no interruption of business despite daily traffic that exceeded 5,000 cars.
"Completing a job of this size, within the time frame, required careful planning and informing the store managers on what to expect," Windsor says. "We developed a plan for traffic and pedestrian control and created a color-coded aerial overview of the sealing schedule for business owners. The property manager then gave this to the tenants to ensure they knew the timeline."
"Bill always said this about a large project: 'Eat it like an elephant. One bite at a time,' and we did, by dividing the job into six sections," Pate says. "We were able to seal and stripe some decent-sized sections thanks to our crew working from daylight to dark, which helped us complete the job on schedule. Hats off to our team for their hard work."
The Operation
Prior to sealing the parking lot, crews cut out four 2-foot x 2 foot patches to a depth of four inches, tacked the vertical walls, and poured in the hot mix asphalt. They also cleaned cracks with hot compressed air prior to filling them with hot-pour crack filler.
Each section was cordoned off for traffic, cleaned with wheeled blowers, and sealed with one squeegee coat and one spray coat using the company's Ditch Runner Turbo Pro 500 squeegee machine. After the sealant dried, the section was striped with three Graco ride-on stripers, and crews moved to the next one.
"Everything went well," Windsor says. "We took a leap of faith trying out a new product, GuardTop Sealer, but it worked really well. One of the big advantages with this sealer is how fast it dried. With the quick drying time, it allowed us to stripe within a half hour of the last coat."
He says that when they encountered a crooked old stripe they popped a chalk line to straighten it out. To keep a uniform back line they used a 1-foot x 1-foot piece of polyethylene plastic at the start of each line.
"Our 'starts-stops' are to ensure all back lines were even," he says.
The job wasn't finished, though, until the sidewalks were blown off again and the trash removed from the curb and gutters. "I always tell our people that we own more than just the parking lot on a job; we own the project from curb and gutter on all sides and everything needs to look neat before we leave," Windsor says. "Since Chris and I have been in business, our motto has been 'our last job is our best'."
The Shopping Center's facility manager, Ann Davis from Property Pros Commercial Services, would have no argument there. "Chris and his team actually showed up a couple days early to begin their crack fill process and worked diligently every day, weekends, and some nights to complete the project.
"Even with a few days of rain delay, the job was completed within a two-week timeframe without complaints from tenants or customers. We were pleasantly surprised each day when we didn't have a message from any of the tenants with a complaint about their work or the process. We were especially impressed that Chris was on site working with his team each day to assure the job was moving forward smoothly."
Based in Madison, WI, Rod Dickens is a freelance writer specializing in the construction industry.