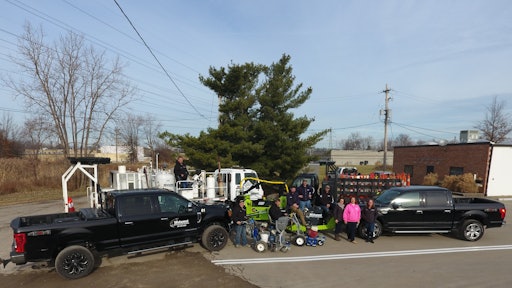 Zero to $4 million in four years.
That doesn't happen by accident.  Okay, it doesn't happen completely by accident. It happens when a family team starts a striping business, becomes aware of a niche in the market, then sits down with its customers and asks them what they need.
It happens when the family gets together to determine whether what those customers need is what they can – and want – to provide. It happens when they decide that's exactly what they want to do and they aggressively pursue that niche.
"As we realized what our capabilities were and what the market was like, we talked about it and said, 'Let's go after it'," says Leigh Byrd, president of Midwest Parking Lot Maintenance, Eastlake, OH.
And when something like that happens, Midwest Parking Lot Maintenance is named Pavement's 2019 Contractor of the Year.
Midwest Parking Lot Maintenance employs 30 people, 22 in the field and eight in the office. They built new offices in 2018 and since the company started in 2014 have moved four times because they've outgrown each location.
Pavement marking is their main business, generating 50 percent of sales; sealcoating and cracksealing generate 30 percent; and a mix of bollards, parking blocks, signage installation, guardrails and other miscellaneous "oddball" work generates 20 percent. Fully 90 percent of their work is as a subcontractor for paving and general contractors, and the majority of that work (75 percent) is on commercial parking lots.  The remainder is performed on roads, primarily doing striping, cracksealing and sign installation.
"Ringing, ringing and ringing"
When Leigh met future husband, Mike, he was working as a striping foreman and she was working in retail. "On my days off I'd go out and stripe with him," she says. "I loved the detail. I loved that it was a sea of freshly paved black asphalt and then we put these nice bright colors on it and when we're done it looked magnificent!"
Soon Leigh decided she wanted to start her own striping company. Mike endorsed the idea and quit his job to become Chief Operating Officer. She asked her mother, Camille Rains, to join her in ownership as vice president, with her strong accounting experience.  And her stepfather Randall Rains, a recent Air Force retiree with a civil engineering background, came aboard as senior estimator. At the start, all four worked in the field and in the office. It didn't take them long to realize they needed more people.
"I envisioned a small striping company, a family owned and operated business" Leigh says. "I pretty much just wanted to run around and stripe everything we could."
"We didn't have a vision except that we were going to be a small striping company and that's where we'd stay," Leigh says. "But the market was wide open and we didn't realize how wide open it was. Our name started getting out there as a new option for striping and the phone just started ringing off the hook. From January to May the phone was just ringing, ringing and ringing and we were doing work in the field and in the office and we quickly learned we can't do this by ourselves."
They did their first job in January 2015, an indoor project. "But by May I'd hired five more people to work in the field," Leigh says.
Making the Customers Look Good
So, what happened? Well, it started with striping. Midwest Parking Lot Maintenance did a great job for its paver and general contractor customers. They were responsive, they performed well, and they made their customers look good.
"Even though we thought we were going to be small we still set ourselves up like a big company, and that set us apart from everyone else," Leigh says. "We had an estimating department, an accounting department, receivables, we pulled our own blueprints, we scheduled like a big company, and we were intent on providing great customer service. Because when you're a subcontractor, the people who hire you don't want to have to think about you. They just want the job done right and on time.
"The pavers could call us up and tell us they forgot to set up striping and we'd say, 'we can do it,' and we did it on their schedule. They knew they could call us and never have to worry about it. We're like firemen. When the phone rings we jump in the truck and we're off."
Midwest took that a step further, deciding that they are actually a marketing element for their paver or GC customers.  "When we show up on a job we look good," Leigh says. "The way we look at this is, we're representing the paver or GC. We're a reflection of the people who hired us so we show up in uniform, in clean, late-model trucks, wearing the appropriate PPE, our employees carry their OSHA 30-hour cards. We try to represent the customer the best we can."
A Need to Add Sealcoating
But operating as a striping subcontractor, Midwest's work was often at the whim and schedule of the pavers and GCs. While there wasn't a lot of downtime, there was enough. So Midwest added sealcoating to their services.
"We realized we needed to do something while we were waiting for the pavers, so we looked into sealcoating and bought a small sealcoating rig," Mike says. "We really added sealcoating as a stopgap to improve our cash flow earlier in the season, before the pavers needed us. We had no plans to ever do the 5 million square feet we did in 2018. The whole idea behind sealcoating was to keep the striping business going until the pavers started up."
"So we started to sealcoat and that really took off," Mike says. "Then, while on a job, the pavers or GCs started asking us, 'Can you put in signs? Can you put in parking blocks?' and we just kept saying 'yes, yes, yes.' It's nice that a customer can make one call and get everything done. That really helped us out."
 "There's all these little oddball things that people don't think about but that get thrown in the contract – bike racks, trash receptacles, we got a call the other day that a paver needed a guardrail installed. If they don't know what to do with them they call us and we just say 'yes, we'll do it' because that's what they need from us and it's worked," Mike says. "Pavers don't make money doing the oddball things. They make money paving so we're there to handle the things they don't need to do. These are often small parts of a job but they have to be handled before anyone can get paid."
"We quickly became the single phone call for those kinds of things. They'd call and say 'here's the job, go handle it,' and we did. They know they don't have to do more than call us," Leigh says. "You have to pay attention and not let yourself be pigeonholed. You have to be open to people and realize there's more that you can do. We had a broad scope of work and we broadened it as our customers needed it."
A First-Year Vision
During that first season Midwest was concerned they might not make it to year two. It wasn't a major concern but the thought was there. Then they started paying closer attention to the work they were getting and further analyzing the market in which they were working.
"There was a wide-open gap in this market for a mid-size striping company that's smaller than the big guys and bigger than the small guys," Mike says. "There's the parking lot work that's too small for the big stripers, like the companies that do road striping, but that's too big for the smaller stripers. We fit right in between."
"That was a vision that came very quickly near the end of year one when we started to really pay attention to when customers called us," Leigh says. "We started realizing what was being asked of us and we were learning what we could handle. We saw what the market was and what the gap was and where we were really needed."
At the end of that first season, Leigh and Mike met with their five biggest clients. "During year one we weren't sure we were going to survive, but by the end the question became 'how far can we really take this?' So we met with the top five customers and we asked them what can we do next year for you? How can we be helpful? What are your needs and how can we fulfill them," Mike says. "They were very straightforward and told us exactly what they needed. They told us what they had trouble with, the difficulties of working with subs, the paperwork issues, and more."
Once they got those answers and had a good understanding of how they were being utilized by the pavers, Midwest had to reconsider what kind of company they wanted to be.  There was a good chance that small family business was behind them – if they wanted to be the kind of company that met the needs of their customers.
"As we realized what our capabilities were and what the market was like, we realized we could fit that niche and provide solutions for those pavers. So we thought, 'let's go after it' and we jumped in with both feet," Leigh says.
And Midwest Parking Lot Maintenance went from five employees in year one to 20 in year two, 30 in year three and almost hit 40 employees at the peak of 2018 and $4 million in sales in 2018.
Taking Care of Employees
"We wouldn't be here without our employees and I have to make sure they're everything they want to be. I think that's my responsibility," Leigh says. "We hire people and we want them to become a better person from working here.  Both their home life and work life has to be in good shape, or one of the two suffers.  We are here for them. I always say, this doesn't have to be your 'forever' job, but it has to be your 'right now,' and if you choose to go, I can help you get to where you want to be."
To that end Midwest runs a drug-free workplace, offers higher pay than others in the area, offers education within the company, pays for OSHA training, and also offers college tuition for employees. She says two employees are currently enrolled in local colleges. "If you want to grow with my company I will absolutely help you," Leigh says.
She says the company has also helped employees set up financial planning to help them get through the offseason. "I want them back, so we're willing to help them get through the winter." She says they've also helped employees build up their credit score, plan to buy a house, and even set up checking and saving accounts with local banks.
She says the company has a life insurance program for employees and is planning to start a 401(k) plan and offer health insurance. "We know that if we can offer better benefits we can be competitive and bring in more people," she says.
"We're an employee-oriented company," Leigh says. "If I'm on a jobsite I'll pick up a sealcoat broom or spray stencils right along with you. Our employees see that. Me, my mom, Mike, Randall – if there's a need on a job, we're out there. That helps them realize that we don't ask them to do anything we wouldn't do or haven't already done."
Handling the Paperwork
One of the most-important things they learned from talking with their five biggest customers was that they don't like to handle paperwork. Many of the paving and general contracting jobs have various set-asides that must be met and regulations that must be followed and a subcontractor that could take-on the responsibility for documenting all that would be valuable.
So Midwest pulled together an efficient and expert back-office staff, which they credit as one of the keys to their growth. "A one-stop shop is important for customer service, especially where paperwork is concerned," Leigh says.
Among the paperwork Midwest handles for pavers and GCs are prevailing wage certified payroll reports, lien waivers, progress billing, affidavits, insurance (and the ability to get the insurance the job requires), Equal Employment Opportunity policy, site-specific safety plans, and drug-free documentation.
"A lot of paperwork goes into some of these jobs and we can handle all of that for them. The smaller striping contractors don't have the staff to be able to handle that and when a large paver or a GC needs that paperwork to get paid, we can handle it and we can do it quickly," Leigh says.
"We just kept getting more and more work.   The customers were starting to ask, 'Can you do a Certified Payroll Report?' 'Can you provide pencil billing on AIA forms?' 'Can you provide specific insurance coverages?' and the list went on. We realized that was something really important to learn how to do and provide efficiently and correctly, so I figured out how to do that for them. That enabled us to get higher-profile jobs. People wanted to work with us because they didn't have to worry about the paperwork as well."
Certifications Help
In addition, Midwest Parking Lot Maintenance maintains a number of certifications vital to their customers including Women's Business Enterprise (WBE), Female Business Enterprise (FBE), Small Business Enterprise (SBE), Ohio's Encouraging Diversity, Growth and Equity (EDGE) program, Local Producer Entity (LPE), and Leigh is working on getting Disadvantaged Business Enterprise (DBE) certified.
"I always wanted to get the certifications for my company, but I quickly learned  that the industry needed these certifications because specific percentages are required on many jobs," Leigh says. She says that certifications have helped open doors to GCs "especially because they're required for certain percentages. It helped be competitive in the market against companies that may have been around longer than us with more of a reputation."
"We view our company as the younger sibling to all the big paving and GC companies. We aren't looking to compete, but to fill the gap between the small and big companies in the area. I feel like we help make jobs more efficient."