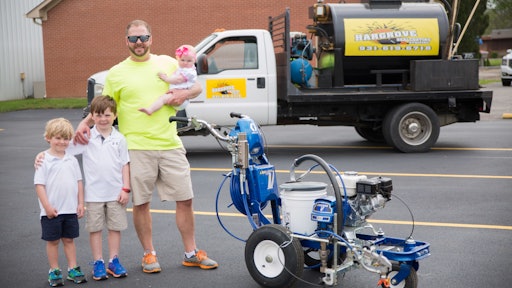 Matthew Hargrove and his wife, Elizabeth, take turns running Hargrove Sealcoating & Striping, Columbia, TN, a full-service pavement maintenance contractor serving the middle-Tennessee market. The tag-team management is necessary because Matthew spends two days a week at Maury Regional Hospital, where he's a labor and delivery anesthetist.
Not your typical pavement maintenance contractor, but pavement maintenance contractor wasn't really in the plans.
Hargrove and his brother started sealcoating in high school by helping a friend sealcoat driveways using a 300-gallon, hand-agitated tank. "We developed a way to seal without leaving any brush marks so it looked like it was sprayed on. People really liked that," Hargrove says.
The brothers continued sealcoating in the summers while in nursing school, but after they graduated they put the business aside. Matthew Hargrove returned to graduate school to become a nurse anesthetist, graduating in May 2012. While waiting out the four-month certification process so he could start working at Maury Regional, he restarted the sealcoating business. Having a new baby, wife, and student loans, he knew he had to do something during that time.
"We did so well that summer that I hired a guy to work for me. And once certification came through he kept working while I went to work at the hospital."
Today Hargrove works two 24-hour shifts each week, and when he's at the hospital Elizabeth runs the company, which generates 60 percent of sales from commercial work and 40 percent from residential work. They employ seven field workers, including two foremen. Hargrove made it a point to make sure all of his employees are cross-trained on all equipment and processes doing sealcoating, striping, crack repair, saw cut patching, and infrared repair.
Reclaimer, Infrared Fuel Growth
Hargrove and his crew pursued only residential work until 2015 when he bid and was awarded 12 McDonald's parking lots. That's when he bought his first striping machine.
"I'd never even seen one before," he says. "The guy I bought it from showed me how to turn it on and how to paint and that was my training. It was an old machine so it would break down a lot so I'd go to the Internet and learn how to fix it. That's how I learned about striping machines."
He also bought a 550-gallon spray truck, the first in his fleet of sealcoating equipment.  Hargrove added a hot mix reclaimer and an infrared repair unit in 2018.
"We bought the reclaimer because we had some problems transporting hot mix asphalt to rural locations," he says. "It can take 45 minutes to get to some of our patching locations so when we got there sometimes the mix was useless. The reclaimer has been worth every penny. It will also enable us to do more winter work."
He says, " The reclaimer, combined with the infrared unit, jumped the company's growth substantially in 2018. We'd been growing but grew 25 percent in 2017 and in 2018 we grew 45 percent.  With 25 percent of that growth in sealcoating and the other 20 percent in patching."
"Our patching business just took off once we purchased the infrared unit and reclaimer," Hargrove stated. "One parking lot we repaired had a lot of low areas and oil spots, so we brought in the infrared unit and heated the pavement to about 2 inches then raked the oil-damaged asphalt off the top.  Then we applied rejuvenator and added some new mix from the hot box and applied rejuvenator again. The repairs looked as good as new, they're seamless and you can hardly tell they're there. "
"Infrared is much more attractive to the customer. With this equipment it's faster, more economical, and you get a better repair that's seamless. In the past it would have taken a lot more time and 5 to 6 tons of asphalt to repair. This was quicker and used only 2 to 3 tons of asphalt."
"No-Questions-Asked" Guarantee
Hargrove says much of their success results from their customer service, his employees and a guarantee that's the backbone of that.
"We've got a great name going because the job isn't done until the customer is 100 percent satisfied. I don't take any money, not even up front," Hargrove says. "Once the job is complete and the customer is 100 percent happy, then I'll take the money."
Hargrove also offers a one-year full guarantee, which he says makes the customers feel more comfortable. "We'll fix it until you're happy; no questions asked," he says. "That's pretty big in today's industry because everyone is so busy that if a customer does have a job where there's a problem, the customer often can't get the contractor to come back and fix it. We'll always come back."
He credits the company's use of technology with helping keep job quality up and the crew productive – so they rarely have to go back. "Technology has allowed me to greatly increase contact with them. I FaceTime a lot," he says. "If they have a question they can FaceTime me and it's just like I'm standing there. I don't have to drive an hour-and-a-half to look at something."
He says his employees wear uniforms and are a big part of their customer service efforts. "Our crews are so great, I just don't have to worry about them. I trained each person one-on-one so they know what I want done and how I want it done, so that's what they do," he says.
"They understand that despite the headaches that can happen with cars, traffic, and people they have to be polite and respectful of everyone," Hargrove says. "We can't be screaming at them if they drive through sealer or wet striping. We teach our guys to just go with it and fix it."
In fact, Hargrove's crews are so respectful that customers make a point of telling him. "I get comments all the time about how nice they are to work with and how respectful they are," he says. "And my guys get tips all the time from people. Who else can say that?"