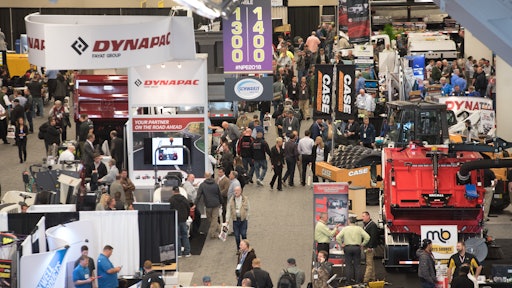 Online registration for National Pavement Expo is open throughout the show, which runs Feb. 27-March 2 in Nashville. In addition to an exhibit floor open three days (including the Preview Night on Feb. 27), NPE will offer 54 conference sessions on both management and technical topics.
Among the hottest topics from 2018 that are being repeated at NPE 2019 are:
How to Organize and Manage Your Office for Efficiency & Profit. Presented by Linda Alfonsi, Petra Paving Inc., a successful operations manager for a pavement maintenance contractor, this session is designed to help contractors avoid the office chaos that can result in frustrated customers, low employee morale and eventually decreased profits. Alfonsi, who will also moderate the new Office Roundtable, will cover how best to manage the day-to-day demands of the pavement maintenance industry, how to create decision-making processes unique to the industry, how (and why) to match key employees to appropriate roles, how to set up standard operating procedures and responsibilities, and how to improve communication between your office and your crews.

How to Make "Quality" Your Employees' #1 Obsession. Presented by Brad Humphrey, Pinnacle Development Group, this session outlines how making quality your employee's "#1 Obsession" will guarantee better performance, greater profits, more work from current customers – and greater respect for your company. Humphrey, who has presented this top-rated sessions for years, will explain what "quality" is and how "quality" impacts your business from top to bottom. He'll cover what "quality" really means to you, your customers and your employees ─ and he'll reveal what a company's "cost of quality" really is. He provides steps to take to make your pavement maintenance company more "quality based," including tips on helping employees to "buy in" to producing quality for you.

Diagram It! How to Pave a Parking Lot & a Cul-de-Sac from Start to Finish. John Ball, Top Quality Paving, presents this session that relies on diagrams to show contractors the step-by-step process how each paving job should be done. Ball reinforces the diagrams with his on-the-job videos. He will work through how to determine the amount of mix for each job, how to determine haul truck size and delivery schedule, how to "line-out" the start of the work and plan the paving, how to achieve the required slope and density, and team member responsibilities. He'll help solve some of the challenges facing these two jobs and he'll provide "best practices" to guarantee quality and efficiency.
How to Stripe the Tough Jobs. Pat Mendick, Miktom Inc., presents this session, described as "a session with no easy angles!" Mendick takes contractors beyond striping basics to tough layout and striping jobs, such as learning to stripe both straight-in 90-degree and 60-degree angled stalls on both inside and outside curves using simple homemade tools — and no math. He will teach radius development and how to stripe curved lines and will offer insights on job shortcuts that will make your daily layout work easier.

Improve Striping Productivity Using Today's Technology. Chad Jung, Preferred Striping Inc., and Scott Langton, Sir Lines-A-Lot, team up to present this "how-to session" that will take contractors through "the evolution of parking lot layout" from basic tape measure layout to today's simple-to-use computer technology that will do your calculations for you and the industry's newest cutting-edge layout tool: lasers. The two veteran striping contractors have evolved along with the industry and its technology will teach you how to efficiently stripe any job, easy or difficult, using today's technology.
For details on these and all 54 conference sessions and to register, visit www.nationalpavementexpo.com.