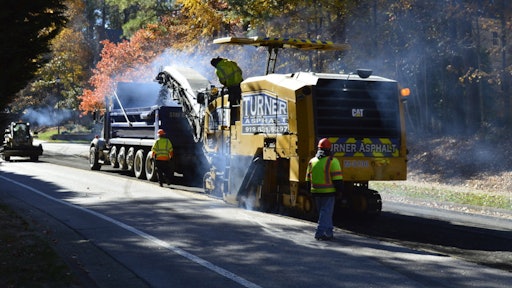 It has been nearly two years since OSHA revised their long-dormant silica dust exposure regulation. The new exposure limits are microscopically low, and it kind of makes you wonder what the heck we've been breathing all this time. Asbestos and lead dust? We get it; the hazards are well defined.
But silica? Every sandbox and dusty ball field is loaded with it. It is a naturally occurring element in practically all natural environments. And all of a sudden it's blood-poison? Hard to figure.
Enforcement of the new standard had been spotty -- right up until last summer when Virginia Occupational Safety and Health (VOSH) cited a large regional contractor for three "willful violations of the Silica Rule."  The "willful" category essentially quintuples the proposed penalty, bringing the dollar amount close to $100,000 for each of the three transgressions.
And the odd thing about it is, the contractor is no slouch when it comes to safety. They pretty much have a program on steroids, so either someone got very lazy or VOSH decided to send a message. Either way, it's a wake-up call to the rest of us
If your employees have any exposure to silica dust -- yours or anyone else's -- you have some homework to do.
According to the new standard, here are your deliverables:
"How much dust is enough?"
That's what OSHA calls the "Action Level" and it's really low; 25 micrograms per cubic meter of air. If you can see the dust, you are probably overexposed and need to take action. The Action Level is a technical absurdity, since a microgram is one-millionth of a gram. The only way to measure this is to bring out an Industrial Hygienist (IH) with their pumps and hoses to take an actual reading of how much silica is in the air.
The next number to watch is the Permissible Exposure Level (PEL) which is a whopping 50 micrograms per cubic meter of air. Just for comparison, that's the rough equivalent weight of an eyelash, or the wing of a fly.
Using Table 1
As part of the new Silica Standard, OSHA publishes what is called Table 1, which is basically a long list of dust-producing jobs and a description of the required safety controls and exposure duration for each job. (View Table 1 at https://www.osha.gov/laws-regs/regulations/standardnumber/1926/1926.1153.)
If you can find your job on Table 1, and you stay within the strictures of the specified work activity and safety controls, you should be okay, even without the IH testing. Staying within the strictures is really important; going outside the lines can open you up to a penalty. So if you choose to use Table 1, it's not going to be a random call.
Develop a Written Plan
In all cases, you will need a Written Exposure Control Plan. This plan defines your company policy, and details how you will comply with Table 1, for example, or any other protective measure in the standard. Add this plan to your Safety Manual, just as you would any other regulatory safety requirement such as - Haz Com or Personal Protective Equipment (PPE).
Training is Essential
You will need to train your employees in the intricacies of staying in compliance with Table 1 and any other provision, such as respirator use, using water or vacuum to minimize dust, staying upwind from dust, using PPE properly etc. Document this and all safety training.
Bonus Tip: Issue a wallet card as a reminder to each employee that they have been trained.
Establish a "Competent Person" for each Jobsite
You will need to train, educate and authorize what's termed a Competent Person (CP) for the jobsite to keep an eye on all the safety-related pieces and parts along the way.
The CP will need to know how to minimize creating dust on any site by using Table 1 or any other means
They will need to understand the OSHA Hierarchy of Controls (Engineering, Administrative, PPE) to properly protect the employees
The CP be named in the Written Plan, along with others having authority for the Silica Program
You should name this person(s) with a Certificate of Competency, a letter and a wallet card; this is their reminder so that if you are inspected they don't get amnesia
The CP also has authority to make changes and to STOP any work deemed to be unsafe
How to Use Respirators
The use of respirators is becoming more common in the trades, but the OSHA rubric on respirators can be confusing.
For example the voluntary use of dust masks still requires that the employer makes sure the employee can safely and properly wear the mask, i.e. proper seal, no facial hair... and the three-pack-a-day person is probably not going to pass the test.
If you plan to be in business for the foreseeable future, it probably makes more sense to have the entire crew fit-tested and medically certified for respirator use. This removes any doubt about their ability to breathe free. And for you as well.
Recertification on this respirator test is required annually
OSHA and your general contractor will ask for these records
Compliance = Protection
For the business owner and manager, compliance with the new Silica Rule is not all that complex. And OSHA did their homework on this Table 1. We advise don't try to push your luck on it. Stay within the category guidelines and document it.
A big factor in your Silica Program will involve you being able to prove your employees are not exposed to any astronomical (i.e. visible) levels of silica dust. The only reliable way to do this is to have a representative job tested and documented by an Industrial Hygienist.
The estimated average cost for an Industrial Hygienist to come out for a day and sample your actual silica exposure is about $1500. This includes all the baggage, hardware, test results etc. Not a bad price for an insurance policy that lasts as long as you're doing this type of work, or work that is substantially similar.
When you add up all the elements required in the silica control program, yes, it's a laundry list. But the good thing is you only need to most of it once, as long as your business and the jobs you perform remain roughly the same. 
John J. Meola, CSP, ARM is the Safety Director for Pillar, Inc., Richmond, VA. He is a consultant and safety trainer to private industry, a regular presenter at National Pavement Expo, and works with the World Sweeping Association. Reach him at JMeola@pillaroma.com