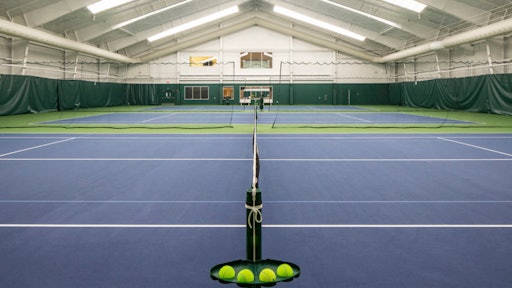 Photo Courtesy GTM Architects, Bethesda, MD
It was almost seven years ago when the Columbia Association Long Reach Tennis Club, Columbia, MD, began planning for a new tennis center. Located in what Nick Rouhana, ATC vice president describes as "a very demanding tennis area," the Club wanted to build indoor courts for its members.
"The association had in mind a state-of-the-art facility. They wanted it to be the best place to play tennis in the mid-Atlantic region," Rouhana says. "A facility like this would be a big deal anywhere, but it's especially a big deal in the Columbia Association community. This is a very vibrant tennis community and this facility was going to hold a place of prominence."
Rouhana says ATC is a preferred contractor for the Columbia Association and has constructed and lined tennis courts for them before – but ATC had never constructed indoor courts in this specific area. In 2016 ATC was hired as a subcontractor to Lewis Contractors, Baltimore, to construct the tennis courts. The job called for six tennis courts to be built from the ground up, indoors. Within the building there was to be a concrete surrounding three courts, a pavilion in the middle, and three more courts on the other side again surrounded by concrete.
Rouhana says that prior to starting the job ATC met with the general contractor to plan out how the job would progress. "Once we got the contract we started collaborating with the GC and with the Club," Rouhana says. "It was a good partnership throughout the project."
Rebranding for the Future
Nicole Colban, marketing manager, says ATC had been American Tennis Courts since 1960. "That name served us well but unfortunately it pigeonholed us," she says.
Rouhana says the company, which used to pave parking lots but stopped, brought parking lot paving back eight years ago. "But the logo and the website didn't reflect that, or the fact that we build and repair running tracks," he says.
The old logo incorporated a tennis court which has been removed.
"The old logo was not very memorable and it was a little outdated," Colban says. "It didn't reflect who we are now. We wanted something that encompassed our more than 70 years of experience in the industry and we wanted to reflect our innovative nature and responsiveness. The new look is sleeker, and it pops a little more.
"For the future we needed to rebrand, so now our customers know there's a lot more we do," Colban says. "We wanted to modernize our look and feel to reflect how innovative we are and that we are meeting customer's needs; that we provide turnkey solutions," Colban says.
In addition to rebranding with a name change and new logo, ATC upgraded its website and social media accounts.
"The website is the face of the company, and it's the first face people see, so we wanted to make sure our website reflected who we are," Colban says.
The site now lists all the services the company offers, provides photos of the various jobs ATC has completed, and includes a blog.
"We added the blog just to touch base and connect more with our audience," Colban says, adding that the company's first blog post is the ATC story. "We plan on including features on people in the industry and people in our company and reasons our customers should maintain their sports surfaces and pavement."
"Our customers have a vision of what they want their courts, tracks, and parking lots to look like," Rouhana says. "They want a company that is going to help them achieve that vision, and the changes and improvements we've made let them know we're that company."
Pre-job Planning and Logistics
While ATC was involved in the planning and discussions for the Long Reach Tennis Club from the start, the contractor had no role in construction until it was time to build the courts. "Like everything you plan, things change," he says. "It rained for two weeks straight and then we had to wait for everything to dry out, so we got a later than expected start."
Once the rain stopped and the ground dried out, the GC roughly graded the area where ATC would construct the tennis courts, then put up the pre-engineered steel frame structure and the roof, leaving a large opening in one wall. ATC made sure the opening in the wall was large enough for them to drive their equipment – trucks, pavers and rollers – through.
Rouhana says ATC held a pre-construction meeting each day to highlight challenges, goals for the day, things to be cautious about, and to review how the job went the day before. He says the daily on-site meetings were essential because the number of trucks expected each day varied, they often arrived at the same time, and they could only be staged on the one access road to the site.
Once they got on site ATC determined they needed more stone, so they added 8 inches of CR6 stone across the entire six-court area.
"Figuring out the trucking and maneuvering the trucks inside the building took a year off my life," Rouhana says. "We had to make sure the opening in the wall was big enough for large trucks to drive through and dump the stone right where we needed it.
"We had 20-ton trucks coming into the building and the drivers had difficulty seeing everything around them because we were inside, and everything was so tight. So we assigned a person to each truck and we told the driver just to watch that guy and do whatever he says. We told the driver don't pay attention to anything else and don't pay attention to anyone else."
He says it took ATC a week to fine grade the tennis court area, "to get the stone just right," which was longer than normal because of the logistics of working inside a building in such a tight space.
"We had to get it perfectly level to leave it 3 ½ inches below the concrete so we would have a smooth transition once we got the asphalt down and compacted," he says.
Getting a Flat Surface
"Once we got the stone perfectly level we started paving -- and that's where it got a bit tricky."
Rouhana says that unlike outdoor courts which require a 1 percent pitch so water runs off, indoor courts must be completely flat. "You have to be precise and completely accurate and completely flat on an indoor court."
The courts were paved in two lifts: a 2 ½-inch base course (1/2-inch mix) compacted to 2 inches, followed by a finer graded 2-inch surface course (1/3-inch mix) compacted to 1 ½ inches.
"You have a little more leeway with the base course, but the surface course has to be dead on," Rouhana says.
Once they installed the asphalt base they waited until the other contractors on site were done with their work inside the building before paving the surface course. "We didn't want to risk damaging the surface asphalt with other contractors driving their equipment over it." he says.
Rouhana credits his paver operator and the superintendents with making sure the final surface was flat. He says that in addition to relying on the laser grader on the paver, they used a 10-foot straight-edge to make sure the mat was flat. They used the straight-edge to check the mat immediately behind the paver and after the first pass of the roller. They then adjusted compaction as needed to assure a flat surface.
"The biggest hiccup is the joints after each pass because that's where the problems can come in. In theory the laser does it by itself because it's programmed to lay it down flat. But it might take 30 feet before it picks up a change. So it's the combination of our paver and superintendents' expertise, the laser grade and the straight-edge that makes it work."
Rouhana says it took crews two days to install the base, one day on the three courts on each side. They followed the same procedure with the surface course for four days of paving overall.
Extra Handwork Needed
Rouhana says that because ATC was working in and around permanent structures – I-beams, walls, and concrete platforms – there was more handwork than on most jobs.
"Because of our planning each day we knew a day in advance when there would be a lot of handwork and we knew it would take us more time," Rouhana says. "So we just scheduled it in and we told our crew to take their time, be cautious, if you have any questions, ask. The superintendents were right there keeping their eyes open and waiting to help out."
Compaction was also a challenge because some areas couldn't be compacted with a roller. "But we did our best on those hard-to-reach border areas," he says. "We got the compaction we needed."
Once both lifts were paved, ATC moved all heavy equipment outside and the GC closed up the wall
Applying the Color Coating
Once paving was complete, ATC waited an additional 14 days for the asphalt to cure prior to applying the rubberized color coating. Prior to coating, ATC conducted a visual inspection of the surface to make sure it was ready. They then hand-scraped the pavement, used a high-powered blower to remove any loose debris and scrapings, and primed it with an acrylic resurfacer. That process took two days.
Once the primer was dry ATC crews applied DecoTurf, a system containing rubber to provide cushion on hard courts. The same material used on the U.S. Open courts in Flushing Meadows, NY, DecoTurf is supplied in 55-gallon drums and is mixed by hand on site. One person spreads the material and he is followed by another worker with the squeegee.
"It's easy to tell an experienced squeegee guy from a non-experienced guy, and you really need experience when coating tennis courts," he says. "The more experience, the fewer squeegee marks."
He adds that while squeegee marks are unavoidable, the fewer marks the better. "It's part of the process. It's more important to spread the material uniformly. The marks don't affect the play and they fade in time."
ATC applied one coat a day for five days. "That's the cushion that builds up," Rouhana says. That was followed by three coats of color coating (U.S. Blue for the playing area and U.S. Green for the border area), also applied by hand, one coat per day.
He says that because the work was indoors and didn't have the sun to help dry it, they waited a day between applications. So the process took 12 working days spread over three weeks. ATC waited one day after the final color coat and then began applying court lines. Lines took two days to apply, though Rouhana says ATC can stripe the same number of lines in one day.
"It was basically standard tennis court striping, but we just took our time with it," Rouhana says. "If anything goes wrong with the white lines that's not an easy fix. We'd have to coat the entire surface again and probably use two more coats if it's a spill. Luckily that's never happened to us, but we take special care to make sure it doesn't."
Lines, posts and nets were all completed in early March, and the Club was ready for its April 20 grand opening.
Last August the United States Tennis Association (USTA) named Columbia Association's Long Reach Tennis Club one of 24 winners in the 37th annual USTA Facility Awards program, which recognizes excellence in the construction and/or renovation of tennis facilities throughout the country.
Rouhana says paving the tennis courts indoors was different and challenging compared to paving a parking lot. "It's a credit to our guys and their experience," he says. "That's what enabled us to get it done."