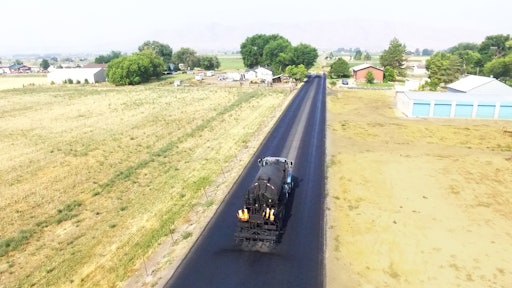 There aren't enough hours in a day. Every sealcoat operator, manager, and company president has found themselves thinking this at one point or another. Even without unexpected equipment breakdowns, weather delays or staffing shortfalls, there are plenty of small things that eat away at productivity, leaving crews wishing for just a little more time.
Even in Utah, which averages more than 14 hours of daylight in summer, asphalt maintenance contractors push their productivity to the max, making every hour in their 12-hour workdays count. Morgan Pavement, a full-service asphalt contractor providing earthwork, asphalt paving and asphalt maintenance services, relies on strict quality control and a proactive approach to tools and products that increase productivity key to optimize efficiency. 
From humble beginnings in 1983 as a Utah-based striping outfit to today's multi-million-dollar company serving communities in Utah, Arizona, Nevada, New Mexico, Idaho, Wyoming, Montana and Texas, quality control has set Morgan Pavement apart. It was the driving factor in the company's expansion into earthmoving, paving, and eventually manufacturing its own sealcoat and slurry seal oils to provide the quality solutions for customers from start to finish. That commitment to the best quality for its customers is the core value that keeps employees like Dean Garrett, current president and CEO, clocking in year after year, decade after decade. Morgan Pavement has never shied away from investing in the tools, resources, infrastructure and employees to ensure its customers receive solutions that are completed quicker and last longer.
The focus on quality makes Morgan Pavement quick to embrace new technology when it benefits its customers. So, when a new product, Onyx, hit the market in 2012, the company quickly realized the frictional mastic surface treatment's potential, giving Morgan Pavement the confidence to expand its application services into roadways knowing it could deliver on its commitment to quality.
Garrett says the spray sealer' has a unique ability to load significantly more aggregate than conventional materials, and the larger, harder aggregate also improves micro texture on the pavement surface for enhanced friction. "It has significantly higher loadings of unique polymers and catalysts that deliver the long-term performances a customer demands on parking lot roads," says Dean Garrett, president and CEO of Morgan Pavement. He says the material is engineered to provide shortened dry times and extended long-term performance, increasing efficiency, durability and longevity.
The only problem was, its current sealcoating equipment hadn't caught up with surface treatment's unique properties, resulting in frequent clogs and slowing productivity – putting Morgan Pavement's reputation and overall efficiency on the line.
 Ingevity, the owner of the Onyx formula, sourced the product through Morgan Pavement's manufacturing affiliate, NuRock Asphalt Coatings. As part of the partnership, Morgan Pavement was tasked with perfecting the application of the material. The mixture's thixotropic nature and high aggregate load made application a challenge for its current sealcoating equipment.
"Onyx has an extreme load of polymer and aggregate, making it more difficult to pump with standard spray seal equipment," Garrett said. "The machines we were using worked well with conventional sealcoats, but with the new aggregate-intensive compound, productivity was suffering."
Despite 12-hour days and six-day work weeks, Morgan Pavement saw limited productivity applying the new material due to frequent malfunctions. Clogs developed in the filtration system of their tank truck, causing the seven-person crew to stop what they were doing, clear the clog, and go back and manually apply the product to cover gaps, a process that increased unscheduled downtime and cost money.
"You can imagine you're clipping down the road at six miles an hour and all of a sudden you have a clog for 20 ft.," Garrett says. "That was happening several times an hour. It was very frustrating for the crews and for our customers." 
 Morgan Pavement knew they needed to do something to decrease the downtime brought on by the equipment mismatch.
A Custom Equipment Solution
So, Morgan Pavement turned to Neal Manufacturing, a Division of Blastcrete Equipment LLC.
Neal Manufacturing and Blastcrete Equipment were well known to Morgan Pavement. In 35 years, the sealcoat applicator had found success with a number of Neal Manufacturing machines Morgan appreciated the customer-focused approach and industry-innovations, but it was the OEM's experience with custom engineering that sealed the deal.
"They're open-minded and easy to work with, so when we need a solution, Neal Manufacturing is the first name on the list," Garrett said. "Not to mention, when it comes to pumps, few understand different consistencies and how to effectively pump sealcoat better than Blastcrete."
Morgan Pavement presented their spray problem to Neal Manufacturing and within two months, their team had engineered a pump and spray system that virtually eliminated the clogging issues that were costing Morgan valuable daylight.
With the retrofit, productivity increased immediately. "Before we struggled with multiple clogs an hour, now it was more like one a day," Garrett says. "Reducing clogs added 10%, or an extra hour-and-a-half to our day. The retrofit also reduced cleaning time at the end of the day by 80% and saved 90% of the material we were wasting during clean up."
In that usable time, crews were able to increase application by 28%. Heightened productivity also meant jobs progressed quickly and efficiently, improving crew satisfaction and delighting customers in a job done to Morgan Pavement's high-quality standards.
But the collaboration with Neal Manufacturing and the success of the refurbished system encouraged management to examine other areas where they could increase productivity.
Cutting Cutting-in Time
Cutting-in edges had always been a time-consuming and efficiency-draining task. The tedious, manual process was always the limiting factor for efficiency on their sealcoating jobs.
On roadways and city streets, edge work required a crew of seven and a significant amount of the time budgeted for each contract. While the main truck drove down the center of the street, two hose crews would cut in on either side – one person operating the hand wand and spraying the sealcoat, one protecting the curb and gutter with a guard, and one progressing the hose.
On parking lot jobs, the process was slightly more efficient, but only because a single-hose crew was needed and there was less cutting in to do in general. Even with the improved pump and reduced clogs, cutting-in cut into their profits and limited their productivity on roadway jobs.
It wasn't as if they were the only applicators battling the drain on efficiency caused by edge work. Industry-wide, the process is a time- and labor-intensive burden, especially for companies with high-quality standards. Sloppy edge work, such as not getting close enough to the gutter or spraying material on the curb, will cause unplanned clean up and dissatisfied customers. As part of its dedication to providing the best solutions for customers, solutions their competitors couldn't, Morgan Pavement wanted to find a way to do high-quality work faster.
At National Pavement Expo, Morgan Pavement saw Neal Manufacturing's three-wheeled, self-propelled DA-350, a drivable, dual application sealer buggy, that featured AutoTrim, an optional baffle attachment for automatically cutting-in sealcoat materials while keeping curbs and edges clean. They recognized the impact the unit could have on productivity and immediately bought one. Soon after using the new unit, Garrett says, they ordered another because the AutoTrim option had the potential make cutting-in a quick, efficient process that could be completed expertly from the comfort of the DA-350's driver seat, allowing completion of edge work in less than half the time.
"It took a crew of seven and reduced it down to one man on a DA-350 to do the edge work," Garrett says. "Those other crew members can be employed in other areas to get the job done faster — directing traffic, operating other machinery and cleaning up a jobsite. Overall, we've been able to significantly increase productivity while decreasing crew size to just five."
Now, the DA-350 sets Morgan Pavement's pace. It precedes the main spraying truck, with the driver doing all the edge work on one road before moving on to the next. The machine's ability to cut a radius while keeping a tight edge with the curb and gutter allows the driver to continue uninterrupted until it's time to refill the tank. 
Nowhere has Morgan Pavement seen the benefits of the DA-350 more than in their work with one of Utah's largest cities. This picturesque suburb of Salt Lake City hosted several events during the 2002 Olympic Winter Games. For the past three years, Morgan Pavement contracted with the municipality to seal an increasing portion of city streets with Onyx.
 In 2017, the first year of their partnership, Morgan Pavement sprayed Onyx on over 1 million sq. ft. of roadway to gauge the performance of the sealcoat. The project lasted over two weeks with crews applying an average of 85,000 sq.ft. a day – 170,000 sq. ft. when factoring in Onyx's double-coat application. A year later, with the DA-350 and spray-truck modifications, they were able to increase productivity more than 53% a day, applying up to 130,000 sq. ft. (260,000 with double application). In just 11 days, they completed the 1.5 million sq. ft. of roadway and were on to the next job – and the next. 
The Neal Manufacturing division of Blastcrete Equipment LLC manufactures pavement maintenance equipment, including ride-on squeegee machines and heavy-duty aggregate piston pumps. Blastcrete Equipment, LLC manufactures mixing, pumping and spraying equipment for the refractory, shotcrete, concrete construction and repair, underground mining and tunneling, and power generation industries worldwide. For more information: Neal Manufacturing Division of Blastcrete Equipment, LLC, 2000 Cobb Ave., Anniston, AL 36201; 770-830-1282; eric@nealequip.com; or www.nealequip.com.