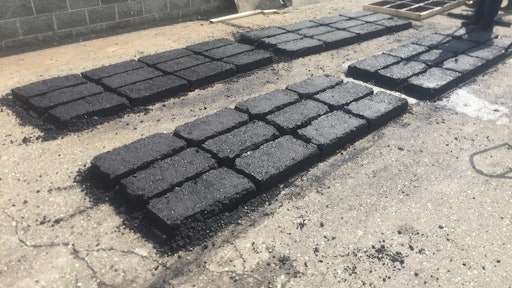 KM International
As colder weather quickly approaches, asphalt plants across the country will begin closing shop for the winter. Asphalt plant closures in most cases usually indicate the end of the asphalt season, but for those contractors who have invested in an asphalt hotbox reclaimer, the season goes on.
An asphalt hotbox reclaimer offers users a couple different advantages.
The most well-known advantage is the ability to maintain hot mix asphalt (HMA) temperatures for extended periods of time. This allows a contractor to patch with 325°F asphalt all day long, which increases the reliability of the patchwork and eliminates waste due to HMA that otherwise may have become too cold to use.
The second advantage of an asphalt hotbox is its reclaiming capabilities. Reclaiming is simply the process of reheating HMA back to its original plant consistency and temperature by means of an asphalt hotbox reclaimer. The reclaiming process typically takes 8 to 10 hours depending on the outside temperature and how much material you are reclaiming.
The reclaiming process is important because it allows those contractors who are restricted by the weather and plant closures to continue work through the winter months. The ability to work in the winter months allows contractors to keep key employees working full time. Additionally, work that is requested in the wintertime is most likely urgent, which means you can charge a premium resulting in more money coming into your business.  
Reclaiming asphalt is a relatively easy process and can be broken down into a few simple steps.
Step 1
Acquire enough HMA in advance in order to get you through the season while the plants are closed. This amount will depend on how much work you plan to do during these months.
Step 2
The following steps will assist you in efficiently stockpiling HMA.
While still hot, break the asphalt into 2 ft. x 3 ft. "asphalt bricks" that are 2 to 3 in. thick
Lightly compact the mix using a hand tamp or the back of a shovel
Once the mix has cooled, stack your asphalt bricks on a pallet or similar surface. If you have multiple rows, make sure you put a piece of sheet metal or plywood between the stacks so your "bricks" do not stick together.
Step 3
The day before a job is set to begin, place your asphalt "bricks" in the asphalt hotbox and set it at your desired temperature. As previously mentioned, the reclaiming process takes approximately 8-10 hours, so plan accordingly. Most asphalt hotboxes are thermostatically controlled, so the internal thermostat will monitor the asphalt temperature and turn on and off automatically in order to maintain the temperature setpoint.
An asphalt hotbox reclaimer is also beneficial for those who must travel longer distances in order to get to an asphalt plant. With an asphalt hotbox, a contractor can make one trip to get 10 or 20 tons of asphalt and reclaim that on their own yard when needed without the hassle of wasting time traveling to and from an asphalt plant. 
Michael Blake is director of marketing at KM International, North Branch, MI. He can be reached at mblake@kminternational.com.