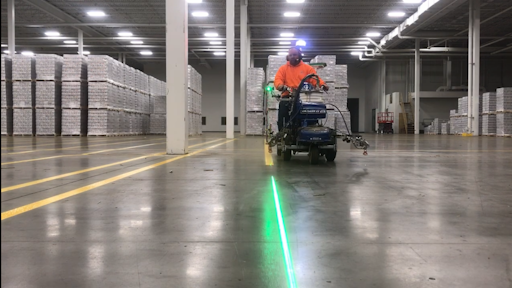 Chad Jung has been running his own striping company, Preferred Striping Parking Lot Painting, for two years, but his 26 years pushing a striper has already paid big dividends. While focusing all his efforts on commercial work, Jung has made it a point to pursue indoor striping to keep busy on rainy days and to help generate revenue during the winter.
"Not a lot of stripers like to do indoor work because it can be difficult, but because it can be difficult it pays very well," Jung says. "The indoor work often involves a special paint, there's often stuff in the way that has to be moved before we can work in an area and that can slow us down or change the days we plan to work, and the floors are often dirty and require extra cleaning or a different type of cleaning before we can stripe," Jung says.
He says that because of the degree of difficulty contractors can – and should – price indoor work significantly higher – as much as twice as high – as outdoor work.
 "I feel this is a whole untapped market," Jung says. "I've done more warehouse striping in the last year than I have in my previous 26 years combined. It's become more affordable for the customers, with the right material it's going to last a while, and it really adds some organization to the warehouse, which is good for their operation and also helps with safety."
 The most recent case in point: A warehouse striping job for St. Cloud Manufacturing and Distribution Facility, St. Cloud, MN.
 "It was the most profitable job we've ever done," Jung says. "It was a really good job for our company."
 Stepping Out on His Own
 Jung started Preferred Striping in July 2017 after working since he was 14 for Tom Frederickson, Superior Striping, Anoka, MN. He had planned on running the striping division of a different contractor, operation, but when he told Superior about his plans, Frederickson said Jung should be running his own company. Jung says Frederickson and Superior Striping not only lent him the money to buy the equipment he needed start his business, they also gave Jung all the clients he had worked with for Superior, so he was able to start out with a strong customer base.
 Jung is a firm believer in utilizing technology to improve his striping productivity and job quality, and he says recent innovations enable him to have better control over the size of family owned-and-operated company, based in Elk River, MN. (Jung and Scott Langton, Sir Lines-A-Lot, Edina, MN, have co-presented striping technology sessions for a number of years at National Pavement Expo.) He, his 16 and 18-year-old daughters Megan and Samantha, and wife Jodi did all the work in 2017, and he hired one fulltime person in 2018 and three people in 2019.
 Bidding and Getting the Big Job
Jung says that though he has done quite a bit of warehouse striping, he's never done a job approaching the size of the St. Cloud Manufacturing and Distribution Facility. And he got the opportunity to bid it after former boss Frederickson recommended him.
 How did he land it?
 "I paid attention to what the customers wanted, and I bid the job based on what they wanted," Jung says.
 He says his bid was up against two other estimates of around $240,000 each and each of those estimates involved grinding the sealer off the concrete, striping with an epoxy, and reapplying the sealer. But the client didn't want that quality or type of work.
 "That's more of a lifetime approach to painting those markings, or maybe it's better to say it's a 10-year approach," Jung says. "But the customer didn't need the stripes to last 10 years."
 That's because St. Cloud Manufacturing was only renting the space for five or fewer years while they were constructing their own warehouse.
 "All they needed were markings that would last five years. And if they didn't last five years I could come in and restripe for half of what my initial layout and striping cost them. I could restripe it for them 20 times for what it would have cost to get them done the way the other bids had planned."
That's how he got the job. Then he had to do it.
 Rethinking the Layout Process
St. Cloud Manufacturing needed striping to create cells for pallets that measured 40 in. x 48 in. The warehouse contained 42 columns, and 13 rows of pallets had to fit between the columns. Jung says the job was so different from a typical parking lot job that he had to spend some time thinking about how to approach it.
"We get so locked in on 9-ft. stalls and 36-ft. lines – I had to forget all that and rethink it," he says. "Once I'd thought it through and I came up with a system to do it, it went really smoothly."
Jung says using a traditional layout method of tape and chalk would have taken days just to layout the job, but he uses a striper with an auto layout that simplified and sped up the process. What he learned that first day was that the distance between the columns was the same throughout the warehouse, so once he had the measurements accurate between the first set of columns, he could transfer that to all the other areas.
Jung determined that there was 50 ft. between the columns. With pallets 40 in. wide he determined he could fit 13 stacks of pallets between each set of columns. He measured out 50 ft. and marked the end line of the pallet box (the customer didn't want pallets sticking out in the aisles). Then he measured the distance and every 50 in. sprayed a dot with the auto layout machine. 
"Everything was boxed in. They didn't want the pallets sticking out into the aisles, so I created that end line first, then I created the other end line, then I connected the two end lines on each side, creating a box. Then I followed the dots inside the box to create the 12 smaller boxes where each stack of pallets would sit. By doing that I created a box between the pillars and then I just divided the box up."
He laid out the first section, then invited the client to check it and sign off on the layout.
"Because the spacing was the same between the columns throughout the warehouse, once the client approved the first section, I knew I could just go ahead and do the rest," Jung says. "I didn't have to ask him to approve any other sections. I gave him the opportunity to make adjustments on that first section and once that was done, I was off and running.
"Then all I was doing was going back and forth, connecting the dots using the laser to guide me on the striper," he says. "Once we got the auto layout done, I just stayed on the machine and started striping it."
Jung did all the work himself except for one part-time laborer – a college student home on spring break who had worked for Jung in the past. "His first day ever as a striper was on this job and he striped 21,000 ft. of lines," Jung says. "With today's technology and lasers, I felt comfortable bringing him in to do that job because he didn't have to measure anything. He just had to stripe the lines that were already laid out."
Technology Aids Indoor Striping
Jung says striping indoors has always been problematic, largely because of the noise and fumes from gasoline-powered stripers. Ventilation was always a focus – as were the carbon monoxide detectors.
"We do a lot of interior striping in garages and warehouses and one thing we always run into is carbon monoxide detectors going off," he says.
But on this job Jung availed himself of one of the striping industry's new technologies, the battery-powered Graco LineDriver ES and the battery-powered Graco LineLazer ES striper.
 "When I told the client that we would be running all-electric machines and that there would be no gas fumes to worry about, they were excited that we didn't have to worry about covering the carbon monoxide detectors with bags so they wouldn't go off."
And he says the electric stripers ran fine throughout the job.
"Batteries have come so far," Jung says. "We arrived at the job with a full charge on both units and they worked perfectly the entire time. The manufacturer says the battery lasts 8-12 hours and I've personally never killed one. We put in 16- or 17-hour days on this job, but of course we're not always on the striper that whole time.
"Using the electric equipment was just like when you hop on a golf cart and it's so smooth and quiet that you can't even tell it's running," Jung says. "And it was nice to be able to communicate with my employee without having to yell over the machines."
Another technology Preferred Striping relied on is lasers. Jung says all of his stripers are equipped with the LazerGuide 2000 line-generating laser and the LazerGuide 1700 dot laser. "With these lasers on your machine there's no longer any need for a string line or a chalk line," Jung says. "Installing these lasers on your machine is like having a built-in string line that keeps the lines perfectly straight all the time."
3 Days of Intense Striping
When all was done, Preferred Striping used 145 gal. of Diamond Vogel Aisle Ease paint to stripe 58,113 ft. of lines over three long days at the St. Cloud Manufacturing and Distribution Facility.
Jung says the first day on the job was the biggest and most important day because the client had 40% of the warehouse cleaned out and Preferred Striping was able to stripe more than 23,000 linear ft. of lines.
"They were ready for us," Jung says. "I got there early and got the layout started and had my employee show up about three hours later so he could just start painting as soon as he got there. We boxed in all of the areas first and then came back and did all of the long pallet rows of striping." On the second day the client had enough space cleared so Preferred Striping could stripe another 19,000 ft., which the two workers completed in less than four hours. On the third and final day Jung was on his own and finished the remaining 15,000 or so feet. 
Unlike some warehouse striping jobs, this project did not require any floor stenciling of numbered sections, just the creation of the box-like stalls. Jung says it would have been a lot more time consuming had each stall needed to be numbered, but the customer hung the numbers over the pallets instead of having them striped onto the floor.
"That makes complete sense because the forklift operator can just scan and find the area he wants. Plus, you never have to change the signs. In a lot of warehouses, it seems there's a lot more dragging of pallets than lifting them, so if you stripe the numbers on the floor it's like running a scraper across the floor. The numbers just get torn up and have to be restriped.
"It became really simple because we were just putting down lines," Jung says.