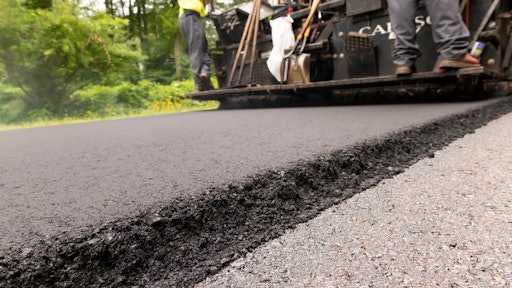 In August Dow Chemical Company announced the completion in Michigan of the first public asphalt road in the United States paved using a recycled plastic modified asphalt. The project, completed by Central Asphalt, Mt. Pleasant, MI, was comprised of four public roads and a private parking lot on the Dow's facility in Midland, MI. The effort is the second phase of Dow's tests using recycled plastic in asphalt pavement in North America.
Dow had already tested its recycled plastic modified asphalt on two roads, Plastics Road and Gulfstream Road, at the chemical company's Lake Jackson campus in Freeport, TX. Placed in February 2019, that project included 2600 ft. of a two-lane road around one of Dow's polyethylene plastic manufacturing plants. The asphalt mix contained 1,686 lbs. of "low-density, post-consumer recycled plastic" (Dow is not revealing the percentage) – the equivalent, Dow says, of 120,000 plastic grocery bags.
Aaron White, Central Asphalt vice president, says that last winter Central Asphalt was approached by Dow about producing and placing a hot mix asphalt that relied on a binder that contained recycled plastic.
Central Asphalt is a single-plant operation started in 1982 as part of a family-owned business, The Fisher Companies, providing full-service hot mix asphalt production and paving. The company employs 35-40 employees in the field and at the plant and runs two or three paving crews, a milling crew and a grading crew. It generates its revenue almost equally from Michigan DOT work, work for local municipalities, and commercial and residential off-road paving.
Central Asphalt's plant is a 1993 700-ton/hour BMG parallel flow operation. According to Jeff Spagna, Central Asphalt plant manager, the company has produced an average of 450,000 tons of hot mix per year since 1993 and has produced up to 600,000 tons in peak years. The company produces as many as six different mixes a day, storing the mix in its 10 asphalt storage silos that can store up to a total of 3,000 tons. Most mix is produced for their own use, though they do sell to some small contractors.
White says that initially the hot mix with the recycled plastic modified asphalt was going to be placed only on a parking lot on Dow's property, but following conversations with the Midland County Road Commission the test project was expanded to include four additional roads in various pavement designs.
"After discussions with DOW the Midland County Road Commission agreed to give it a go," White says. "They've always been receptive to new ways to improve their roads and extend the life of their projects."
Recycled Plastic Modifies Binder
Dow used K-Tech Specialty Coatings Inc., Ashley, IN, to blend the plastic into a PG 64-28 binder. K-Tech then delivered the liquid already blended to Central Asphalt.
"Dow related their Texas experience and assured us there wouldn't be any problem and they were correct," Spagna says. "We were pleasantly surprised when the first load came in. They expected it to act like a normal polymer mix would act and that's what happened. We just accepted it as a finished product and put it in our 20,000-gal. horizontal liquid storage tank."
He says the binder was stored on site for 20 days with no problem.
"Whenever you have an additive like that in a liquid you're always concerned about storage," Spagna says. "How long will it last? Will it separate? We treated it just like any PG 64-28 and it reacted like any 64-28.  This material was heated and agitated to maintain separation and to not allow any build-up in the tank.
"Then we metered the material and pumped it into the mix just like we do with regular asphalt. We had been preparing to clean out the lines after we ran it, but it reacted just like other binders we use. We were surprised at how well it went through the plant and how easily it went down during the laydown process. It went well."
"Nothing scary" About Plastic-modified Binder Mix 
Spagna says Central Asphalt produced only as much of the plastic-modified hot mix asphalt as was needed for each day, which is typical for any polymer modified asphalt mix. "We produced it until we had enough made for that day's work and then we stopped," he says. "Anytime you're dealing with a mix with polymers in it you normally don't leave it stored in a silo overnight."
White says all the paving projects were asphalt overlays and the mix was placed on pavements experiencing different traffic volumes to better test the material: a mile-long and half-mile-long roads and a dead-end subdivision. The parking lot and three of the roads used a 12.5 mm mix while on the other road Central Asphalt placed a 4.75 mm "ultrathin" sand mix at a rate of 85 lbs./sq. yd. For the parking lot and roads Central Asphalt used 225 tons of the plastic mix liquid to produce the hot mix asphalt.
At the end of July Central Asphalt produced 1,300 tons of the plastic mix for Dow's parking lot at their corporate facility, putting down almost 700 tons in two consecutive days. White says work on the almost-square 114,000-sq.-ft. parking lot was straightforward, with no obstacles, straight pulls and little handwork.
"The binder is a little heavier than we typically use on a parking lot and the PG 64-28 produces a little stiffer mix than we would typically use on a parking lot so there's a little bit less time to work with it," White says. "There was a little less time for the handwork and for rolling to achieve the density we needed. But we were able to achieve the density without too much trouble since we were aware of the differences in advance. It was pretty much business as usual."
The Midland County roads weren't done until mid-August so there were two separate runs of the plastic mix, a total of 3,500 tons for the county roads, and White says the mix went down virtually the same as any mix with a conventional polymer modified binder.
"We were preparing for the worst. We weren't sure what we were getting ourselves into, but it reacted as normal as any other conventional mix we had," White says. "The bottom line is we have no reservations about letting another job using this material. There was nothing scary about it, either production or laydown-wise."
Which is why Central Asphalt is bidding several new projects with the binder for 2020.