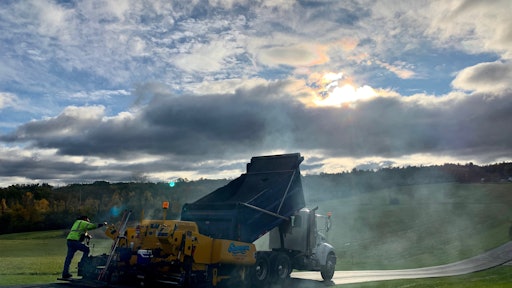 For years and seemingly for each new generation label, the hue and cry goes out that this generation – whether it's Generation X, the Millennial generation, or the newest Generation Z – just doesn't fit with today's contractors. And contractors are told, through articles and seminars, how best to understand and work with these youngsters to incorporate them into the company so they can become a valuable, productive member of the team.
But what's often forgotten or ignored is what these younger generations of workers bring to the company, and there's no better example of that than Gabriel Contractors of Amsterdam, NY, a paving company that is readying the fourth generation to run the company.
That fourth generation member is Kristi Vertucci, vice president, who works with her father, Terry, who learned from his father and company namesake Gabriel (and uncles Arthur and Anthony), who learned from their father, Patsy, who started as a concrete contractor in the late 1940s.
Today Gabriel Contractors of Amsterdam, N.Y. is moving headlong into the higher-tech, automated world thanks to Kristi  –  and to her father's willingness to adapt to a changing business environment.
"He told me that if we're going to keep this business going and if he's going to be able to retire someday we're going to have to move in this direction," she says. "Now, looking back, he doesn't even know how he did it before when he was writing up bids at 11 at night and at 4 in the morning and now we're doing that within 5 minutes at the jobsite."
Four Generations of Growth
The company was already a successful concrete paving business for Patsy Vertucci, Kristi's great-great-grandfather, and remained that way until 1957 when Patsy's son, Gabriel, returned from the war. He wanted to focus on asphalt paving but Patsy wasn't interested, so Gabriel with brothers Arthur and Anthony began doing asphalt work and when the company took the name Gabriel Contractors of Amsterdam, N.Y.
That younger generation helped transform Gabriel Contractors into primarily a driveway paving company, though the company maintained its concrete business, constructing sidewalks throughout the city. (In fact a number of the city's sidewalks still retain the Gabriel Contractors stamp the crews used to sign their work.)
Terry, Gabriel's son and Kristi's father, started raking asphalt in 1968 when he was 10 years old, and by that time, encouraged by Gabriel, Arthur and Anthony, the company did just about anything related to asphalt paving including excavating, demolition, catch basin installation and repair, and sewer line installation. They gradually expanded into commercial work, as well as work on low-volume roads for public agencies. They added sealcoating in 1970 but sold that part of the business in 2018 because they had more than enough paving work.
Currently, the contractor employs 10 full-time employees during the season and they generate 90% of their work from asphalt paving. "No matter where we start it always ends up with something being paved," Kristi says.
Bringing Technology            
Kristi, who holds an MBA and has an expertise in information technology (IT), began helping in the office at Gabriel Contractors 10 years ago while still employed doing IT work at a local hospital. At the time the company still used typewriters, had no computers, didn't use email and didn't have a website.
"My dad wrote estimates on paper in the truck, then my mom would type them up and create the bid and we'd mail it out. I said 'No way! We're doing this on the computer'."
She helped out on evenings and weekends because Gabriel Contractors couldn't afford to hire a computer expert. "I didn't want my dad to have to pay somebody else for something that I could do," she says.
Since joining officially six years ago Kristi has helped the company add a website (which was upgraded and relaunched last spring), make an impact on social media, and improve internal communications by moving from CB radios and chirping Nextel walkie-talkies to iPhones. She has also computerized their operations, which opened the door to use of email and enabled them to get bids into the hands of customers more quickly.
"We've cut down the time it takes to get a bid into a customer's hands by a lot," she says. This year she and her father began using an app that uses drones to measure jobsites, enabling them to create the bid right at the jobsite and email it out from their phones or tablets. That not only enables them to create the bid more easily and more quickly and gets it into the customer's hands sooner, it shortens the work day for father and daughter.
Despite the fact she helped upgrade the company's technology she eventually tired of it. "I'm not really a behind-the-desk person," she says. "I convinced my father that I wanted to be outside working with him like he was with his father. I think he was trying to protect me – not that he didn't think I could do it but it is difficult work -- but I took a pay cut to learn it and I love it."
She began working in the field with a rake and shovel, then learned the roller. Now she estimates, operates the screed (often side by side with her dad) and manages office operations.
Like Father, Like Grandfather...
"My dad brought things to his father like I did for him," she says. "He did with my grandfather what I'm doing for him."
For example her grandfather, Gabriel, didn't want to take on certain size jobs. "The company's approach to jobs at the time was very labor intensive so he thought some jobs were too large because of the way they did everything. And he didn't want to add new, larger equipment that would have enabled them to produce more work and do more work faster."
But her father made it a point to watch other contractors using equipment, and because the rental market was so different he was able to try out a lot of equipment at little or no cost. "My dad is a great self-taught operator and once he's used a piece of equipment, he can quickly see the time saved or how equipment makes doing something easier or better.
"He knew he had to convince my grandfather he needed to buy new equipment if the company was going to survive and grow," she says. "So my dad did with equipment what I'm doing for my father with technology.
"It's not the same with what we're doing now but it kind of is," she says. "He gets the fact that I'm trying to make some changes and why we need to make them because he did the same kind of thing with his father. There's a little resistance and change is hard but he can see it."
Social Media Becomes Huge
Another technology Kristi Vertucci has encouraged is social media, which she says works as both a marketing tool and a networking arm.
She says that Gabriel Contractors has cut back on marketing because they have so much work, but they have placed an increased emphasis on social media, particularly Facebook and Instagram.
"Social media has become huge for us and much more important than I ever thought it would be. We post and we get a lot of response from customers but also from other contractors."
Related to social media are the company's two drones, which she uses to get attention on social media.
"When I'm on the paver I'll send up a drone and take some in-progress video and before-and-after videos. Then I'll put a few clips together and then post the video. The drone footage really gets a lot of attention from people," she says.
She says she posts at least once a day during the season, and she makes it a point to tag other companies to get them involved.
"I'll do something as simple as 'Weather here is great for paving. How's the weather where you are?' and other contractors will respond, telling us about their location. It's fun and people seem to like it. I also post the temperature of the mix behind the paver – 'It's 80 degrees here and mix temperature is 275 behind the paver. What's the mix temp behind your paver?' And people will tell us."
Networking the Next Generation
She says that in addition to creating a marketing presence, the social media interactions have helped the company network. "When we go to some of the national trade shows like National Pavement Expo and ConExpo we meet up with some of the people who've been responding and we compare notes and trade ideas," she says.
And the networking is aimed at reaching out to younger customers, too. Kristi is 33 and she knows younger customers will be key to the company's growth. She says the company is well known and has a great reputation among established owners and property managers but, like her father, many of those people are nearing retirement, and a new set of customers is taking their place who don't know her father or the company.
"Our reputation is built on older, loyal customers but the next generation is coming along. "I'm working to generate the same reputation with the younger customers that my father had with the older customers and that my grandfather had with his customers," she says. "My grandfather knew all the people around here and that helped get us our reputation. He'd bring coffee to people watching us on the job and bring donuts to kids on the jobsite. He really made an effort to make the customer feel like part of our family. It's important our customers know there's another Vertucci ready to step in to continue our work. It's important they know who I am."
And one of the sales points she can make is that her 63-year-old company is operating on the cutting edge.
"One of the things we can tell them is that we're up to date and even ahead of the game with new technologies that will enable us to provide the same quality service and family-oriented service the company provided in the past," she says. "They seem to like that we're updating our systems and our equipment."
A Mix of Old and New
"My father hates technology but I love it," Vertucci says. "Everything we did we used to do by hand, from the office to the field it was a very labor-intensive process. Now that we've brought in technology it's all easier and we can be more productive and more profitable."
That's what her generation has brought to the company.
"Since I came in we have a nice mix of both the old way and the new way," she says. Terry, for example, still likes to grade using a tractor outfitted with a blade that his father had custom-made for the company. But at the end of 2018 Gabriel Contractors bought a new grading attachment for their skid steer "and it's about as automatic as you can get."
And her father is adjusting just fine.
"Like anyone else he goes backwards here and there because the old way is more comfortable, but once he gets a handle on how to do things using the technology we've brought in he catches on pretty quickly and then that becomes the norm. Every company this size and just about all people his age are going to have trouble transitioning to something like this, but it's really happened pretty easily," she says.
"He's flat-out told me that if I hadn't brought this technology in that we wouldn't be in business anymore. It's a completely different landscape nowadays and in his world he would have closed up shop a long time ago."