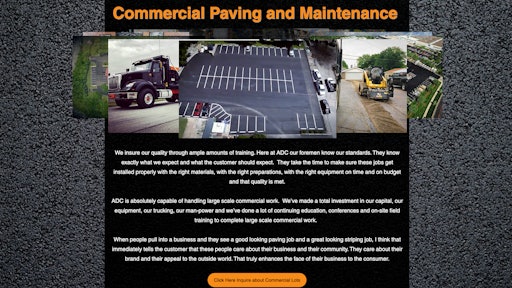 Not only has ADC Paving's website (www.adcpaving.com) been a crucial contributor to the company's growth over the past year, but it's receiving Pavement's "Best of the Web" Award for 2020.
Redesigned and relaunched in mid-2018, the website was updated to provide support for the company's new branding effort, to enable the company to move away from "old school" marketing, and to more easily reach the commercial customers the Louisville, KY, contractor wants to reach.
They also wanted to highlight their core values, and the first topic on a drop-down menu beneath Services is titled "Quality above all else" and describes in detail how ADC views its work. "We did that to separate ourselves from our competition locally and regionally," says Kevin Gray, co-owner with wife, Angela. "We also wanted to make it easier for people to navigate and more visibly appealing."
ADC Paving is a third-generation, family owned-and-operated company. Started in 1959 as Asphalt Driveway Co., the company began transitioning to ADC Paving for the 2014 season when they decided to expand into commercial work. Today ADC Paving is a 20-person, full-service paving and pavement maintenance company, generating 70% of work from paving, 20% from sealcoating, 5% from concrete flatwork and 5% from striping.
Gray says the website was overhauled in 2011 but hadn't been refreshed since then. "We thought it was about time," he says.
Support for Branding
Gray says that when the company began to pursue the commercial market, they rebranded their vehicles from white to black. Lettering is orange and white.
"We wanted a website that would support the new brand," Gray says. "We wanted to increase brand awareness and we really needed a website to promote that and capture our culture."
A visit to the website lands you on the all-black home page, with orange headings and white logos representing the years the contractor has qualified for Pavement's Top Contractor list. "We wanted to highlight that we made that list so often and we really like the way the white letters pop against the black background," Gray says.
A slight scroll leads to an introduction to the company with an orange "Get in Touch" call-to-action button. Another slight scroll leads to the "Pride in Services" page, which outlines for customers how ADC Paving views its responsibilities. Another call-to-action button suggests "See Our Services."
"When you're on our home page you see the pride we have in our service," Gray says. "We've adopted a 'no bad jobs' mentality and we make that clear. We want to give people the job they deserve. We're trying to give people the value they are paying for – as it says on the site.  And 'no bad jobs' doesn't just mean no bad paving or sealcoating jobs. It means from the receptionist answering the phone to our customer service department to our crews all providing the work we've promised. And that's all right there up front."
Focus on Social Media
Gray says that when they decided to overhaul the site, they wanted to make sure to incorporate social media.
"We really wanted to focus on social media marketing. We thought we had a pretty good story to tell, and we wanted to tell it where people are shopping today, which is online," he says. "We've removed ourselves from the Yellow Pages and other 'old school' kind of marketing and we instead focus on YouTube, Instagram and Facebook. The site is designed to utilize social media and all those outlets are promoted pretty heavily on the website."
He says the company regularly develops special content for their social media campaign, including marketing videos (one of which they placed locally during last year's Citrus Bowl) and the marketing videos are also accessible from the website.
Target the Customer
Gray says ADC is still transitioning from residential to commercial work, so they wanted to make sure to create a site for the customers they wanted.
"The biggest thing we did is make sure we were promoting to the customers we were pursuing – property managers, property owners and business owners. We added some text to focus on those people," he says.
To make sure they would reach those buyers, they researched keywords that would help them climb Google's search engine to make sure they landed on Google's page one. They then included text on the site that used those words and addressed specific topics in which commercial buyers would be interested.
"We built into the site what we thought would help us reach out to those people," he says.
Gray says they continually add to the site to keep it current, and the new site seems to be working for them.
"More than any other resource, the site has helped us reach and maintain conversions from Google and consistently placed us as one of the most-clicked paving and pavement maintenance contractors in our local area," Gray says. "It is the backbone and, in a lot of cases, the first impression for many commercial customers looking for a reputable paving contractor.
"We ask everybody that calls how they heard about us and our Google ranking has gone way up," he says. "A lot of people are finding us through the website, more than ever before."