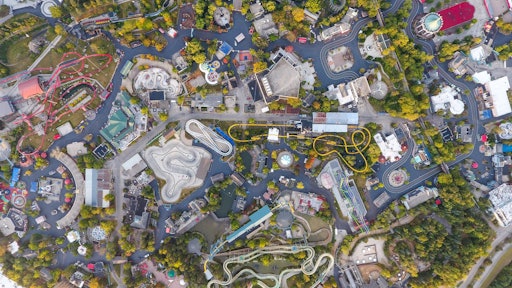 Formed in 1980 by Peter and Robert Kordus, Asphalt Contractors Inc. began by sealcoating and cracksealing driveways and small parking lots. In 1981 the contractor added striping, and in 1984 Asphalt Contractors took a giant step forward by bidding to apply two coats of sealer on 550,000-sq.-ft. of asphalt pavement on what was then known as Marriott's Great America, a theme park in Gurnee, IL.
Though ownership has changed over the years (the park is now known as Six Flags Great America), Asphalt Contractors Inc., Union Grove, WI, has remained the sealcoating contractor of choice, most recently completing 700,000-sq.-ft. of sealcoating in five days in 2019, for which Asphalt Contractors Inc. receives the Pavement Seal & Stripe: Large Job Award for 2020.
"We have a real good working relationship with the people at Six Flags," says Bob Kordus. "It's the best job you could ever have. They believe in us and we never let them down."
Asphalt Contractors Grows
Kordus says that 10 years ago Asphalt Contractors Inc. performed general pavement maintenance and paving with about 30 people in the company. The company stepped up gradually, doing work throughout the country until eventually landing a 50,000-ton paving job in Houston.
With the money from that job they decided to get into asphalt production and bought land and an asphalt plant and now produce their own mix. In addition, Asphalt Contractors Inc. runs three large milling machines and three crushing plants to recycle asphalt and concrete, which they often use themselves but also sell to other contractors
"That decision to operate a plant opened a whole new dimension for us," Kordus says.
Today their employee count nears 100 and contractor operates as a full-service paving and pavement maintenance contractor.
"Our business has changed and evolved a lot. We've got a niche that's pretty much in between the municipal pavers and the small private pavers and that keeps us busy all the time," says Bob Kordus, president.
Before the Big Job
Once Asphalt Contractors gets the call from Six Flags -- "we never have to bid it anymore" -- Kordus drives the park looking for changes to the park such as areas under construction, new rides that might have been added, or anything Asphalt Contractors needs to take into account when scheduling and working.
"Every year there's something new going on. The place is in a constant state of change," Kordus says.
He then meets with the maintenance supervisor to schedule the work. All work must be done before the park's official opening each spring, but often private parties dictate which days they can work. In 2019 Asphalt Contractors divided the park into five sections, completing the work in five working days – one section a day -- spread out over two weeks.
Preparing the Pavement
Asphalt Contractors used as many as eight people on the crew each day, depending on the amount of pavement being sealed. And Asphalt Contractors sends its best, most-experienced people to do the work. "We'll send some people out there that we're training to be foremen but for the most part we want our best guys out on our highest-profile job," Kordus says.
Six Flags pressure washes the pavement each night, but Asphalt Contractors crews still used blowers on the site to remove any debris or dust that might have accumulated during the night. Today Asphalt Contractors Inc. cuts in all the edges and all the tight areas by hand. They even mask off the railroad tracks that run through the park rather than try to edge around them.
"It takes a while to mask the tracks off, but the end result just looks so much better. It makes for a much more uniform surface and the edges are clean," Kordus says. "Nothing gets on the concrete or the stainless steel. We're known for that and we're known for always getting done the area we plan for that day."
They then spray two coats of sealer using two 1,500-gal. spray trucks, and on path widths as narrow as 2 ft. wide crews use self-designed "sealer wheelies" to bring sealer to spread by hand.
Skid-resistance is Key
Kordus says that when they first tackled the Six Flags job, the property manager required that two coats of refined coal tar sealer be applied by hand, partly because there are so many areas of concrete and steel and bollards they didn't want any sealer where it didn't belong. Asphalt Contractors did the job and did it so well Six Flags called them to sealcoat the park the next year – and they've been sealcoating it ever since.
"They're looking for a skid-resistant surface and once we showed them what we could do with spraying and by sizing the aggregate for skid resistance they allowed us to spray it," Kordus says.
Kordus says that while Six Flags always wants the park to look great, emphasizing that the appearance is part of the customer experience, the greater concern is liability, they budget for sealcoating the park annually.
"The park is sealcoated every year because between the foot traffic and the nightly pressure washing, the sealer takes a beating," Kordus says.
And every year since 1984, Asphalt Contractors Inc. has done the job.