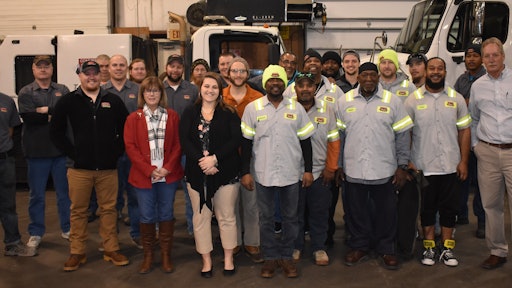 Pavement's 2020 Sweeper of the Year, Commercial Power Sweeping, Suffolk, VA, serves Virginia and North Carolina with 30 employees who operate 13 parking lot sweepers, nine street sweepers and 14 utility trucks. They generate 10% of sales from street sweeping, 30% from construction sweeping and 60% from parking lot sweeping and exterior building maintenance.
Owned by Karl and Lori Stauty, Commercial Power Sweeping looks like a traditional sweeping company until you delve deeper into what "exterior building maintenance" really means and until you take a closer look at the way they treat their employees, approach safety, and follow environmentally friendly policies. That's what sets Commercial Power Sweeping apart and earns them Pavement's Sweeper of the Year recognition.
Started in 1986 with one truck, sweeping three days a week while the worked other jobs, the company saw slow but steady growth, mainly the result of word-of-mouth endorsements by customers who passed the company name along to fellow property managers. Eventually, when they were running six sweepers, Commercial Power Sweeping added landscaping and snow removal to better compete with other sweepers. They abandoned those markets after eight years because they weren't profitable and, they felt, detracted from the sweeping business.
"I was nervous about getting out of them and was afraid it would affect us long-term, but it was the best thing we ever did," says Karl Stauty. "We concentrated on sweeping and providing the best service we could. We made a big business decision to specialize in one thing and we really went after it. We stuck with local property owners and it's worked out."
But that doesn't mean they steered away from other services.
"We'll handle pretty much anything to do with the exterior of the property," Stauty says, including patching and repair, crack filling, sign installation and repair, lighting repair, interior sweeping and scrubbing, pressure washing, installation of speed bumps and car stops, large item removal, event and holiday banner installation and graffiti removal. And they have the equipment to support those services including an infrared repair unit, five trailers with hot boxes, and asphalt rollers.
"We do almost all of it on our own [they sub out striping and paving] because we want a 48-hour turnaround when the customer asks for something, and subs just can't do that. We have some customers that we handle everything for them, from sweeping to HVAC. We provide good, quality service, that's how we grew. We do what we say we're going to do.
"Everything we do is guaranteed. If you're not happy with it, we fix it and we'll fix it right away -- regardless of the cost," he says. "That goes a long way toward developing relationships, and we established some great relationships as we went along. The beauty of the relationships is I grew up with my customers. We were growing at the same pace so many of the customers I started with I still have today."
Developing a Long-term Team
Providing that broad variety of services would challenge any company, and Stauty credits his team of long-time employees – and the company's approach to its employees -- with much of the success.
"Retaining employees is more difficult today than it's ever been," he says. "But it's never been easy." He says three of his employees have been with him for more than 25 years. Another four have been with the company more than 20 years, and another 10 have been with Commercial Power Sweeping 10 years or longer.
And the key to that great retention history is a focus on employees – from basic (and even rare) company benefits, to an awareness of the difficulties of the job (with an effort to ease them), to dollar-based bonus opportunities and an emphasis on employee safety.
Let's start with the basics: Commercial Power Sweeping provides dental, vision and health insurance; buys its workers two pairs of Red Wing Shoes steel-toed work boots each year; provides all work uniforms and all safety gear; and offers above-market-average pay.
Now for the rare.  
The company offers paid vacation and sick time. For vacation, employees complete a form 30 days in advance and turn it in to their supervisor. The supervisor approves it and then looks for volunteers to pick up that route.
"Usually we have no trouble finding someone," Stauty says.
And switching doesn't impact quality on that route because every few months the company "shakes up" the routing, so operators are cross trained on at least two and often three routes. "A lot of people don't want to do the same parking lot for seven years, so it's nice to mix it up. We shake up the routes and the days, so no one always has to work weekends unless that's what they want to do – and some do. About 80% of employees like the shake ups and 20% don't."
Training & Keeping Operators Fresh
"Our operators are keeping our image what it is, what it's always been," Stauty says. "When these guys go out there and we cut them loose on their own, they have to understand not only what our customers' expectations are but what our expectations are."
To make sure they understand, operators are put through four-weeks of training by supervisors who were trained by Stauty. "Our key supervisors on the parking lot side have been in business with me for 20 years. They were riding with me when they started and I trained them, so they got their training straight from the horse's mouth."
New hires spend one week riding and picking the property; one week blowing, picking and changing garbage bags. In week three the supervisor and new hire switch roles with the new hire driving. In week four the new hire does everything on his own with the supervisor in the cab coaching, but the operator does all the work like he would on a normal shift.
"It's expensive and time consuming but it's proved to be very effective," Stauty says. "Yes, it can be done with GPS and an iPad and we could just send them out there on their own after a couple of days, but we don't think that's enough to get across how we want things done."
Stauty recognizes that "it takes a special breed to be a parking lot sweeper," estimating that 10% of new hires fail training, usually in the second week. "Most often they're a person who hasn't worked nights but thinks they can do it."
Operator Bonus Incentives
Stauty says Commercial Power Sweeping works to make sure that employees not only feel a part of the company but reap some of its rewards. So they've set up several bonus opportunities from which operators can benefit.
Another bonus opportunity is a cash incentive to encourage night sweeper operators to be vigilant about potential job opportunities on their route. Operators use an app, which is also given to property managers. If an operator sees a problem on a property, whether it's a safety issue that needs immediate attention, a large object that needs to be removed or a repair or cleanup that's needed, they're encouraged to let the supervisor know. Operators are trained to take a picture of the problem and then provide as much basic detail as they reasonably can – the size of the pothole or how big the graffiti is or the height of a sign that's been damaged, for example. Commercial Power Sweeping sends a report, a photo of the parking lot problem, and an estimate to fix it to the property manager. In roughly 70% of the cases the customer replies by accepting the bid and giving them the work.
"We reward our guys for everything they send to us and if we get the job, they get a percentage of that," Stauty says. "Some of the guys are all over it and some guys hardly every touch it. It blows my mind when guys don't participate in it because it's really free money. Some guys get as much as $300 or $400 a month in bonus as a result of the pictures they send in."
Commercial Power Sweeping's on-call service also provides a bonus. The sweeper is on call 24 hours a day and rotates the employee who is on call.
"We used to have a problem getting people to be on call even though they got paid time-and-a-half. So we instituted a bonus and the problem went away. People not only don't complain when it's their turn in the rotation, they often let others know they'll take it on from them if someone doesn't want it."
A Proactive Focus on Safety
An important aspect of employee retention has been the company's safety efforts. Stauty says today the company views safety from a both the personal and an environmental standpoint and so decided to take a proactive rather than a reactive approach to both. But that wasn't always the case.
Stauty says that about 10 years ago their insurance provider spent some time following their operators and watching them through binoculars. "She came back and told us what was happening out there that was unsafe and it was things we didn't know about, even simple things like operators not wearing their seat belts.
"At first I was a little intimidated by it, but she told me, 'Hey we're a team. We've invested in you and so let's make this relationship work.' That was really the first time I thought about safety in that way and it's probably what got us more focused on it."
Stauty says he also attended National Pavement Expo seminars by John Meola, safety director at Pillar Inc., "and that got us really pumped up." Meola presents safety sessions for the company, they developed and put in writing a company safety plan, and now safety is a regular topic at the company's monthly meetings.
Operator Safety in the Field
"We encourage everyone to be as safe as possible and our number one safety rule is simple: If you feel uncomfortable with the situation then leave... no ifs, ands or buts about it. You will not be disciplined for that," Stauty says. "We tell our operators, 'Use your judgment. It's a judgment call'. They know more about that area and that property than we do so if something feels out of the ordinary then it probably is, so get out.
"That's not only because some properties are in a bad part of town but also because sweepers are working behind buildings away from the view from roads and from better lighting. We're also out there sweeping parking lots that have bars and that can create its own problems.
"Most personal safety is common sense," he says. "Operate the equipment the way it's supposed to be operated and the way you're trained to operate it, wear the right safety gear for whatever you're doing, use safety chocks when you should."
He says a good example is how operators are trained to remove blockage. He says operators are taught that if there seems to be a blockage they should back up to a dumpster, dump what they have, put the safety chocks in [the company provides an extra set for each truck] and then check the intake tube from the top and from the bottom.
"Basically, don't trust your life to a ¼-in. rubber hose," Stauty says. "There are built-in safety chocks on most trucks but if you need to raise the hopper use the chocks and use the backup ones too.
 "Nine times out of 10 if the problem is in the intake tube it's because the operator got lazy and tried to pick up something he shouldn't have and it got stuck," Stauty says. "Just get out of the truck and pick it up next time. That's not only the best way to handle it, it's the safest way."
Proactive on Environmental Safety
Stauty says that as a sweeping company they are a firm believer in protecting the environment, so they take extra precautions to assure environmental safety.
"Our market is right near Chesapeake Bay and the rivers that feed it, so we take extra care to protect those waters from contamination," he says.
He says one of their biggest concerns is hydraulic leaks because there's so much hydraulic fluid on sweepers. Every truck is outfitted with spill kits and if there is a hydraulic leak, operators are trained to move the sweeper away from any drains, and preferably on to a grassy area. The company also switched all its hydraulic fluids to a biodegradable fluid that breaks down within 48 hours.
"It costs twice as much as regular fluid but it's worth the cost if we ever have a spill," Stauty says. "Plus it demonstrates to our customers that we're concerned about the environment and are taking steps proactively to protect it. We don't want to wait for something to happen before we take action."
He says that hydraulics can be an especially difficult challenge for street sweepers, who are usually putting down a fine spray of water as they sweep. "These hydraulic lines move every time you engage or disengage part of the sweeper. They might only move ¼ in. one way and then ¼ in. back, but they move," he says.
Eventually that small movement wears down the hose, often creating a pinhole-size leak.
"That can create a problem because with the operator spraying so much water he might not know there's a mist of hydraulic fluid leaking out. You can't see it until the water's dried and suddenly you can see a hydraulic sheen on the pavement surface."
So each sweeper is outfitted with a spill kit that includes safety goggles, gloves, absorbent material, booms, socks, rags, and a 5-gallon bucket in case it's possible to pick up to pick up material.
Preventing Hydraulic Leaks
Preparation is essential so operators can act promptly should a spill occur, and Commercial Power Sweeping follows preventive measures as well.
When Commercial Power Sweeping gets a new truck, Mike Russell, head mechanic, goes over it in detail to make sure everything is working properly and protected. He wraps hydraulic pinch-points or run areas with additional rubber and often zip-ties hoses or cables together to try to minimize movement and friction. The same procedure is followed any time a sweeper is brought in for repair.
Every sweeper is also checked each night before it's taken out on a route. Seven days a week the mechanics perform a complete walk-around on the truck. "They don't do it parked outside; they drive the truck into the shop, lift the cab and the hopper and check everything out every day, including the air pressure in the tires, lights, fluids – everything," Stauty says.
Operators are responsible for their own pre-trip inspection as well, but they look for more obvious issues. "Part of the training for the operator is we walk them around the whole vehicle and we point out what issues they're eventually going to have and we teach them how to resolve those issues," he says.
Monthly Meetings Encourage Partnership
Stauty says Commercial Power Sweeping runs separate meetings for the day and night shifts "because they are really two different beasts," but all driver meetings operate as an open forum with a free exchange of ideas. They review new accounts, review customer complaints, review truck issues, review safety, watch any appropriate videos because they have camera in trucks, and review GPS routing.
Meetings start with GPS-based driver incident reports, "the good, the bad and the ugly." Incident reports are printed weekly so operators can see them and then they are compiled for the month and discussed at the meeting. "We're not trying to throw anyone under the bus, we're just trying to identify areas where we can approve in as a company," Stauty says. "If there are too many violations the driver gets a day off without pay," Stauty says. He says that at the end of the year drivers are rewarded with bonuses based on employee performance and some bonuses "can be very substantial."
Safety topics covered can include new accounts, customer complaints, equipment violations, sleep needs, and seasonal issues such as hydration in the summer.
"We also use these meetings to seek their feedback," Stauty says. "We want to know what they think of what we're doing, what we're not doing, or if there's something we're not doing correctly. And if they have suggestions about topics we should be talking about or concerns they have we address those too."
Often Stauty is not present in the meeting because they want everyone to feel free to speak their mind. "We don't want to discourage communication, but I'm there to greet everyone on the way in," Stauty says. "We're all in this together. Most employees feel it's management vs. employees but the companies that are successful are the ones that keep everybody involved. That's part of what these meetings are designed to do.
"They appreciate it anytime you can show that you are truly concerned about employees' well-being," he says. "This is a partnership; it's not me vs. you. We're all here to share the same goal and if we can do it profitably, we can all share the wealth."