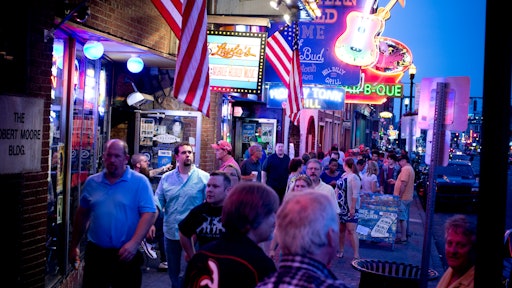 Online registration is still open for the 2020 National Pavement Expo, Jan. 29-Feb. at Nashville's Music City Center.
As in the past, NPE will host a full day of sessions on Wednesday, January 29 followed by a Preview Night on the exhibit floor. Conference sessions will be offered the mornings of January 30, 31 and February 1 with select sessions offered the afternoons of those days. The exhibit floor will officially open Jan. 30 and 31 from 11:00 a.m. to 5:00 p.m.
The consistently popular Roundtables are on Thursday (Jan. 30) and Friday (Jan. 31) this year, serving as another networking opportunity where discussions are focused on particular topics. Roundtables, which will run from 4:45 p.m. – 5:45 p.m. both nights, will have individual sessions for pavers, sealcoaters, sweepers, infrared repair, stripers, and the office. sessions for all topics will be held both nights.
Attendees looking to maximize their trip to the Volunteer State may choose to start off with the five-hour "Leadership Boot Camp,"  scheduled for Tuesday, Jan. 28, from noon – 5:00 p.m. The Boot Camp is broken into three sessions: "Culture is King" from noon – 1:00 p.m. with Brian Hess; "Building A Better Team with the DISC Test" from 1:00 p.m. – 2:00 p.m. with Chris Hogan; and "Leading People and Leveraging Time"  from 2:00 p.m. – 5:00 p.m. with John Felkins and Cindy Kelley.
Among the conference sessions offered are:
·      The Power of One: A Personal Approach That Will Revolutionize Your Paving Business, C.B. Kuzlik, Let's Pave LLC, will emphasize the human connection. "Customer engagement is an expectation of buyers," Kuzlik says. "It needs to be your mindset as a contractor." Digital technology helps, but it's not enough. "Employees are the biggest assets of any company, especially of a contractor business," Kuzlik adds. "This NPE presentation will educate attendees to leverage human resources to be the face of your brand, truly know your customers, and meet/exceed their unique challenges."
·       Taking success from the office to the pavement is the focus for Jeff Cayton, regional vice president, Neyra Industries Inc., who will feature Mix Designs and Proper Application Rates during an educational session aimed at "all levels" of sealcoaters. "The session is going to give an in-depth understanding of how emulsions are made and how they react in certain environmental conditions," says Cayton, a 20-year NPE attendance veteran. "There are so many different environmental conditions that affect these things, and we're going to get into how and why those affect these emulsions that we make."
Cayton's level of detail is designed to speak directly to those seeking a more fundamental understanding of specific compositions. "These are coatings that we make that are a certain percentage of solids, and that's an important thing to understand," he says. "These are emulsions that have solids suspended in a slurry, and it's not a liquid. We're not selling liquids. We're selling emulsions. Having an understanding of what an emulsion is helps people. Knowing what is actually going on to allow them to cure, and to turn black and create that waterproof coating is important to a contractor."
·       Getting out of the office and into a bit of inspiration is the goal for Dre Baldwin NPE session: Work On Your Game: Applying The Pro Athlete Mindset To Business. "I show audiences of people who are not athletes how the same mental tools necessary to excel in sports are necessary in the business world," says Baldwin, a former professional basketball player and now founder of Miami-based Work On Your Game Inc. "I show you how it works in sports and how it works in business. To compete and stay on top takes more than skill."
·       With educational sessions covering specific skills, proper mindset, and personal approaches, the next step is specialization. Tom Travers, sales and marketing manager, Carlson Paving Products Inc., will explore his own specialized area of expertise in Parking Lot Paving: Be the Master of the Mat, a program designed for better performance, better customer relations, and more profit in the long run.
"It is critical for commercial contractors to understand and break away from the old ways," Travers says. "The quality of the mat that the commercial contractor lays down has a direct relationship not only to the life cycle and aesthetics  of a pavement in a finished product, but also to customer relations and satisfaction. It's about reputation, it's about being paid, and it's about future business and referrals." 
According to Travers, attendees will gain knowledge on how to properly set up and use machinery to get the best product. "We'll show attendees how to get the most out of their machines, to dial in their machines properly, and to achieve the highest possible quality mass for finished products," Travers adds. "We'll show attendees how to get the most out of their platforms, while staying up to date with concepts to achieve that higher mat quality. We'll talk about technologies that are coming out that are going to make life easier, but also going to translate to a better product—and more business in the long run."
·       Even the best-laid plans may fail without good communication. It's a problem that Thomas J. Eosso, pavement problem solver, sales, Eosso Brothers Paving, has pondered. One of the solutions is technology, which Eosso will detail in his presentation: IPAD Pro in Field – Communication is Everything. In the paving business, effective communication between office and field can make or break a project.
"In this proactive class, attendees will learn how to take accurate field notes and photos," Eosso says. "This step-by-step process can change your company's communication…Whether you are an estimator or a project manager, clarity is everything." Eosso will detail ways to use software and apps to have everything at the fingertips with no need for paper. "You will leave this class ready to inspect and collect pics and details to assist in maximizing detailed field notes," he says. "Many people feel that it is hard to learn how to use all these apps. Find out how easy this process is and how you will save time and never forget a detail."
More NPE Sessions
On Wednesday, Jan. 29, attendees can choose from 16 different educational sessions. Those looking for the nitty gritty basics may choose an Introduction to Crack Sealing with Steve Brahney, Brahney Paving, and Craig Granroth, ACS Asphalt Concrete Solutions, scheduled for 1:00 p.m. – 2:30 p.m.  
Also on Jan. 29, attendees can find plenty of big picture strategy at Landing the Big One: Winning that Important Account with Mike Shereck, owner, Transformational Leadership Experiences. This session is scheduled for 3:00 p.m. – 4:30 p.m.
Experienced paving professionals know that even when weather cooperates, equipment runs smoothly, and clients are plentiful, something may be going wrong in the warm confines of the office. With an eye toward indoor challenges, attendees may wish to check out QuickBooks Basics with Linda Alfonsi, Petra Paving Inc., scheduled for 10:00 a.m. – 11:30 a.m., on Thursday, Jan. 30.
On the occasionally confounding topic of worker productivity, attendees may seek out Employee Disengagement: The Dog That Will Bite You! This presentation from Randy Goruk, president, Randall Wade Group LLC, is scheduled for Thursday, Jan. 30, from 8:00 a.m. – 9:30 a.m.
"A disengaged employee will generate unexpected costs and unwelcome turmoil. In today's competitive work environment, knowing what drives exceptional performance is critical to long-term success," says Goruk. In this highly interactive presentation, Goruk will share key drivers for engaging employees and the strategies, techniques, and tips to achieve a fully engaged team. 
For details on the entire NPE 2020 conference and to register visit www.nationalpavementexpo.com.