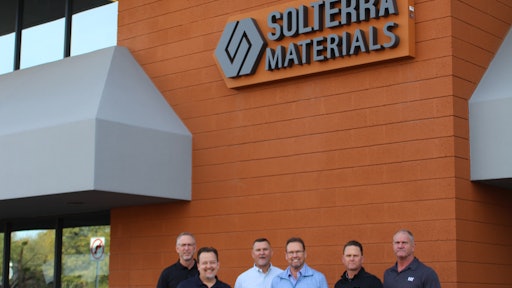 Few paving and pavement maintenance companies, regardless of how big or small they are when they start, grow to the heights of Sunland Asphalt & Construction, Pavement's 2020 Contractor of the Year.
Since 1979, Sunland Asphalt & Construction Inc. has completed projects across the country, ranging from parking lot maintenance to major highways. With offices in Arizona, Colorado, Nevada and New Mexico, Sunland has grown from an asphalt maintenance company into a full service general contractor. Sunland offers an array of construction and maintenance services including asphalt repairs, crack sealing, sealcoating, chip seal, milling, pulverizing, reconstruction, paving, striping, earthwork and grading, as well as concrete, utility adjustments, underground wet utilities, structures and bridges. The contractor provides about the broadest range of services of any Contractor of the Year recipient and has shown recent growth in the "specialties" area such as constructing racetracks (for which Sunland received Pavement's 2020 Paving: Non-parking Lot award).
The growth, led by founder and President Doug DeClusin, is the result of strategic planning, well-defined core values and company mission, and an employee-ownership culture that has enabled Sunland to find and retain employees who buy into and carry out the Sunland vision of being the best place to work. None of those elements alone would enable Sunland to succeed at such a large size, but together they form one of the most successful operations in the Southwest.
"You can't execute or meet a goal if you don't have a strategic plan on how to get there, but you can't execute a plan if you don't have the right people," DeClusin says.
An Uphill Timeline
At 22 years old, Doug DeClusin started a sealcoating business, and for the next five years he worked the business with one other person. "It took me five years to figure out I had to pound on doors and not just wait for the phone to ring," DeClusin says, looking back. "I finally figured out how to market and it's been an uphill trajectory ever since."
That's for sure; check out this timeline:
1992 - Opened an office location in Tucson, AZ
1994 - Launched Sunland Sports to construct and maintain sports surfaces
1998 - Acquired Saguaro Pavement Maintenance to expand operations in southern Arizona
2000 – Opened an office in Las Vegas, NV
2007 - Launched a Public Works Division to focus on partnering with governmental agencies and municipalities throughout Arizona
2009 – Started the National Accounts Division for clients with multiple properties across the Unites States
2010 - Acquired Lamb Asphalt in Las Vegas, NV, to expand operations in Nevada, California and northern Arizona
2011 – Opened an office in Albuquerque, NM
2014 - Launched the Civil Division to focus on earthwork and grading, underground wet utilities and concrete
2015 - Sold Sunland Sports to focus on asphalt maintenance and heavy highway construction
2017 - Acquired Black Gold Asphalt & Concrete in Littleton, CO
2018 - Started Solterra Materials, an asphalt materials operation that produced 520,000 tons of hot mix asphalt in 2019
 Strategic Planning, Strategic Results
Over the last decade, Sunland has expanded its customer base from private work to public work.  Today, the company generates 70% of its work from municipal projects and 30% from private work – a complete reversal from 10 years ago when 65% of work was private and 35% was public.  "The market shrank during the recession so we had to find and create other sources of revenue," DeClusin says. "We saw an opportunity in the public/municipal sector and went after it. We went where the work was."
DeClusin attributes the company's growth and shift to the municipal market to Sunland's strategic planning efforts. "We plan and then we execute," he says. "As a result, we have never missed our goal. Sometimes we've been delayed hitting a goal, but we've always achieved the goal."
Describing himself as "a lifelong learner," DeClusin attributes his involvement in various CEO groups, including Vistage for more than 15 years, with educating him on the strategic planning process and to how to successfully implement initiatives.
"We identify what we want to achieve, set goals, set timelines and assign champions to lead each initiative," he says. "We focus on bigger picture, long-term plans and financial goals, but we also determine things like whether we need additional people at the administrative level or another IT or accounting person. That's all part of strategic planning."
Each year, Sunland holds two-day strategic planning meetings with the leadership team of 20 executives, division managers and directors to determine the future direction of the company.  To make sure all voices are heard, Sunland conducts an annual employee feedback survey prior to the strategic planning for feedback.  "When we did it this year we got marked down on communication, so now we have a communication initiative for 2020," he says.
 Beyond Business:  Company Culture
In 2016, Sunland revamped their CORE values, mission and vision to align with a renewed focus on growth of the company, as well as providing superior products, services, and employment opportunities.  Sunland's CORE values include five factors: 
Customer Focus – We keep the customer in mind in everything we do
Ownership – As employee-owners, we hold ourselves and others accountable
Relationships – We build long-term relationships with our customers, community and employees
Ethics – We act with honesty and integrity
Safety - Our foundation.
"Our mission is to do what we say we're going to do when we say we're going to do it. That's been my mantra for 40 years and I know it sounds really corny, but it works," DeClusin says. "That means the focus has to be on the customer. To be successful you have to put yourself in their shoes. How would you feel if you're the customer?"
DeClusin says the vision is "To be the best place in the world to work." He says Sunland is aware that without all of the hardworking employee-owners who make up Sunland's work force, the business would not be successful.  DeClusin's philosophy is simple: "Hire talented people, set them up for success with processes and procedures, get out of their way, and let them do their jobs," he says.  "We have the most talented staff I've ever been associated with in my 40 years here."
 Recruiting & Retaining Top Tier Talent
With the current job market, recruiting and retaining skilled employees is a common struggle throughout the construction industry.  DeClusin says the regardless of whatever strategic plans the company has in place, none of them can come to fruition if the company can't hire the people needed to put the plans in place and execute to meet the goals.
Every effort is made to hire and retain the right people, including paying "top-of-scale" wages and providing a comprehensive benefits package including an Employee Stock Ownership Plan (ESOP). 
In 2009 the company converted to an ESOP in which the employees are stockholders and own 30% of the company.  The ESOP will become fully funded at the end of 2020, and will begin a 401(k) match for employees post- ESOP. 
"We're one of the most transparent companies because of the ESOP," DeClusin says. "In 2007 the crunch hit us and we put a freeze on in 2008, 2009 and 2010 with no raises and we had to have some layoffs. Employees were walking around like zombies," DeClusin says. "To show employees that there was a bit of light at the end of the tunnel and that there would be an upside, we decided to create an ESOP."
 "Having an ESOP takes a lot of education. You do have to convince employees that they're stockholders in the company," he says. "Until they start seeing their ESOP account grow…it's difficult. It took four or five years to get some traction with it.  People who have been with us 10 years have quite a bit of stock."
"I'm really proud of the people we have working here," says Doug DeClusin, president. "I love coming to work every day because I know everybody is at the top of their game and they're all working in the same direction. They make Sunland successful."