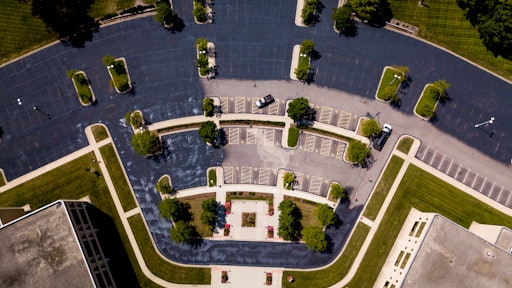 Kemper Lakes, Lake County, IL, is a Class A commercial office campus, comprised of four buildings and 1.6 million sq. ft. of asphalt over 14 connected parking lots. It's bordered by Kemper Lakes Golf Club and surrounded by two lakes, and in 2019 Maul Paving/Concrete/Sealcoating, Plainfield, IL, cracksealed 30,000 linear feet and sealcoated and striped 1.5 million sq. ft. of pavement for the third time. And they did it over just four days.
And it all comes down to planning.
"Planning is what helps set us apart as a company," says Paul Price, director of business development and marketing manager at Maul Paving/Concrete/Sealcoating. "It's what defines us as a company. By planning like we do we give our crews a sense of ownership."
And planning for the Kemper Lakes job starting in 2018.
"Lincoln Properties, which manages the Kemper Lakes site, follows a really tight schedule of preventive maintenance," Price says. "We're living in a budget-conscious world so it's important to keep allocating money into preventive maintenance and Lincoln Properties understands that. They know that cracksealing protects the structure of the pavement and they know the benefits of sealcoating, that it protects the pavement, too.
"This work was scheduled for 2019 so we worked with them starting a year in advance when they were in their budgeting process to schedule and get it done with the least disruption."
Price says Maul planned and bid the work to be completed in four days in August 2019.
Maul phased the job and used GoiPave to put together color-coded maps showing the phases. One month before they expected to start work, they presented the plans to the client for approval. Once the client signed off on the plan, Maul sent the map to the more than 3,500 tenants. Because Kemper Lakes is a 24-hour campus, Maul made a special effort to keep security in the loop. Maul provided the maps that were posted on all entryways throughout the complex. Dates of scheduled work were tentative and alternate dates were included.
"I don't care how early or how often you send it out, not everyone gets it. There are several ways to get into the four buildings so that also posed a challenge," Price says. "We had to make sure people using each of those entrances understood what was going to be happening, so we posted the phase maps and notices on all the entryways doors throughout the complex."
Planning…for Other Maul Clients
Price says that a month before the job was scheduled, Maul began looking at its own work schedule to make sure the Kemper Lakes job wouldn't cause a problem for other customers.
"When it's August, our clients know it will be September/ October  soon and that the sealcoating season is coming to a close and they need their pavement sealcoated. It really becomes a sealcoating-season frenzy," he says. "We looked at what other jobs were on the books and we figured out how to use our manpower and equipment to make sure to not neglect our other clients."
Maul decided to dedicate 17 of its 70 employees to Kemper Lakes, which would enable them to complete the work in four days.
"We reached out to all our clients who might have been affected to let them know what was going on, and we communicated with them regularly. That way when things happen, and planning gets complicated and schedules change a bit, they are aware in advance what is going on."
He says that while Maul's customers had "desired dates in their head," almost all were willing to adjust to accommodate Maul's Kemper Lakes job. In some instances, Maul's sealcoating crews even worked nights, beneath parking lot lights, to accommodate its other clients.
"While that put a real strain on the company, we were able to complete the Kemper Lakes job while doing our normal day-to-day operations and servicing all our other clients. We had no schedule disruptions while completing this job and that's a credit to the planning we did and our employees who did the work."
Planning, then "Go Time"
Prior to cracksealing and sealcoating, other  concrete and paving work was completed  on the Kemper Lakes property. Maul kept in touch with the client and paid close attention to the weather as the scheduled start date approached.
"When we finally saw the opening, we said it's 'go time.' The final call wasn't made until the Friday before the Saturday we started work," Price says. "We didn't make the final call until the day before."
As soon as they knew they would be starting the job, Maul's team checked in with the Kemper Lakes client and again showed them the color-coded phase map, reminded them which areas would be involved on which days, asked them to make sure no cars were in the area they would be sealcoating (they still had to have 60 cars moved from one work zone), and reminded them to make sure to turn sprinklers off. They also got the names and phone numbers of all emergency contacts, including the engineer on site.
"We always make sure we cover all bases, that we take care of everything in advance that we can," Price says. "As big as a job like this is, and as great as it is for our company, a job this intense can ruin you in a second."
In addition to providing phase maps to the client and tenants, all Maul crew members involved in the job receive a copy of the phase map "so there's no guessing," and crew leaders have digital copies of everything as a backup. "We want to make sure that everyone on the job is familiar with the job. Everyone knows what's going to be done on which days and where they're going to start working," Price says.
Kemper Lakes' golf course was open throughout the job, so Maul crews had to work around weekend golfers.
"The shortest route from parking areas to the golf course wasn't available during the work, so it was quite a challenge to make sure those visitors could access the golf course safely and without getting in the way of the work," Price says.
He says Maul crews altered the routes throughout the project as they moved from work zone to work zone. They relied on networks of extensive barricades and a significant amount of caution tape to create safe access to the golf course.
Sweeping Before Sealcoating
Each workday started with a vacuum sweeper. Price met with the sweeper in advance "to set expectations" and the sweeper arrived before any crew members and swept that day's section. "He hit all the curb lines and then did a patrol sweep of the entire parking lot," Price says.
There is a lot of landscaping throughout the parking lots, and with breezes coming across the two lakes there was constantly new debris blowing onto the pavement after the vacuum sweeper was done, so Maul's crews blew away debris the sweeper couldn't reach and just kept the pavement clean. "Keeping ahead of cracksealers was key," Price says.
Price says plans were to have each team follow closely on the heels of the team before them: sweepers followed by blowers, followed by the five-person cracksealing team, and finally the five-person sealcoating team.
"We didn't want one team to get too far ahead of the others," he says. "It was a very productive operation."
An Emphasis on Cracksealing
The cracksealing team received a detailed description of what they would be doing each day. They cleaned the cracks with a mechanical blower and followed closely with hot pour rubberized sealer, eventually filling 30,000 liner ft. of cracks. Cracksealers started near the front of the buildings and worked their way out into the parking lot.
"There was only a specified amount of cracksealing that could be done, budget-wise, and wanted it to be done by the entrances where it looks best for clients and buildings. We wanted to protect the pavement nearest the building where there's more traffic and where more people see the pavement," Price says. "We also want to protect the asphalt closer to the building because if we have to do a repair out in the parking lot, it's easier to work out there than near the building and it's less disruptive."
Sealcoating 1.5 million sq. ft.
Price says once the cracksealing team had its head start, Maul hit the pavement with four sealer spray trucks. They also had squeegee machines on site that were used on the roadways. Crews set up a staging area on the site and SealMaster shipped a tanker of its pre-emulsified Ultra material.
"Having a tanker on site helped keep the work flowing because we didn't have to send anyone to pick up sealer," Price says. "When a truck ran out of sealer our crews just pulled over to the staging area and filled up and got right back out there. It meant we had sealer ready when we needed it and the people who would have been driving to get sealer were actually able to be on the job sealcoating."
Maul's sealcoating crew spray-applied two coats of sealer at a rate of 85-90 sq. ft./gal. and the squeegee machine applied material at 60-65 sq. ft. /gal.
"Because this lot is sealcoated regularly the coverage rate did go up," he says.
In total Maul's crews applied two coats of sealer to 1.5 million sq. ft. of pavement (meaning the crews actually sealcoated 3 million sq. ft. in four days).
Bragging Rights for Crew and Company
"A job like this has everybody gunning for it," Price says. "This is the type of work we do, the kind of work we go after and the kind of work we excel at. Jobs like this prequalify us for just about any job out there. Every customer who knows what we did on this job knows we're legit and that we can handle their work. Also, it gives us a little bit of bragging rights."
He added that a high-profile job like Kemper Lakes is motivating for Maul's crew.
"Sealcoating is a tough, dirty job that you do in the summer when the weather is hot and everyone else is enjoying time off. It's a tough job so giving employees a sense of ownership is important," Price says. "Our crews have some sense of ownership in this kind of job. They ask us in the spring 'Hey are we doing Kemper this year?' Just that question shows how dedicated these guys are and how proud they are of pulling off this kind of project. We shared it on social media and had 15 guys on the crew share it as well. Guys are very proud of this work."