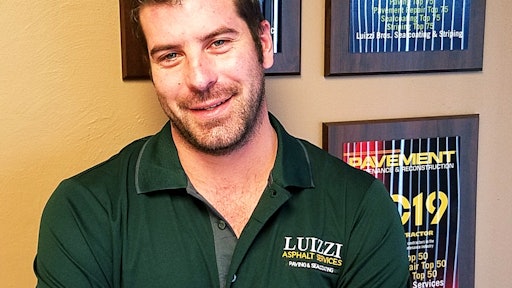 "My phone never stops ringing," says Bryant Luizzi, owner of Luizzi Asphalt Services, Albany, NY.
Well, that's just what happens when you give your number out to 1500 driveway owners and the hundreds of parking lot property managers you work for. Not that Luizzi is complaining.
"I personally try to talk at least once with every single person I do business with. That goes a long way to customer satisfaction," he says. "I know it goes a long way when they talk with the owner because as a consumer of other services, I know how I feel when I can talk with the owner. It gives people a sense of comfort that they can get ahold of me if they have any questions or any issues. I give my personal number out to everyone."
A Focus on Residential Work
At a very young age Luizzi started working for his father's company, which was started in 1952 by his grandfather, Peter Luizzi, as Peter Luizzi & Bros. Contracting Inc. As that business grew and began to focus on commercial paving, road construction and general construction, it became clear there was an opportunity for Bryant to start his own pavement maintenance business. At the age of 16, encouraged by his father, he started Luizzi Brothers Sealcoating & Striping, changing the name in 2018 to Luizzi Asphalt Services, which better reflects the services the company provides.
Today Luizzi Asphalt Services employs 35 people in peak season, dwindling to 10 in the winter when they provide snow removal services. In addition to sealcoating 1500 driveways a year, Luizzi Asphalt's crews pave between 300 and 500 driveways a year, all within a 60-mile radius of Albany. The contractor generates 50% of its revenue from paving, 40% from sealcoating, 10% from striping and other services. Residential work accounts for 65% of sales while commercial work accounts for 35% (in 2018 the company sealcoated more than 7 million sq. ft. of parking lots), and crews do travel throughout New England for commercial work.
And it's all done without marketing. In the past, Luizzi Asphalt Services relied on flyers, radio ads, billboards, direct-mail marketing packets and more to generate sales. He says last year's marketing budget was $35,000 and this year that money was redirected to other areas of the business – including the bottom line. "I took it down to zero because we just don't need to market," he says. "I haven't done one piece of marketing this year other than yard signs. Word of mouth seems to have gone further this year than our past years' marketing campaigns had. In the middle of the season we were getting between 30 and 50 brand new phone calls each day."
Luizzi attributes the company's success partly to the company name -- "We've been in this area for 60 years, so people just know the name and that really helps" -- add to the fact Luizzi's crews "produce a quality job and do good-looking work." 
"A lot of companies doing residential blacktop just want to get in and get out so they can get on to the next job. But we follow a textbook way of paving driveways with 4-6 in. of stone, 2 ½ -3 in. of binder and 1-1½ in. of a surface course for every residential driveway we pave (per textbook specifications). That way I can guarantee it's going to last like it's supposed to," he says.
Reinforcing Company Policy
To assure the crews consistently produces high-quality work, the company holds weekly Monday morning meetings. The foremen meet first to review the details of each job scheduled for the week, "making sure coordination is on point." They then bring in the rest of the employees and cover policies the company wants to follow on all jobs, such as completing day logs, wearing safety vests and following safety procedures, keeping every receipt (and writing on the back what they're for), and cleaning the site before the crew leaves it.
"At every meeting we emphasize providing good customer service," Luizzi says. "We want to notify customers the day before a job starts and then again after we're done. We remind everyone that if the customer is at home at the time, whether it's a residential or commercial job, we want to walk the job with them because that way we can make sure that they're happy and if there's something we need to fix we can fix it right then.
"These are basic protocols which we go over and over and over because they're so important," Luizzi says. "And because we constantly go over them our crews follow them.
"My hat's off to our employees and I tell them that," Luizzi says. "We tell them 'if it's good for me it's good for you' and they take that to heart."
To encourage employees to take that to heart, Luizzi Asphalt Services provides a 10% commission on any work an employee sells outside the company.
"It happens all the time," Luizzi says. "It gives them more incentive because they're making more money and it reinforces that if it's good for me it's good for you. It also gives incentive to the people around them who see they are making more money.  And when everybody makes money, everybody is happy."