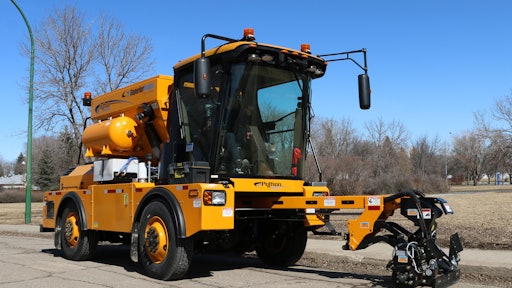 In May, Python Manufacturing, Regina, Canada, sent the first Python 5000+ Pothole Patcher to Europe. The Python 5000+ is a self-propelled pothole patcher that uses standard asphalt mixes to produce repairs in less than two minutes while keeping the operator safely inside the cab.  
Python patchers have already been working in North America, South America, and Asia for several years.
Robert Milutin, Python's representative in Denmark, said the company had wanted to bring a unit to Europe for several years, but it was only a year ago that Python Manufacturing incorporated an engine that would meet Europe's strict emissions standards.
"We have been waiting a long time for this," Milutin said. "I know that once people in Europe see the capabilities of this product, they will be as excited as I am to see how efficiently and inexpensively it can keep our roads in good condition."  
KyungWon Yun, Python Mfg. CEO,  credited this milestone to Milutin's determination to get a unit into Europe, and thanked the sales and production teams for making it happen.
"We have had to make some adjustments to our processes due to the COVID-19 pandemic, such as doing inspections and training via video," he said. "Everyone has pitched in and I am very happy that we've been able to make this a success."