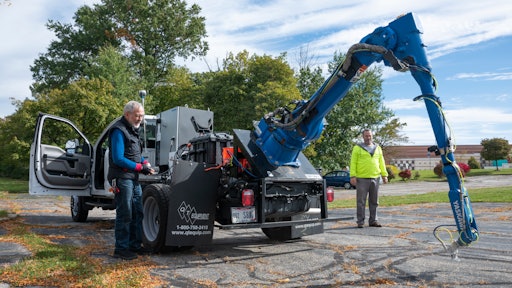 Two technologies, both in early stages of development, are designed to help pavement marking contractors and others involved in roadway maintenance work more safely in the on-road environment.
Following a fall 2019 license agreement between RoadPrintz Inc. and Case Western Reserve University, RoadPrintz is now building a prototype pavement marking vehicle to demonstrate that the technology can stripe cheaper, faster and with significantly less risk to road-workers.
RoadPrintz, Cleveland, OH, incorporated technology created at Case Western Reserve into a special truck equipped with a robotic arm that applies hot paint that dries quickly, allowing the work to be done in a fraction of the time. Instead of stencils, the system uses a computer-controlled painting system analogous to a printer.
The company says the truck can paint a variety of road markings (transverse markings, diagonals, bike symbols, school-zone markings, turn arrows) for one-third the cost. And the process is safer because RoadPrintz workers don't need to leave the truck.
Sam Bell, RoadPrintz chief executive officer and a retired auto mechanic and shop owner, and Wyatt Newman, chief technical officer and a professor of Electrical Engineering and Computer Science at the university with an expertise in robotics, have parlayed their proof-of-concept into ongoing financial support from Lorain County Community College's GLIDE fund, the State of Ohio's Technology Validation Startup Fund and, most recently, Case Technology Ventures (CTV).
"As the university's venture-capital fund focused on creating new businesses based on technologies developed at CWRU, CTV is the ideal mechanism for demonstrating our support for one of our own technology opportunities," said Michael Haag, managing director of CTV and executive director of the university's Technology Transfer Office.
CTV recently approved an investment of $100,000 in RoadPrintz, with an option to invest up to $250,000. In addition, the National Science Foundation this month awarded RoadPrintz a Small Business Innovation Research grant of about $225,000 to further develop the robotic street-marking technology.  
Product validation work is continuing locally this summer in conjunction with The Lab @ Cuyahoga County, which has connected RoadPrintz with the Cleveland Metroparks to test its operator-driven, mobile robotic pavement-marking system  on parking areas in the Euclid Creek Reservation.
Measuring Retroreflectivity
Just as RoadPrintz is developing equipment to help contractors apply pavement markings more safely, Reflective Measurement Systems Ltd., based in Terenure, Ireland, has launched a retroreflectometer that has the potential to transform retroreflectivity pavement striping surveys for operators.
The RetroTek-D is a front-mounted mobile pavement striping retroreflectometer that uses the latest machine vision and LED projector technology combined with GPS tracking reporting software. The company says it's the first full-lane width, vehicle-mounted retroreflectometer that can operate day or night and is certified to the U.S. ASTM E 1710 and European EN1436 standards.
"The RetroTek-D is a game-changer for the pavement striping maintenance and survey industry on so many levels and is a natural development of our RetroTek-MU retroreflectometer," said Joe Turley, chief executive of Reflective Measurement Systems Ltd.
He says independent certification confirmed the accuracy of the measurement of the coefficient of retroreflected luminance of pavement striping at normal pavement speeds irrespective of lighting conditions day or night.
"The industry now has a system that can accurately survey pavement striping to the left and right of the survey vehicle; center pavement markings such as directional arrows, symbols and warnings and also reflective pavement markers," Turley said. "The day contrast ratio is also recorded. Not only can our system provide the measurements, but our sophisticated and powerful QuickView-Pro Reporting software system can record every pavement asset, geographically tag its location, and provide video evidence of the condition.
"The days of closing pavements for surveys or inefficiently surveying single lines with multiple journeys to survey a single carriageway are over," Turley said. "The potential savings on operator hours and fuel consumption is enormous, which is also good news for the environment."
Turley said an independent study showed the RetroTek-D measurements were closely aligned to a handheld retroreflectometer, adding that this was particularly good as the samples were measured in a variety of different ambient brightness and at different locations.
Hans-Hubert Meseberg, vice-chairman of the German association StrAus-Zert, a government-approved evaluator of equipment for use on German roads that conducted the study, reported that the performance of the RetroTek-D was not affected by the different vehicle velocity at which the measurements were taken, or by the differences in lighting conditions ranging from very bright sunlight, twilight to darkness.
In his report, Meseberg noted the RetroTek-D reflectometer is "deemed well suitable for dynamic measurement of the coefficient of retroreflected luminance of road markings … and delivers the same results as a portable hand-held reflectometer [while being] independent of measuring speed [and] the kind or form of the road marking."
Reflective Measurement Systems said the RetroTek-D will be available in North America in 2023. In the meantime, the RetroTek-MU model is available and is currently being used in Texas and California for pavement retroreflectivity surveys and operated by pavement striping companies.