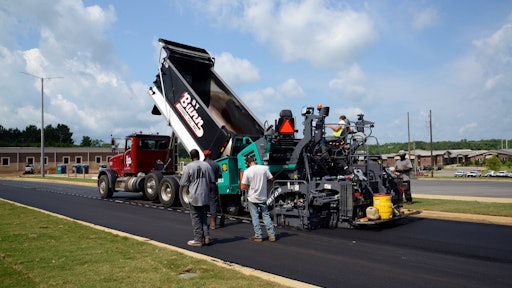 In the last two years, ST Bunn Construction Co., has acquired two 10-ft. Super 2003-3i pavers with VR 600 rear-mounted screeds, and an 8-ft. Super 1703-3i paver with VF 500 front-mounted screed, all wheeled pavers from Vögele.
 "I've owned tracked pavers and wheeled pavers, and in our experience, wheeled pavers are less expensive to operate.  There will always be times we need a tracked paver. Just north of here we can get into some very steep roads where we need the traction of a tracked paver, and sometimes we work in soil conditions in which we need a tracked paver," says ST "Sonny" Bunn Jr., president of the Tuscaloosa, AL, contractor.
While both wheeled and tracked pavers put down fine mats, it's the mobility of the wheeled paver that appeals to ST Bunn Construction.
"I can't tell the difference in the quality of the work between wheeled and tracked," Bunn says.  "We don't see any appreciable difference in the smoothness of the mat with a tracked paver vs a rubber tired paver. However, if you are working multiple jobs in small towns, or even in the city of Tuscaloosa, we can 'road' the wheeled paver from one job to the other faster than we can a tracked paver."
"We've always had a great relationship with our distributor, Tractor & Equipment Co., which stands behind their products, so in 2017 I bought two Super 2003-3i pavers with the VR 600 rear-mounted screeds. We purchased both of these units at the same time and have won several awards due to their performance."
Bunn's Super 1703-3i paver has an 8-ft. VF 500 front-mount screed from Vögele, and was acquired in April 2019.
The mobility of wheeled pavers was made clear when Bunn paved a parking lot for a new school under construction in Buhl, AL, in west Tuscaloosa County. There, its Super 1703-3i placed asphalt on a base course within tight radii around curves and parking lot curbs, but also long pulls in one direction which required the paver to back up for another run in the same direction. A Hamm DV+70i VV-S roller with split drums front and rear compacted the parking lot.
Bunn's Vögele pavers have performed so well in the recent years he's had them that they have won multiple awards for paving performance. More than that, they let ST Bunn Construction put its mark on the community in a rewarding way and lets them express pride in what they are doing.
"I have always tried to buy the best equipment that I think will do the best job. It takes attention to detail, more care, and a little extra work to do a really good job," Bunn says. "We live here and try to do the very best job we can."
Tom Kuennen is a freelance writer in the surface transportation industry and can be reached at www.expresswaysonline.com.