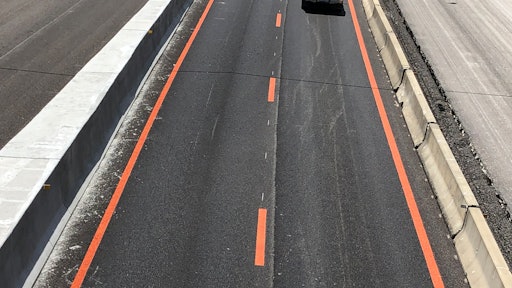 Central Seal Co., Danville, KY, became the first Kentucky contractor to install orange pavement markings to delineate a construction zone when it applied orange paint to a road-widening project on Interstate 75 last November.
The orange markings are a test by the Kentucky Transportation Cabinet (KYTC) District 11 to try to determine if the orange markings improve worker and driver safety, according to Daniel Hoffman, Kentucky DOT District 11.
Hoffman says KYTC learned from various publications that orange marking is being tested in other states and countries. "Several other interstate widening projects across the state have experienced motor vehicle crashes inside the work zone," Hoffman says. "We just thought that we would try something new to help improve the safety of the traveling public by making them more aware of the work zone and to get their attention."
Central Seal's Derrick Hutchinson says that because there are often highway repaving, widening, and improvement projects active in the state, the use of orange markings was intended to help motorists realize they were indeed in a construction zone.
"Motorists get accustomed to the signage and traditional traffic control devices that stay in place for a long period of time," Hutchinson says. "This was truly an effort to think outside the box and keep the motorists and workers safe during the construction of this project."
FHWA Approval Required
Hoffman says Mike Calebs, District 11 chief district engineer, championed the effort to use the orange paint. Calebs said the District is looking to improve motorist awareness after work zones on I-75 have experienced numerous crashes over the last four years.
"The Cabinet is researching this idea in order to improve highway safety and reduce the associated delays when traffic is diverted because of a crash," Calebs told The Sentinel Echo. "The goal of the Cabinet is to ensure our highways are the safest and most effective they can be, and we are excited about this new approach."
KYTC had to seek approval from the Federal Highway Administration (FHWA) to test the orange markings to learn if they are more effective that traditional yellow markings in identifying a work zone.
"The concept was presented to our FHWA liaison and from there it was forwarded to the FHWA office in Washington, D.C., to obtain approval," Hoffman says. "Everyone was interested improving the safety of the traveling public and the workers on the project."
According to Hoffman, the orange markings were installed as part of a major widening project of I-75 that includes grade and drain with bridge structures over about six miles. "I-75 is currently a four-lane section of interstate and it is being widened to six lanes," Hoffman says. "The interstate is a high-volume road that exceeds an average of 38,400 vehicles per day."
Central Seal Co. was awarded the bid to install conventional striping. "The contract was put out to bid with conventional striping. The orange paint was added after the contract was awarded by change order," Hoffman says.
Central Seal Grows from Driveway Sealcoating
Founded in 1979 as a driveway sealcoating company, Central Seal Co. grew over 10 years to add a broad variety of services including paving, excavation, road construction, and general site work. In 1992 the company was awarded the first private contracting restripe project for the Kentucky DOT.
Hutchinson says the business focus quickly turned away from road construction and towards roadway markings. An employee-owned company since 2015, the 80-person contractor now focuses on installing paint or thermoplastic on public roads, interstates, airport runways, city streets, private properties, and regional municipalities. The company offers its services in seven states: Kentucky, Tennessee, Ohio, West Virginia, Virginia, South Carolina, Indiana, Arkansas, and Missouri.
Applying Orange Paint and Thermoplastic
Hutchinson says both waterborne and thermoplastic materials were used on the I-75 project. The first application was orange paint manufactured by Ennis-Flint (both a common spec "Walmart Orange" formulation and an Ennis-Flint "Work Zone Orange" formulation were used) applied in November 2019 at a thickness of approximately 15 mils with 8 lbs. per gal. of reflective Visi-Ultra beads manufactured by Potters Industries. The Visi-Ultra beads are three to four times larger than standard highway beads.
Hoffman says several different bead packages were used throughout the project. "We are trying different rates, sizes, and types to try to get the best reflectivity we can," he says.
He says the Visi-Ultra beads are three to four times larger than typical highway beads. The larger bead size makes the markings more visible, especially when markings are wet, because they "stand above the water line in rain," according to Potters Industries.
Hoffman says orange striping was placed for all lane lines and gore areas inside the project limits. The lane lines were 6-in. wide and gore stripes 12-in. wide. The initial waterborne paint was applied at the conventional rate.
Several months later, Central Seal installed orange thermoplastic, sprayed on at a rate varying from 60 to 90 mils.
"The thermoplastic was used in mid-February 2020 as some asphalt deterioration had occurred over the winter and asphalt patching and repairs were being addressed," Hutchinson says. "The thermoplastic was also manufactured by Ennis-Flint in the work zone orange color. The glass media used in this application was a Missouri Performance blend by Potters (MoP blend) that had a mixture of small and large beads designed to perform better in thicker material applications.
Several months later, construction traffic was shifted to a new configuration and Central Seal installed a section of the project in the southbound direction with work zone orange paint applied at a high build rate.
"The High Build rate was installed in early June of 2020 as the new configuration required relocation of southbound traffic for approximately two-thirds of the project. The remaining one-third of main line was retraced as well to refresh the previous striping, as fading and traffic had impacted the quality and retroreflectivity of previous marking," Hutchinson says. "The High Build section was installed with Work Zone orange manufactured by Ennis-Flint at 22 mils and 8 lbs. per gal. of another blended bead variety that used even larger beads mixed with traditional smaller beads.
Central Seal has installed a total of almost 214,000 linear feet of orange striping. Orange markings were not used for any symbols. The orange paint is temporary and will be removed when the work is complete.
The Future of Orange Markings
Hoffman says it's too soon to tell how effective the orange marking was in terms of reducing accidents. "We're not sure at this time," he says. "The orange striping seems to be performing just like conventional striping colors; however, the reflectivity is lower."
He says the public did notice the orange color and while some people asked about it, no one complained. "Some of the public reported that they couldn't see it as good due to a lower reflectivity, which is why we are trying different bead packages."
"The orange paint is a different concept and I do think it grabs the motorists' attention when they enter the work zone. The University of Kentucky is scheduled to do a public questionnaire about the orange paint and what they thought is about it," he says.
"I think it could be an option on high-capacity, high-speed roadways where we need to get the motorist's attention. However, the reflectivity of the orange paint will have to improve for it to be an option in the future."
Hutchinson says that Central Seal anticipates that once the project moves into the next phase, which will be a long-term phase, they can install work zone orange thermoplastic with various bead packages striving for higher levels for dry-night and wet-night visibility to get a long-term marking installed for the traveling public. "This package should have good retroreflectivity values with a durable marking to withstand the traffic and weather ahead for the entire phase," he says.
"Central Seal appreciates the opportunity and will continue to refine processes, try new products to ensure all are aware of the current conditions," Hutchinson says. "The primary goal is to make sure all get to their destination safely."
Joel Holcomb, D11 engineering support branch manager, told The Sentinel Echo local newspaper the hope is the orange striping will reinforce driver awareness because orange is a color drivers already associate with construction zones.
"Pavement markings in work zones can be confusing as different sections are pieced together," Holcomb told The Sentinel Echo. "This highly-visible stripe color should help motorists better determine the most appropriate driving behaviors for the area they're in."