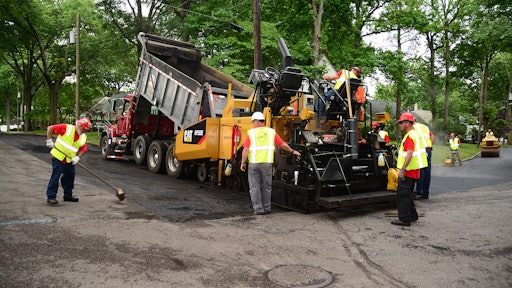 Regardless of the type of work you do, everyone involved in the paving and pavement maintenance industry confronts the extreme dangers caused by heat – both from the weather and from construction conditions. 
These dangers are real but crews in the midst of a sealcoating job – or worse a paving job working with 350 F hot mix -- might not recognize them until it's too late. If you are thirsty, you are already in the first stage of heat stress. Your body is sending a signal that you should heed the warning and fix the problem.
The go-to option for contractors such as Atlantic InfraStructure, Wall Township, NJ, has always been sugary drinks or water. While these choices are better than nothing, Atlantic InfraStructure sought and discovered an alternative to keep its crews safe during the heat of the day.
Started 18 years ago, Atlantic InfraStructure employs 45 people and operates two divisions, generating 65% of sales from milling and paving, and 35% from infrared pavement repair. Much of their work is utility cuts on public roads, but the company also paves and repairs pavement for multi-family residential properties, single-family residential driveways, and commercial properties.
Marilyn Grabowski, managing member of Atlantic Infrastructure, says that because their crews face heat challenges throughout the season, the contractor wanted to take proactive steps to protect its workers from heat stress. She says one of the first steps they took was to recognize hydration as personal protective equipment.
Grabowski says that once Atlantic InfraStructure made the decision to approach hydration as PPE, they began researching options to combat heat stress. They discovered Sword Performance Inc., a manufacturer of an all-natural hydration drink line that contains no preservatives or dyes, no harsh chemicals, no added sugars.
"Just as a hard hat protects the head and steel toe boots protect the feet, Sword is designed to protect from the inside out," says Robyn Zlotkin, president of Sword Performance Inc., who refers to the product as "drinkable PPE." "We wanted something to drink that is easy on the stomach with no gritty aftertaste, and we believe we have formulated that product."
Fred Stansfield, Atlantic Infrastructure superintendent, says his drinks of choice had been water or Gatorade. "But ever since Shield and Sword came along it's changed our process on using different drinks," Stansfield says. "We use water to stay hydrated throughout the day and then this is what we can turn to for that extra added hydration."
Sword features starch, real fruit pulp and "an advanced electrolyte profile" to enhance hydration. Shield is a lower-calorie, lower-sodium drink that contains no fructose or artificial ingredients. The drinks reportedly look and feel like water and are available in flavors of lemonade, orange, pineapple mango, and berry.
Sword is available in four hydration formats: powder form in individual servings or 30-serving resealable bags, ready-to-drink bottles, and large "Powder Pouches" to mix in coolers. Shield is available in individual-portion powder packets, ready-to-drink bottles and "Electrolyte Freeze Pops."
"Our paving crew is utilizing Sword's ice pop in the afternoons," Grabowski says. "They feel an immediate increase in energy, and we see an increase in their performance."