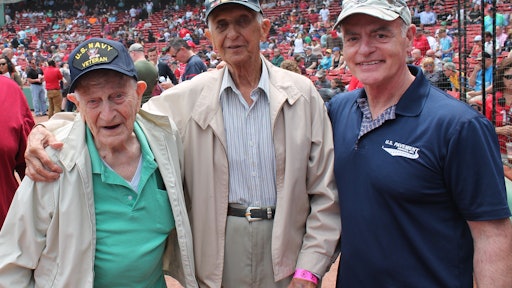 All contractors bring something to their company that enables them to be successful. Some bring technical expertise. Some bring on-the-job experience and know-how. Some bring a dollars-and-sense business savvy.
Mike Musto brought a keen sense of marketing and the recognition that marketing in this industry clearly can provide a competitive advantage. His pursuit of "how to get business" has guided his career in the paving and pavement maintenance business and provided the reasoning behind acquiring 1-800-PAVEMENT.
"This industry needs marketing. It's always needed more marketing," Musto says. "Not enough people are doing it to help them stand out against the crowd."
For more than 35 years, Musto has utilized his marketing insight and drive to stand out against the crowd. He has relied on marketing to grow his own operation, U.S. Pavement Services in Woburn, MA, and to implement a nationwide marketing campaign, the 800 Pavement Network (1-800 PAVEMENT and related toll-free numbers). The 800 Pavement Network has led the way to a recognition of the importance of branding and has developed into a network of more than 270 contractors who together generated more than $1 billion in total sales in 2019. And U.S. Pavement Services, which gets the 800 Pavement Network's national account work, has grown to more than $50 million in sales.
It is for his keen sense of marketing, the recognition that marketing in this industry clearly can provide a competitive advantage, and his development and growth of the 800 Pavement Network (and the growth of most of the companies that subscribe), that we induct him into the Pavement Hall of Fame.
"I'm always and always have been a front-end type of guy," Musto says. "I see sales as the hardest part of any company. Get the work and then figure out how to get it done because if you don't have the work, you're in trouble. I'm always looking at ways to get more business in the door, on ways to drive sales."
A Marketing Mindset
At 23 years old, Musto brought a marketing mindset to his first company, a small driveway sealcoating business that eventually became U.S. Pavement Services. In 1985, Musto bought his first sealcoating rig, a 550-gal. unit, then he had to find some sealcoating work. He started cold-calling commercial businesses, soon landing a contract with Papa Gino's, a pizza place with dozens of locations. "I sold a job before I even knew how to sealcoat," he says. That job resulted in work sealcoating another 12 Papa Gino's locations (his company still handles Papa Gino's today).
At the same time, he started pursuing residential driveway work, investing $10 in a book of residences in Winchester, MA, a fairly well-off community with a lot of big driveways. "I started walking the neighborhood and put quotes on people's doorways and then I called each person that night," he says. He quickly landed three driveway sealcoating jobs and generated $450 in one day.
When he got a residential job, he'd set up his yard signs and then blanket the neighborhood with bids, letting people know what address he was sealcoating and encouraging them to check out his work. On all jobs he placed his signs, which included his company's 800 number. 
Development of the 800 Network
In 2005, 20 years after he started in the business, Musto made what he terms his "best marketing move" by acquiring the rights to 1-800 PAVEMENT.
The 800 toll-free concept enables contractors who lease the number for a monthly fee to receive all calls directly within the area codes that they license. Contractors can "license" multiple area codes to cover all the areas they service. When a prospect calls the 800 number, the call is directed to the contractor who owns the lease for that area code. Musto acquired the rights to 800 PAVEMENT, then he says he "plastered the number everywhere," including 12-ft. signs on each side of his dump trucks, 5-ft. signs on the rear of every truck, yard signs, and all his literature.
"People didn't need to write the number down; they didn't need to look the number up. It was a remembering game and it was a huge competitive advantage in the days before the Internet," he says. "Our local business grew from that in a big way. The number was a branding tool that definitely gave us a real competitive advantage. The number instantly tells people who you are, what you do and how to reach you. And that's all from one phone number.
He says that he initially acquired the 1-800 PAVEMENT number for his own company.
"I saw the incredible value for my company, but I didn't see the value of all these toll-free numbers for others in the industry."
After realizing how valuable the 800 number was to his company, U.S. Pavement acquired other toll-free numbers, including 800-SEALCOAT, 800-BLACKTOP, 800-DRIVEWAY, 800-STRIPING, 800-ASPHALT and 888-PAVEMENT. He then started marketing and leasing them to contractors throughout the country. He opened his U.S. Pavement Services books to show other contractors the impact the toll-free number had on his company, and slowly the numbers gained traction.
800 as Branding Tool
Musto stresses that licensing an 800 number is not a marketing panacea.
"The phone number is like a marketing plan all by itself. It's a very simple way to market in a strong way," he says. "It's a branding tool that gives you a competitive advantage, but it's not a magic number. It's how we market it.
"You have to get it out there to get it to work," Musto says, adding that a few companies have stopped using the number because they didn't think it was effective. "But quite frankly, it wasn't effective for them because they didn't market it. They didn't get the number out there."
He says the 800 number has been successful in a variety of industries, and it's proved to be successful in the pavement maintenance industry, particularly for residential work.
"The big thing about this industry is we have big trucks and a lot of trucks, and the trucks are out there on every jobsite and they're driving all over town every day. Trucks are great roving billboards that can affect numerous people every day."
He says a tally of 800 Network members found 7500 trucks among all members. That translates into at least 15,000 truck signs marketing the numbers throughout the country.
Serving National Accounts
Musto says U.S. Pavement Services always pursued national accounts for itself, and soon realized they could use the network numbers to generate even more national accounts business. In 2006 they began subcontracting national account work to some of the 800 Network members.
"We decided to expand the Network and pursue more national accounts at the same time," he says. "Using 1-800-PAVEMENT we were able to access national account work throughout the country and pass it along to some of our members. That became part of the pitch, that they could have access to work they otherwise probably wouldn't reach," he says.
"So, members not only got the 800 number they were leasing, but if we got national work in their area, they're going to get some work. And that was work that most of those contractors wouldn't be able to get because they weren't pursuing national accounts. The national accounts work is a bonus and can be huge."
Creating a Buying Group
Musto says expansion plans for the 800 Pavement Network include expanding into markets they're not currently serving and pursuing more national accounts.
"We're working to increase our national account work," he says. "We don't get work in all areas of the country so network members who work in those areas don't get national accounts work from us and that's something we'll push for. It basically rounds everything off."
He also says they are developing a buying group for members.
"We realized we had a billion-dollar network, many of whom used the same types of products," he says. "A billion dollars is the basis for a big buying group and we're now in the process of putting together sponsors to give network members access to discounts."