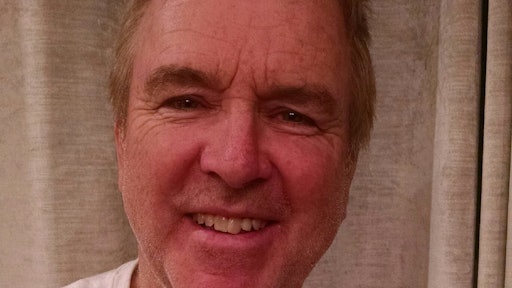 Running a "professional" business has been a goal of Tom Frederickson's since he and Jeff Gustafson started Superior Striping, Ramsey, MN, in 1991. In his 30 years in the industry he's done that and more, which is why he receives Pavement's Alan Curtis Industry Service Award for 2021.
The award is presented annually to someone "whose pursuit of excellence, dedication to professionalism, pursuit of quality and spirit of achievement have contributed significantly to the growth, development and professionalism of the industry."
Frederickson meets those criteria in some "normal" ways – his dedication to professionalism, his pursuit of job quality, and a respect for employees, customers, and competitors, for example. But he meets the criteria in a way that is uncharacteristic of most contractors: he encourages and supports the occasional employee who wants to start their own competing business or even move to a competitor.
Here's just one example:
Chad Jung started working for Frederickson when he was 14 years old, but after 27 years he decided to move on to a management position with a competitor. "I met Tom at the shop, and I could hardly get the words out," Jung says. "It was so hard to leave him, but he said he understood that if that was what I needed to do, then I should do it."
A short while later Frederickson had a suggestion.
"He told me 'If you want do your own thing instead of working for another company, I'll help you," Jung says. "He said he'd give me a truck and trailer, some equipment, a loan if I needed it, and the major accounts I'd worked on for Superior over the years. And he said we'll do it on a handshake, no problem."
So in 2017, Jung started Preferred Striping, Elk River, MN.
"It was bullet-proof for me," Jung says. "It was up to me to be successful, but it was a pretty foolproof plan. It was probably the only way I'd be able to have a company of my own, and that's on Tom."
Running a Professional Business
"Professionalism means we try to do as much right as possible," Frederickson says.
Part of Frederickson's idea of running a professional business is to maintain a professional workforce. Clearly, he's done that as the four people who recently left the company had a combined 110 years with him – and the current six employees have a combined 125 years with Superior Striping.
"Tom works very hard at keeping his employees employed and making a good living," says Jim Schroeder, engineering manager for pavement products at Graco. "He provides good benefits many contractors don't provide and he's there to help his employees when they need it."
Today Superior Striping runs six one-person "crews," with two part-time workers.
"We're all one-man crews because with today's technology one guy can pretty much handle everything," Frederickson says. "Each person has a truck that is outfitted the same way with everything a person would need to do a striping job, and every time I buy a new piece of technology, I buy one for each truck. Once they're out there it's like their own business and they treat it that way. I just give them the job and they go out and do it."
Frederickson says that 80% of their work is self-generated and 20% is as a subcontractor for sealcoating or paving contractors. Superior Striping generates 85% of its sales from restriping work with 15% from new layout. 
Frederickson's reliance on one-person crews lets his workers know that he trusts them to do the job the right way and to interact with customers the right way. And they know the right way because he trains them and he's out in the field with them, doing the same work they're doing.
"We're like a team, and we're all equal. They see me doing things on the job, moving stencils or whatever, they don't have any problem doing it themselves because they see I'm doing it too."
And Superior Striping provides benefits that help retain employees. In addition to schedule flexibility, Superior Striping subsidizes health insurance and has a retirement plan that contributes 15% of each employee's pay to a SEP retirement account.
"I value all the employees I ever had and the ones I have now," Frederickson says. "If they need something, I'm happy to help them out if I can."
Superior Striping also takes a professional approach to its customers. "We want to be a customer's striper for life, not just for one time."  
He says, for example, that most sealcoating contractors don't include curb striping in their bids.
"But when we're out there on the job we just stripe the curbs for them. It makes the whole job look good and that sealcoating contractor looks great to his customer. We want to make our property manager customers look good and our blacktoppers look good and our sealcoaters look good. We'll do what we need to do to make you look good.
Supporting Employee Startups
Over the years, Frederickson has supported numerous employees who wanted to start their own business, and he's assisted others who leave when they wanted more responsibility than his business could give them.
"These guys were key guys for me and over the years they just proved they could handle things on their own," Frederickson says. "Sure, I wanted them to keep working for me, but I can understand that after a while they've got an itch to try it on their own. These guys are ready for it, they've helped me out for years. So if they want to go out on their own, I'm happy to help them out. No problem at all."
And helping means a lot of different things, including providing equipment, startup loans, prospect lists and some of customers to provide a customer base. In addition, Frederickson offered management tips, including insights on training employees, DOT and OSHA regulation reminders, and what kind of insurance coverage to carry.
But perhaps most importantly, he gave employees starting their own business the bid sheets his company uses, which he says have been a key to his success. As Superior Striping employees, they ran their field part of the business, but Frederickson did all the bidding. He knew that when they started out, they would need to learn how to bid. The bid sheets, which were developed by his wife and office manager, Joan, would make that easier.
Superior Striping uses five different bid sheets depending on the project they're bidding. Bid sheets for fast-food jobs, for example, feature a checklist for all the common types of work associated with those types of properties. There's a bid sheet for single-property jobs, a bid sheet for multiple-property jobs, and other bid sheets. Frederickson gave all five sheets to his former employees.
"They are real professional looking. I don't think anyone in the area uses bid sheets like ours," he says.
Testing for Graco
Frederickson also volunteers his crews to do equipment testing. Schroeder and Frederickson were striping competitors before Schroeder joined Graco 28 years ago. Frederickson relied on air equipment until Schroeder dropped off a Graco striper and asked Frederickson to use it and provide some feedback. For almost 20 years Superior Striping has been a go-to test site for Graco, including helping fine-tune Graco's Auto Layout software and advancing the laser that many stripers now rely on instead of snapping chalk lines.
"Just about everything we looked at potentially developing and going to market with, his employees would get first shot at," Schroeder says. "They'd take it into the field, use it, and then give us the feedback we needed to make sure the equipment or updates were what contractors needed."
"The Best Competitor"
Frederickson says he can run his business in his own "professional way," because he never has worried about competitors.
"I never worry about getting work – we've got plenty of work," he says. "I've never worried about the competition. I worry about my own company."
In fact, Frederickson is known throughout the market for even talking up the competition, passing jobs along to competitors and helping them out in a pinch.
"If a competitor wants help with something, Tom helps him," Schroeder says. "Stencils? Tom helps him. Paint? Tom helps him. Equipment? Tom helps him out. He's always believed that there's plenty of work for everyone so he's the best competitor you could have."
"And that works both ways," Frederickson says. "There's plenty of work to go around."