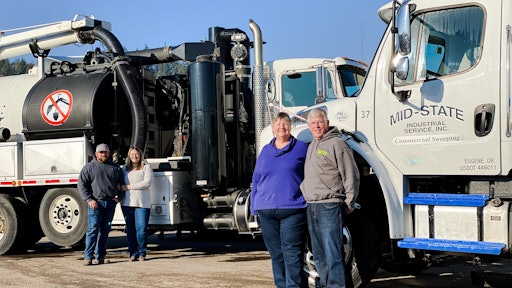 Mid-State Industrial Service, which started as a very small parking lot sweeping business in Eugene, OR, decided to grow by adding broom sweeping, catch basin cleaning, and vacuum excavation to better serve the customer base they already had.
Ultimately, the contractor not only broadened its services to its existing base but expanded that base to include property managers, contractors, developers, and public agencies. They have transitioned from a local business with limited growth potential to a statewide operation that has experienced consistent growth by identifying and fulfilling market needs, maintaining pricing and job quality, and hiring and retaining employees.
"All of this transition is partly driven by the fact that the parking lot sweeping market is so competitive that the margins are very low," says Jim Dodson, president. "We have always worked on the principle that we have to make a reasonable profit on every job, and we had to provide a good quality product on every job. How do you tell someone to do a halfway job?"
It's difficult to find a better business philosophy, which is why Mid-State Industrial Service has earned the designation as Pavement's Sweeping Contractor of the Year for 2021.
Currently Mid-State Industrial Service, Eugene, OR, employs 25 people and provides services throughout the state, 24 hours a day, all year round. Where parking lot sweeping used to be the mainstay of the business, it currently generates only 18% of sales. Broom work accounts for 36% of sales, catch basin cleaning accounts for 21%, and vacuum excavation, the fastest-growing service, accounts for 27% of sales.
The company's fleet includes four Tymco 435s, two Tymco 210s, one Schwarze A8000, two X Broom Street Sweepers, four Elgin Road Wizards, one Johnston ES351, two Camel jet/vac combination trucks, two Vactor excavation trucks, and one Sewer Equipment Co. jet/vac combination truck.
A Parking Lot Sweeping Startup
Fred and Mary Dodson, Jim's parents, started Mid-State Industrial Service in 1970 with one Tymco 300, several ride-on sweepers and two employees. Within a year the ride-ons were gone, replaced by a second Tymco 300. In 1973, Mid-State bought a used Mobil sweeper, they bought a second used Mobil in 1974, and the company had grown to six employees, plus Fred and Mary.
Dodson worked summers and part-time in the shop and parts department of a Mack dealership while in college. He married Debbie in 1973, joined Mid-State full time after college in 1974. The couple had two daughters, and Debbie started working in the Mid-State office in 1975.
"The local lumber product mills and plants were paving more and more of their asphalt, and it needed to be swept. And construction companies and home builders need subdivisions swept. Milling was just getting started and they needed sweepers," he says. "The heavier duty sweeping became more inviting."
Dodson says that by 1979, Mid-State did all the industrial and construction sweeping in the area and 90% of the parking lot sweeping.
Surviving Market Challenges
Over the years Mid-State has survived significant changes in its customer base. In the 1980s, environmental activism – concern for the spotted owl -- shrunk the market. "We swept approximately 25 wood products facilities and sawmills, some as often as twice per week. Within two years there weren't even foundations left for even half of them."
At about the same time a low-ball competitor entered the business, offering parking lot sweeping for half of Mid-State's price. "We went from the five nightly routes down to three within several months. But we maintained our price structure and high sweeping standards, and within six to eight months many of those accounts came back."
And until 1996, Eugene was a major rail yard and maintenance shop for Southern Pacific Railroad. Southern Pacific was sold to Union Pacific Railroad and almost all operations were moved out of the area. "We went from two or three shifts per week there to nothing within about a year," Dodson says. "But we continued to grow."
Adding Catch Basin Cleaning
In the early 1980s, Dodson says they pursued catch basin cleaning because they saw a need in the market. "We were looking for ways to expand the business without going out of our service area, and we there became a growing demand for taking care of stormwater systems," he says. 
"No one else had equipment to clean the catch basins or drain lines -- except for municipal and government agencies, and some of them also needed the service. That is when we purchased our first jet/vac combination machine, again serving the same customer base."
He says the heaviest time for the catch basin cleaning is in the fall and winter months, which dovetails with the end of the construction season, so daytime broom sweeping crews are available.
Adding Vacuum Excavation
That continued growth, especially over the last 10 years, is because vacuum excavation has become an increasingly important part of their work. "We now have three dedicated trucks with longer suction booms and more suction," he says. "There's a huge amount of stuff in the ground that you don't want to damage."
Often termed "soft dig," vacuum excavation is considered a less-invasive way of digging for construction. Air or water is blasted into an area of ground to loosen the soil, then the loosened soil is vacuumed up. The material can be disposed of or used as backfill.
"Some of it is potholing before the utilities get can dig conventionally, but most is to actually do all the digging," Dodson says. "This may be in a back yard or even inside a building."
"The vacuum trucks came on because, again, we were looking to expand, but we didn't want to spread out too much," Dodson says. "It was the same customer base but it also got us contact with people we weren't doing sweeping for but who needed sweeping. It worked both ways."
Opening a Branch
Continuing to pursue expansion within their service area and within the sweeping business, Mid-State in the early 1980s picked up its first regular city sweeping job for the city of Oakridge. Within a year they were sweeping for Tualatin, a suburb of Portland.
"Contractors were also calling us to do work in the Portland area, paying full travel," Dodson says. "It was soon a case of 'get in or get out' of the Portland area market."
So, in 1985 they got in, opening a branch in Sherwood. Jim's brother, Dan, managed the Sherwood operation, which focused primarily on municipal sweeping. In 1994 they split the Sherwood operation from the Eugene business, and ownership of Sherwood was split 50/50 between Dan and Jim/Debbie. In 1997, Jim and Debbie traded their Sherwood stock for Dan's Mid-State stock. They then purchased Fred and Mary's Mid-State stock, becoming sole owners. (The Sherwood operation continues, being run by Dan and his family as Great Western Sweeping.)
Parking Lot Sweeping Today
Dodson says almost all Mid-State's parking lot sweeping is within 20 miles of the shop, so they can schedule jobs tightly. They do regular sweeps for properties outside their area – but only at normal rates, plus the customers pay full travel costs.
"Unlike some areas of the country, once you leave town there is almost no parking lot sweeping for 45 to 60 miles or more in any direction," he says. "The parking lot market is still pretty tough in our area."
He says third-party vendors are getting more of that work, but he hasn't found one he will work for.
"Most of those multi-sweep-a-week jobs are being done way too cheap. How can you offer your employees any pay or benefits if you aren't charging enough for your services?" asks Dodson. "One of Fred's words of wisdom on how to fail was 'I knew I was losing money, but I knew I was going to make it up on volume.' In other words, always get your price, don't compromise the job to get it.
"One of the grocery chains that we used to work for went to a third party. They went the reverse auction-type of bid, and the 'winner' got the job for less than we had been doing it for 10 years before that. Of course, it doesn't look like they are doing much there."
Why Employees Drive Success
Dodson says the company does as much as it can to assure employees are the right hires, are successful in the job, and are retained. Mid-State pays "way more" than the competition, and offers a 401(k)-retirement plan, health insurance and paid vacation.
"Our employees tend to stay with us and us with them," Dodson says, adding that within the last two years, three people retired that had each been with the company between 26 and 35 years.
"We are never looking for a short-term employee," Dodson says. "Part of our success is that we hire people with the intention that they will be with us for the long term, and most of them are. I would rather suffer the short-term of being short-handed than settle for the wrong employee. It never works out and is much more of a headache. And training people is expensive."
He says Mid-State has developed certain personality traits they look for in prospective employees, depending on whether it is daytime or nighttime work. He says prospects who show intelligence and common sense have a leg up on a Mid-State job, and they need a good driving record and must pass a pre-employment drug test.
"They must be able to work on their own and not be afraid to get dirty or wet. They must be somewhat self-sufficient. Nighttime workers need to be somewhat of loners and preferably worked nights before. It's a personality thing that is almost more of a feeling that you get from them," Dodson says.
"Generally, if someone says they have sweeper experience, we don't want them. We would prefer to train them ourselves in our ways."
Getting the Job Done at Mid-State
Mid-State catalogs all its sweeping jobs, and the one-page entry for each job includes a Google Earth photo of the site, the job name and address, where to get water, expected normal sweep time, areas to be detailed, areas to be swept -- especially if they are different than the whole lot – and any special instructions.
"That way any of the operators can sweep any of the lots. If they need to, they can make a copy of it and take it with them," Dodson says. "It is also helpful on properties where there are shared lots but not everyone participates in the sweeping service."
He says operators account for their time on their written shift report, which can be compared to the GPS time and areas covered. A sweeper supervisor spot checks jobs.
Mid-State uses Samsona software in all its working vehicles. "We use it for the forward-facing and cab-facing cameras, live GPS tracking, vehicle maintenance prompts, and fault reporting," Dodson says. "It has helped us not only keep track of where our people are but also of their possible availability for other jobs as they come in during the day."
"We have been able to keep a lot of our core customers because of our quality and because when they are on a schedule, they know that the service will be when it's supposed to be. We have enough people and equipment that it gets done when scheduled -- even if I have to do it myself."