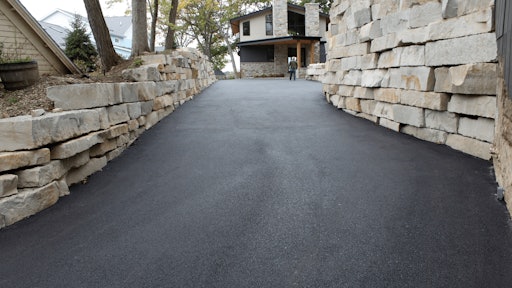 When a builder first approached Pavement Solutions, LLC, to pave a drive, little did the Richmond, IL, based company expect to end up paving a tunnel.
"This was a very unusual job," explained Pavement Solutions field supervisor Joe Wundsam. "The builder had dug through a wall of dirt to provide access for a new scenic lake home, and then constructed a stone wall to help give the drive and the property a more rustic look.
"The greatest concern and challenge for our crew was to blend the pavement seamlessly into the stonework that surrounded both sides of the new drive, to make the drive look flat and uniform throughout. To give the wall a more natural look, the stones jutted in and out creating little angles and edges and was embedded with moss. It became a finesse project requiring the field workers to get down at eye level and meticulously work the mix in by hand."
The drive measured 20 feet wide at the base of the hill and widened to 30 feet at the top. The Pavement Solutions crew prepped the stone and base and then put down two lifts with a small paver, the first was a binder course followed by a surface coat together totaling four inches of paving material.
Again, Wundsam emphasized, the biggest challenge was to work the asphalt into the nooks and small crevices created by the hardscaping and ending up with a flat and uniform surface. "To accomplish this, we modified a cement trowel and a tamper that workers used to tuck in the material and then pull it back to make it look uniform with the rest of the job. The material was heated to allow it to be more easily worked.
"Paving the drive required approximately 45 ton of asphalt and took seven crew members eight hours to complete the job. The client was adamant that everything look uniform and he was very pleased with the end result."
Founded in 2001, Pavement Solutions provides construction, maintenance and repair services for asphalt and concrete on both commercial and residential projects.