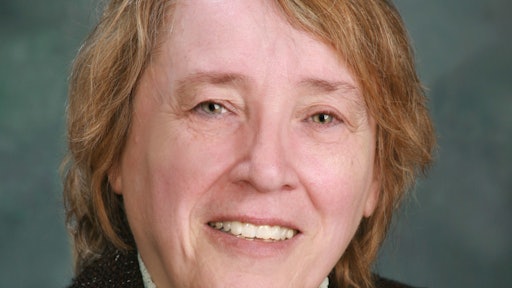 When Anne LeHuray was hired as executive director of the Pavement Coatings Technology Council (PCTC) in 2008, she was tasked with two primary responsibilities. First, to bring organizational change to the very small industry group so that it could become more effective. Second, and most important, to determine for the PCTC members whether research conducted by the U.S. Geological Survey (USGS) identifying refined coal tar sealer (RTS) as detrimental to the environment and the public's health was accurate.
She accomplished both tasks exceedingly well, and she accomplished more than that, possibly saving the entire sealcoating industry. So, as she steps back from her position with PCTC after more than a dozen years, she is a 2021 inductee into the Pavement Hall of Fame.
"My primary task was to determine whether the USGS was right, and the answer is 'No'. Not only were they not right, but we have demonstrable evidence that they fudged the data and that the science on which all these bans have been passed is flawed," LeHuray says. "We've actually been able to hold off bans and convince people it's not the right way to go." 
Development of the PCTC Organization
With a PhD in geochemistry, LeHuray's road to her PCTC success was, as she describes it, "long and winding." She was involved in environmental science before the term was even coined and was an environmental consultant for 10 years during the 1990s. A move from New York City to Washington D.C. got her more involved in the ways of Washington and its regulatory processes, and she became a regulatory scientist for the American Chemical Council. One ACC company member was refined-tar supplier Koppers Inc., and when PCTC was looking for a new guiding force, Koppers suggested she be considered.
At the time, PCTC was a lightly funded research organization based at the University of Nevada-Reno. But because environmental and health advocates were using the USGS information to try to ban RTS, a decision was made to transform PCTC into a lobbying group, hence the change from Center to Council.
When LeHuray joined, she encountered what she terms "a pretty simple organization that didn't really have any organizational structure." She began by refocusing PCTC's purpose, applying for a 501(c)6 status as a not-for-profit trade association and developing bylaws and installing officers.
Rob Vance, senior vice president of Vance Brothers, who was chairman when PCTC hired LeHuray and who was again chairman through 2020, credits LeHuray for much of PCTCs success since she was hired.
"She's a pretty sharp cookie and really knows her science," Vance says. "She's brought a level of expertise and professionalism to the council that we never would have achieved had we continued on the way we were doing it. Another huge benefit, working as closely as I have with her over the years, is her passion for fighting for the little guy, which we are. She has never backed down at all fighting Goliath."
Debunking the USGS Research
After she and a host of experts examined the USGS research and determined it was flawed, LeHuray added a new responsibility. She became the sealcoating industry's foot soldier, traveling constantly throughout the country, often with other PCTC members, fighting proposed RTS bans.
To be the effective face of the industry she had to learn the science surrounding sealcoating and regulatory efforts, the environmental impact of sealcoating, the business and economic impact of such regulations, and she had to have a handle on the regulatory climate at the federal level at the Environmental Protection Agency and for each state. She learned so she could converse with ban advocates, the lay public, and local officials both in the U.S. and Canada.
"We focused on coal tar-based sealants initially because that's what the USGS research focused on. But it became clear through their statements that eventually they were going to try to ban all sealants, so we broadened our efforts to cover all sealants, because that's what our members make," she says.
Initially there was a great deal of information available on polycyclic aromatic hydrocarbons (PAHs), the named culprit in RTS of advocates who seek sealer bans. PAHs are a complex of chemicals that can be found all over – in petroleum, in auto exhaust, in foods, shampoos etc. But while there was a lot of information on PAHs in general, early on there was very little specific information about PAHs in pavement sealants.
So PCTC began sponsoring and co-funding research on a broad variety of subjects related to pavement sealer. The results of that research enabled PCTC to counter the arguments of those who advocated RTS bans. Among what PCTC was able to learn are:
Sealant is not a major source of PAHs in the urban environment
PAHs are simply not as toxic as some people claim
It's a misuse of government to spend resources to enact and enforce bans that offer no perceivable benefit to the environment or public health
Bans result in a negative impact on the local economy
All bans are speculative, based not on what has happened but on what might happen
Early on, Washington, Minnesota, and Maine instituted statewide bans on RTS, and a number of local communities also instituted bans. But what seemed like it might be a snowball effect of RTS bans rolling throughout the country -- and even at the federal level -- has slowed significantly as a result of PCTC's efforts.
"When I started a dozen or so years ago, a lot of our members anticipated the bans would spread throughout the nation very quickly. That has not happened," LeHuray says.
A Stable of "Go-to" Experts
As she defended the industry, LeHuray worked to develop a stable of individuals – scientists, engineers, lobbyists, and lawyers – expert in a variety of areas of importance to PCTC and its members. These go-to experts are versed on issues such as risk assessment, toxicology, and environmental forensics – all of which can come into play when fighting a sealer ban.
"The goal was to have experts throughout the country who were familiar with the problems PCTC was facing and who could address the sealer-industry issues as they came up," she says.
Because PCTC now has a stable of experts, the organization policy is that anything published in the scientific literature that affects the sealcoating industry gets reviewed and addressed when and as necessary.
LeHuray says the 20-member PCTC has been able to get more bang for its membership buck because they now have these experts in place throughout the country to speak on PCTCs behalf. She and other PCTC members not only don't have to travel to each hot spot, but they don't have to spend time bringing new people up to speed on the industry, its issues and PCTC's concerns.
"We have been able to do a lot with not very much money. The development of our stable of go-to experts familiar with our issues means our up-front costs are less until we have to bring someone new in," she says. "We're very fortunate that we've picked good people. It's a stable stable of people familiar with the issues."
Educating the Industry and End-user
In addition, LeHuray worked with PCTC members to develop a mechanism for reaching out to these experts – and to sealcoating contractors who might be affected by bans.
"All that had to be constructed," LeHuray says. "Proposed regulations affect our members, of course, but most affected are our members' customers. Now we're much better at reaching out to them."
These customers – sealcoating contractors – often found themselves unable to use RTS in their market or in parts of their market as a result of local bans that were based on the USGS research. But contractors often didn't realize they were facing a ban until it was too late and regulations already had been put in place. 
With the help of PCTC members, LeHuray developed a system making it easier for contractors or their suppliers to communicate with the organization about proposed regulations. And she and PCTC worked to educate contractors on RTS and on how to address potential bans.
Twice PCTC bought out 90-minute seminars at National Pavement Expo, then offering the sessions free to sealcoaters so PCTC could explain the RTS issues and seek local help. PCTC upgraded its informational website, developed a video explaining the RTS issue, and provided the video on the website and in a DVD free to contractors to help educate local officials.
"It's fairly easy to track what is happening in a regulatory way at the state level, but finding out what's happening at the local level is difficult," she says. "We often say that we find out about proposed regulations 'too late or a day before it's too late,' in which case there's not much PCTC can do. But the mechanisms we now have in place to make communicating with us easier have helped. Local sealcoaters are much more aware than they used to be, and they really help alert us."
In addition to slowing the expansion of RTS bans, LeHuray says a byproduct of PCTC's efforts has been the increased research and development among sealer producers. "Even companies that aren't PCTC members have increased their R&D efforts to find alternatives to either reducing PAHs or developing other materials," she says. "There have a been a lot if improvements made to all of the sealants used in the industry."
And the industry is still standing and thriving, in no small part to Anne LeHuray's tenure as executive director of PCTC.