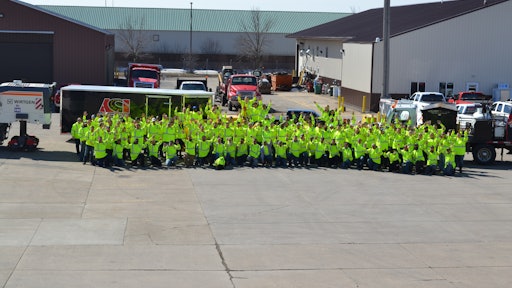 "I knew I could sell, but I didn't know how to manage my business."
What a scary realization to come to – especially after four fast-growing years in business when everything seemed to be going in the right direction. But that is the realization Jim Bebo, president of ACI Asphalt & Concrete Inc., faced after 1997.
This is the story of how a concerted effort to rely on accurate job costing, focus on customer service, target specific markets, develop a turnkey CRM proprietary software system, and emphasize customer solutions instead of just bidding every opportunity enabled the Maple Grove, MN, pavement maintenance contractor to become a dominant force in the Minnesota and upper Midwest market.
This is the story of how ACI Asphalt & Concrete became Pavement's 2021 Contractor of the Year.
The Beginning: A Little of Everything
When Bebo started ACI in 1993 he did not own any equipment. He survived by getting his general contractor's license and focused not only on selling asphalt, but roofing, remodeling, and real estate, and he hired out subcontractors to get the work done. This, of course, brought a lot of challenges trying to juggle all the various businesses.
So, in 1995, ACI bought the subcontractor that had been doing his asphalt work, and in 1996 he bought his first self-propelled paver, and focused solely on asphalt. He called his company "ACI Asphalt."
Education Keys Awareness
In 1997, Bebo quickly realized he was good at providing his customers with quality service, but he was barely staying afloat in his business. So he looked toward the National Pavement Expo to get the knowledge and networking he needed.
"I remember buying the pass and sitting in every single class and leaving NPE with a long list of what to do when I got back," he says. "I remember listening to Jeff Stokes in class and thinking 'Boy do I have a lot of work to do.' I called him the Monday after the show and had him in here on Tuesday and the first two things we did were look at our job costs and start an estimating system based on job costing.
"Accurate job costing is the difference between making a profit and not making it at all. It's as simple as that," he says. "Contractors need to realize that if you're going to be in business today, you have to understand your job costs and bid your work accordingly. There is no room for 'fluff' in bids if you want to remain competitive."
When Stokes and Bebo analyzed ACI's job costs, they learned not only why they needed to make some changes but also what some of those changes should be – including focusing on different markets and changing the sales culture from old school bidding to a new consultative customer approach.
ACI realized that when they had trouble collecting payment, the problematic customers were almost always either a home builder or a small general contractor.
"We were at the mercy of all these other people and all these other things that we couldn't control, and we were bidding so close that we couldn't afford any errors on our part or on anyone else's part. We couldn't afford delays or anything," he says. So ACI ran a "tight ship" for a couple of years.
Making the Right Changes
In 1997, after focusing strictly on asphalt and making those changes, ACI and its 15 employees generated $1.4 million in paving and pavement maintenance work ranging from patching and repair to overlays and construction of new driveways and parking lots.
But despite the nice gross sales number, the company barely made a profit that year. However, ACI continued to grow at a successful rate, eventually reaching $5 million in sales with a payroll of 30 fulltime people in 2000. That same year ACI acquired strategically located property and built a new building. The new location featured a bigger yard, enabling the contractor to add bulk storage tanks and house more equipment, meaning it could perform almost all its own services rather than subcontract them out.
2002: A "Wake-up" Year
Then came 2002. "We really amped it up that year, but we lost a ton of money," Bebo says. "We did a lot of work for general contractors, and we lost money because we were running a driveway crew and a mainline crew, and the margins were terrible. I tried to compete where I couldn't, and we got ourselves into some real trouble."
He says he came to that realization in June 2002. "But we had no choice but to play out the season and we did. That year was an MBA from Harvard. What I learned that year was it's got to make sense or don't do it," Bebo says. "It happens to all of us. Learning to say 'No' was good. That year woke me up, pissed me off, and made me realize we can't be everything to everybody. I realized I had to figure out what we're good at and do a lot of that."
The Turnaround
So, in 2002 ACI revamped again, scaled back residential, eliminated most builders and general contractor work, no longer serviced small driveways, and started to focus on specific commercial markets, large HOA's and large residential jobs. "We got rid of any customers who had a motive to 'squeeze' us, started to build a sales team, and we dug ourselves out of a hole," Bebo says.
ACI retained quality accounts and built from there, focusing on how best to serve those customers, improving job costing, and growing no less than 10% each year.
Another improvement was a change in compensation for the sales team. "That was essential to our growth," Bebo says. Compensation was now based on how well they managed the job and keeping the customer happy instead of just a percentage of the gross sale.
He says this allows them to focus solely on the customer solution and meeting customer needs – not just bidding everything. ACI's business actually shrunk the first year they implemented the change, but then business improved soon after.
Growth Since the 2008 Recession
Like most businesses, ACI's revenue declined and business went down 25%. So, in 2009, ACI acquired its first infrared repair machine. Bebo says that single addition to its service offering has generated constant work for the company while providing a less-intrusive, short-term solution that is more cost-effective for the customer.
"The main reason we bought an infrared machine was because the economy was tough for many of our customers," he says. "It got to the point where I couldn't tell a property manager it was going to cost X dollars for three patches because I knew they couldn't spend that amount of money. Now, however, we can do those same patches for one-third the price in half the time with infrared. That's another move we made with our customer in mind." Now ACI runs 4 infrared units.
By 2010, ACI completed about 900 jobs, and the company's growth was increasing. They bought a six-acre site in Maple Grove, MN -- now the main headquarters -- to help propel them to the next level. The company employed more than 40 people, with twice as many field personnel as sales or administrative employees. ACI was sending between three and seven crews into the field each day, with about 70% of revenue generated from paving and patching, and 30% from sealcoating and cracksealing.
In 2012, ACI added a concrete division and added concrete to its name, becoming ACI Asphalt & Concrete. They had been subbing out concrete work for many years but realized they didn't have control over quality or continuity of the projects, which was not in the best interest of the customer.
ACI started its concrete division with five employees; it now has 20 employees representing 15% of the business. "Managing quality control ourselves was the only way we were going to provide concrete services," Bebo says. "If we can't do it the right way for our customers, we're not going to do it at all."
In 2018, as demand for ACI's services continued to grow, ACI made the strategic decision to acquire the people and assets of Asphalt Associates of Roberts, WI, and Minnesota Asphalt Maintenance, St. Paul, MN. "You can't just add equipment to grow, you need the right people too," Bebo says. "We saw an opportunity to make these strategic acquisitions, and we focused on bringing the best parts of each of our cultures together to make ACI stronger and better positioned to serve our customers."
A Change in Hiring Practice
"There are two big challenges in this business, as far as employees go. One is the seasonality of our business and the second is getting the right 'can do' people on our team," Bebo says. "We've always kept a few people on during the offseason, and when the company was smaller, we were able to keep more people on. But with 100-plus employees we can't do that anymore. We can't keep that many employees on 12 months even though we're only working nine months."
To balance the seasonality aspect, ACI seeks fulltime workers who are willing to work seven to nine months with the other months working another job or on unemployment. "Through our unions and our benefit programs, our employees are able to get year-round benefits which helps balance the seasonality of most of our jobs," he says.
"After our reawaking back in 2003, we evolved our approach to hiring and focused even more on getting the right people on the team to fit our mission, vision and the skills we need to be successful," Bebo says. He says that for years he would hire skilled people and "throw money at them and hope they work out." Now, however, ACI hires people for cultural and skill fit and lets them work their way up in the company, promoting from within wherever possible.
"This way, they learn the business the way we want to do business" he says. "It's much less risk for ACI, offers the right people the opportunity to succeed and it's been much more successful for all parties," adding that ACI's retention rate is 85%.
In-house Technology Aids Growth
Also enabling ACI's growth has been the consistent development of a Customer Relationship Management (CRM) system. For years, ACI scheduled its jobs on a white board, but starting in 2010, ACI added scheduling to its software system, managed by a fulltime scheduler.
Then in 2016, ACI developed a full-service CRM system and turned it into a turnkey software system that integrates virtually all aspects of the business including CRM, sales, management, and operations. It is more of a workflow and business operation system incorporating everything from job costing to scheduling to reporting equipment costs and even gross profit. All in real-time. This has helped ACI's growth exponentially. The software, PROcru, is used by ACI and several customers and is also available to all other contractors across the country.
Additionally, the development of the PROcru App has improved business greatly as it provides immediate job costing results. "We've eliminated all the job costing paperwork and we are no longer waiting on the foreman to manually enter in all of the information every night," Bebo says. "Each field employee manages their own time and equipment costs on their own App. This gives them accountability, and no one needs to be micromanaged."
Flexibility Leads to Longevity
Bebo says ACI has always made a concerted effort to lower its operating cost and overhead so the company could be more flexible with its proposals and better able to add or upgrade equipment when needed.
He says tighter management of labor contributed significantly to lower direct costs of the project. When crews are in the field, ACI works to make sure crew members are being cost-effective on the jobsite, making them aware of the choices they make during the day and on the job and the impact those choices have on the job and on the bottom line.
"We try to drive home the fact that they don't work for me and they don't work for ACI. Ultimately, we all work for the customer and the customer pays the bills and pays our salary. ACI just signs the checks," Bebo says.
"When we drive operating costs down, we can provide a better service and the same high-quality work as we always have and we do that because that's what our customers have told us they want," Bebo says. "We never want to be the company with the lowest price as that requires a business to cut corners and we would never do that.
"We are the most cost-effective producer out there for the value given and property managers and owners understand what that means for them. Add our constant communication, professionalism and following through on all our commitments and choosing ACI as a top vendor is a no-brainer."
Even with all its attention on reducing operating costs and job costing, ACI still carries a lot of overhead.
"Overhead is tricky because you can only spend so much money on it before you get into trouble. But if you don't have the overhead you just can't give to the customer the service they need and want."
Bebo adds that ACI does not believe in massive borrowing to finance equipment, so the company carries very little debt. That philosophy was key to surviving recent economic downturns because ACI has been able to borrow where other contractors couldn't because their debt load is too high.
"Our financial strength and fiscally conservative nature have enabled us to weather the storms and not miss a beat," Bebo says. "The quality of our people, our investment in our equipment fleet, the quality of the work we do and the way we approach our business, and our customers helps us get through. But one of the biggest things is our willingness to change. We adapt as the economy and market conditions change -- that is essential in this business."