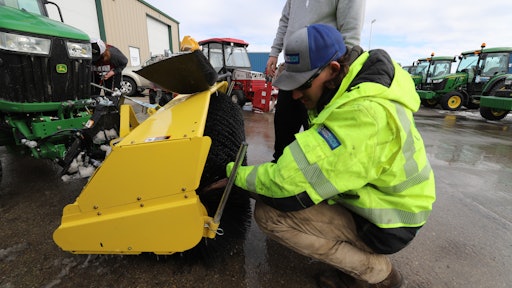 RDO Equipment Co
"Snow fighter" is a term that gets thrown around the snow and ice management industry quite often, and for good reason, the business of snow management barely resembles any other outdoor service.
For instance, let's take a quick look at the life of snow removal operator: Work schedule? That is up to Mother Nature. Equipment needed? Also, up to Mother Nature. Length of a job? Totally open-ended. How to charge for each job? Pick your poison. When does each client expect the work to be done? All at the same time – NOW!
Combine all of that with the fact that the safety and well-being of citizens is directly impacted by keeping roads and establishments maintained from snow and ice, and it is easy to see why snow management resembles firefighting more than pavement maintenance.
Taking It Up a Notch
Success in the urgent and unpredictable snow management industry relies heavily on preparation, particularly in three key areas: equipment, parts and service. But preparing in the off-season is not a big secret, everyone in the industry recognizes the value in this strategy. As a salesperson for a dealership representing some of the most popular snow removal lines in North America and in a city that sees snow a solid six-plus months out of the year I have four tips for pre-season prep that you may not expect. My hope is that my tips in each of these areas will take efforts to the next level and that pre-season prep will really pay off when those first flakes fly.
1. Pre-Season Equipment Buying
Communication is a game-changer.
As with most industries, equipment is everything to snow management professionals. There is no recourse for a company that does not have the right tool at the right time to do the job at hand. Obvious, right? Everyone knows it is important to assess the fleet in the summer and plan for any new machines and attachments that need to be purchased for the upcoming season. My next-level insight is about one important aspect of pre-season fleet management that is often overlooked but offers a major competitive advantage: good communication.
By now everyone is aware of the challenges we are all facing in securing goods. Nearly every industry, every retail outlet is seeing the COVID-19 lag affect how quickly it can keep product in-stock, ready for customers. This is not the year for snow management professionals to rely on a dealer having an extra unit on the lot at the eleventh hour. Start assessing needs and researching options early, then open that line of communication with the equipment dealership team to begin early-order discussions.
The upside to such a widespread issue is that information is now pretty transparent. It is no longer a surprise to find out a machine has a longer-than-usual wait time. A good salesperson in close communication with manufacturer partners can offer even more insight. He or she will know what equipment is and is not an option for the upcoming season, can offer alternatives and paint a realistic picture of when the equipment and attachment can be delivered.
While many manufacturers offer pre-season discounts for units or attachments, the real advantage of planning ahead is to ensure the machine and attachment will be in the fleet, ready to go when the snow starts falling. However, there are certainly bottom-line benefits to early ordering, some that go beyond the discounted price. Prior to placing bids, it is wise to call that trusted equipment partner. Knowing equipment options and expected delivery dates, along with financing and rental options can provide that added edge over competitors when bidding contracts for the upcoming season.
Essentially, a good equipment dealership should operate as more than a supplier. Their team should strive to be a good partner and an extension of your business, from making recommendations to anticipating issues and, ultimately, solving any problems with right-sizing the fleet for the upcoming season. Good, two-way communication is a great way to foster this type of partnership.
2. Pre-Season Parts
If it can wear, stock it. If it can break, stock it. If it can leak, stock it.
Having the right fleet of equipment and attachments ready to go is not enough. It is equally important to plan ahead for the parts and service needs that will arise in season. Cold weather is rough on equipment. The equipment itself works hard. It is not a matter of "if" it will need parts, it is a matter of "when."
Take inventory of all the service, wear and emergency parts needed for every piece of equipment and attachment. Expect hydraulic hoses to fail. Anticipate gelling fuel due to low temperatures. DEF and oil are always going to be needed. Stock up now on all those parts and fluids. Looking through the lens of the dealer, I can say that a lot of our time in the winter is spent reacting to emergencies. My team members and I agree that customers who plan ahead to be as self-sufficient as possible tend to maximize uptime and remain most profitable. That is not to say a good dealer partner will not be there to help as soon as possible. That is our job! But everyone in this business knows breakdowns are not happening at "convenient" times during the day when a quick response is a reasonable expectation.
Downtime often comes at the most inopportune time, say, 2 a.m. or on Christmas Eve. When downtime can be solved with a simple part replacement or fluid fill, equipping the team to take care of it on their own is the fastest way to get back up and running. Some dealerships also offer pre-season snow equipment parts specials. If they do not have an official discount program, chances are they will create a discounted order because there is two-way incentive for early ordering: the contractor wins by being better prepared, while the dealership wins by having less pressure on their inventory and staff during peak winter demand.
Again, stocking up on parts and fluids is not a never-before-seen, top-secret strategy, so here is my next-level tip to take this a step further. Have parts schematics on hand, in a binder and laminated, for every piece of snow equipment in the fleet. Write the serial number for each piece of equipment on the corresponding page. This info is often critical in determining parts differences for production serial number breaks. Take this effort even further and use a smartphone to send pictures of the schematic or part itself to the dealer partner. Not all parts specialists know every customer's equipment offhand so the added effort will guarantee everyone is on the same page.
It may take some time to compile this information, but there are two distinct benefits. First, the team will be more familiar with the workings of equipment and, for example, notice vulnerable wear items on the diagrams that might be hidden from plain sight. Second, parts information is a lifesaver in an emergency, as having absolutely clarity about what part is needed could save precious hours of downtime.
3. Pre-Season Maintenance
Out of sight, out of mind, onto the pallet racks, flip this thinking.
Right now, in most shops across the country, it is likely there is broken or damaged snow removal equipment waiting to surprise the next operator. Storing broken equipment is a very normal thing in the snow management world, as late season snow events (always particularly wet and damage-inducing) usually cross over into a company's transition out of snow and into other services. The priority quickly shifts to what is needed now and snow equipment service gets put on the back burner.
Prevent surprises and costly downtime this winter by doing everything possible to inspect equipment in the summer and early fall months. Taking operators off labor-producing spring and summer work to focus on snow equipment maintenance might seem counter-intuitive, but again, weigh the costs, downtime while fighting snow is more costly than preventative maintenance. Maintenance and stocking parts go hand-in-hand, inspecting every piece before placing a pre-season parts order may secure a better volume discount and will avoid using stock and backup parts just to get the next season going.
My next-level service tip is to keep a close eye on your equipment warranties and work with your dealer to address potential issues in the summer. Like winter overwhelm at the parts counter, dealership service departments always experience a frantic rush to set up new equipment in the month leading up to the first snow event. On the other hand, later summer weeks are often slower which works well for scheduling non-emergency service and inspections. As with parts support, planning this far in advance and eliminating last-minute stress offers benefit to the dealer as well, taking burden off the team in the winter and filling up the shop during slower months; another great step towards strengthening the contractor and dealer partnership.
4. Pre-Season Prep for the Fight
Service: July. Parts: August. Equipment: September.
Just like firefighters' prep to respond on a moment's notice and perform their job at 100% every time, snow fighting requires a special level of preparation that sets it apart from any other outdoor service. All that preparation comes with reward, snow removal is often a service company's most profitable offering, and those that specialize and succeed in the snow removal world reap the rewards.
For my final next-level piece of advice, here is a simple rule of thumb for setting a goal each month: Try to have all equipment serviced by the end of July.
Aim to have parts stocked by the end of August. Ideally, take delivery of equipment no later than September.
Whatever level of preparation is chosen for your business, be that basic or next level, always remember this: there are no second chances in snow fighting, Mother Nature will not reschedule. You will never go wrong being over-prepared. To learn more about snow equipment and attachments, order parts for equipment, or find out about service options from RDO, visit www.RDOequipment.com.